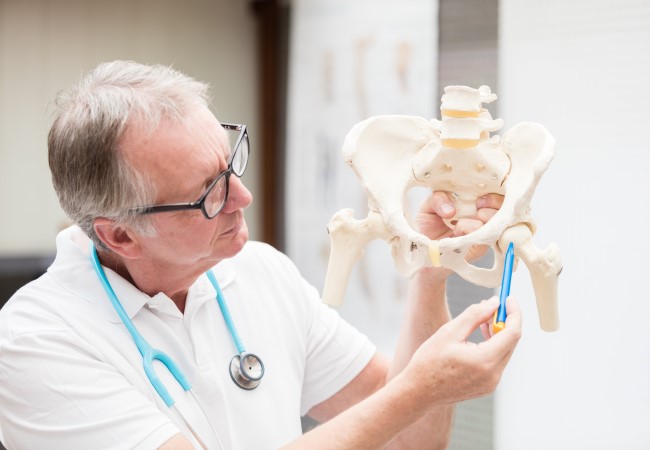 The Latest Trends in Orthopedic Surgery
Orthopedic surgeons are in high demand, as the population ages and baby boomers are determined to stay active for as long as they can, creating opportunities for orthopedic clinicians to repair or replace parts, get people walking again and improve quality of life.
"Orthopedics is a fun, happy place to be," said L. Reid Nichols, MD, a member of and spokesperson for the American Academy of Orthopaedic Surgeons in Rosemont, Illinois. "We work really, really hard."
Nichols added that she likes to fix things and make people feel better. When she was trying to decide on a specialty, she observed which physicians were happiest 20 years into their practice. Those with orthopedic surgery jobs stood out, so she specialized in pediatric orthopedics.
"Orthopedics is a satisfying and gratifying field," agreed Lee Vander Lugt, DO, FAOAO, executive director of the American Osteopathic Academy of Orthopedics in Richmond, Virginia. "One of the appeals of orthopedics is the episodic care, rather than family care, chronically seeing the same patients. And a lot of these patients want to get better quickly."
Patient needs driving demand for orthopedic jobs
Nichols said one in five visits to a doctor are to deal with a musculoskeletal problem, yet medical students do not receive long rotations in orthopedics.
"Some of the latest data shows there is or will be a shortage of orthopedic surgeons in the country," Vander Lugt reported. "As people get older, they need more and more reconstructive surgery, total knees, total hips, back surgery, shoulder surgery."
More than half of all adults and three-quarters of those age 65 and older suffer from a musculoskeletal disease, including arthritis, back pain and trauma. That creates a strong demand for orthopedic surgery jobs, especially since the U.S. population is aging. Twenty percent of Americans will be age 65 or older by 2040.
To care for these older patients, as well as pediatric and young adult patients with orthopedic issues, the country needs more orthopedic surgeons. Many permanent and locum tenens orthopedic surgery jobs are available, from Maine to California to Alaska.
The orthopedic field
Competition for orthopedic residency positions is tight, Vander Lugt said. About 100 among the 6,500 graduating osteopaths find an orthopedic residency spot. All residencies spots are filled.
"They get the top 10 percent of students in orthopedics now," he said. "I think they need to increase the number of training spots."
A hot topic in orthopedics is diversity, said Nichols, who reported that less than six percent of orthopedic surgeons are women and less than five percent are African Americans.
"That's bad, because you should never have such a homogeneous group of people," Nichols said. "People want to go to a doctor that looks like them."
The American Academy of Orthopaedic Surgeons has made an effort to make the profession more gender-friendly, and the number of women in the orthopedic residency pool has increased to about 13 percent, she said. Nichols wants to get the word out to physicians that "you can do it all."
Orthopedic surgeons earn the most money among U.S. physicians, an average of $489,000 annually, according to the Medscape Physician Compensation Report 2017. That kind of compensation may appeal to medical school graduates with piles of college debt, but many students would rather select a specialty with a greater work–life balance.
Musculoskeletal trauma injuries happen at all hours of the day and night. People break bones in the evening and on weekends, so orthopedic surgeons need to be available. However, not all fractures need to be immediately reduced.
Nichols acknowledged orthopedics is a hard specialty to keep work–life balance, which has become more important to younger physicians. However, she said orthopedic surgeons can and should carve out the time for balance.
Orthopedic surgery jobs can be demanding, especially repairing traumatic injuries, reconstructing spines, fixing pelvic fractures or putting rods in femurs, Vander Lugt said. On the other hand, shoulder, elbow or hand surgery and sports medicine is less physically taxing.
Nichols said there are ways to achieve a mechanical advantage when performing orthopedic surgery. She does not consider the physical demands a barrier.
"It's not how hard you push something; it's often how you position yourself and lever things," Nichols said. "You can make things happen."
Treatment advances
As in all medical specialties, technology and techniques continue to evolve to benefit patients and improve outcomes.
Orthopedic surgeons are performing robotic surgeries on hips and knees, Vander Lugt said.
The new mi-eye™ device has enabled orthopedic surgeons to perform a diagnostic arthroscopy in the office. The device consists of a needle with an integrated camera and light source. Vander Lugt indicated that it could cut down on the number of MRIs.
"It is all the rage for shoulders and knees," Vander Lugt said. "That is the latest type thing. There is research in bone healing, stem-cell research. It's an interesting time."
Nichols is doing fewer external fixators, due to devices that can lengthen a bone with a PRECICE® limb-lengthening system, which makes the procedure less painful for patients. Computer navigation is used in the operating room. The EOS low-radiation X-ray provides three-dimensional images. She also uses 3D printing to make models of a deformity, which helps her figure out the best surgical approach for correcting it.
"It's good when new technology comes along," Nichols said. "Hopefully, we would do less surgery and better surgery."
Similar Articles You May Also Like:
To find out what's out there for your physician career, search our locum tenens and permanent jobs from the link below.