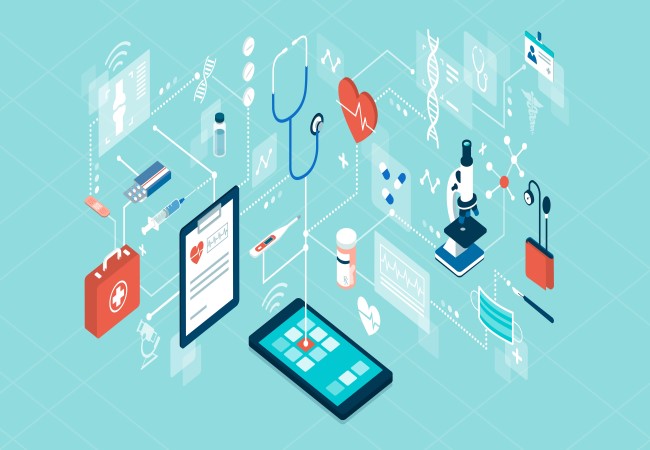 Medical Technology in 2020: The Top Innovations for Clinicians
Are you looking for innovative ways to enhance your practice? Would you prefer to work smarter instead of harder?
Medical technology continually evolves and often brings greater treatment or monitoring options. Yet some of the technology trends in medicine aim to support physicians and advanced practitioners—by saving time, simplifying tasks or increasing your effectiveness.
AMN Healthcare reached out to key technology leaders in the field to find the most highly-anticipated developments in 2020 that have the potential to improve the way you work. Here's what we found.
8 Trends In Medical Technology That Can Benefit Practitioners
1. Virtual Scribing
Alexa may have the corner on the market for personal digital assistants, but the health care space is testing related technology to save time and help make a physician's job easier. Recognizing that entering information into electronic health records (EHRs) remains a burdensome task for physicians, Cerner is working with Amazon Transcribe Medical to develop a virtual scribe, which will capture doctor-patient interactions and automatically integrate them into the EHR.
2. Harnessing Atificial Intelligence
Hospitals and health systems view artificial intelligence (AI) as a way to improve health outcomes while reducing costs and improving the patient experience. Thus, they are investing in AI, according to a 2018 study from Optum, a health services company. Physicians may be able to spend more time with patients if AI handles some of the administrative tasks.
A report from the global accounting firm PWC indicates AI can help detect diseases and support clinical decision-making. Pattern recognition can assist physicians in identifying patients who could be at risk for an illness. Researchers at the Karolinska Institute in Stockholm, Sweden, developed a model to predict which women are at future risk of breast cancer, using a type of AI that can extract vast amounts of information from mammographic images.
Additionally, a December 2019 MIT Technology Review poll found 79 percent of the health care professionals surveyed thought AI helped to decrease burnout. The same survey indicated that medical staff with extensive AI programs spend two-thirds less time writing reports, leaving more time for procedures or consults.
3. Embracing Chatbots
Automated conversations with chatbots reduce interruptions by answering patient questions and providing information with text messages, reported Greg Kefer, with LifeLink. At 28 Banner Health emergency departments, bots serve as virtual concierges, providing patients with information, when lab results are expected, and next steps.
"In six months, the chatbots conducted more than 860,000 interactions with 300,000 patients," Kefer reported. "If you do some basic math, that conversational horsepower is freeing up a significant amount of care team capacity, which frees them to focus on what's most important."
Chatbots also make life easier with the patient intake process. LifeLink chatbots were piloted with Medicare seniors as part of the annual wellness visit intake process, Kefer continued. The practice sent the chatbots to patients in advance to collect data, and half of patients completed the information via the bot, eliminating the need for staff to key the information into the EHR.
Overall satisfaction across clinical teams who have used the chatbots has been significant, Kefer said. "Simple conversational technology is benefiting both sides of the value equation – patient satisfaction and operational excellence."
4. Shifting to Virtual Care
Virtual telehealth visits are growing in popularity, particularly among Gen Zers and millennials, according to a 2019 study by Accenture. About 29 percent of respondents to the survey have used virtual care.
The ability to treat patients remotely has benefits for the provider as well as the convenience it provides patients. It offers physicians greater flexibility. They can "see" patients at home and save time on the road. Some virtual visit companies allow physicians to log in and accept virtual visits when they are available.
5. Communicating to Reduce No-shows
"Patient no-shows cost $150 billion a year, and lead to poor outcomes and missed opportunities to meet value-based care and patient-satisfaction goals," said Kamal Anand, MBA, CEO of Asparia, which offers a platform to remind patients about appointments and conduct automated two-way conversational texting.
"Looking to solve this problem in 2020, more medical offices are seeking out next-generation technology solutions," Anand said. "To be effective, the key is technology that goes beyond simply texting reminders. What providers want and need is a platform that integrates with the EHR to provide real-time, simple rescheduling and communication with patients, which syncs back to office appointment systems, and that provides an opportunity for automated outreach and follow-up when appointments are missed."
6. Adopting Virtual Reality
After taking the entertainment world by storm, virtual reality (VR) has become a medical technology gaining acceptance. It can be used in treating anxiety, phobias, and severe pain, according to a report by Global Industry Analysts. Dentists are also adopting the technology to use with their patients during treatment.
VR technology can also be used to improve the patient experience by preparing the person for what to expect during a medical or dental procedure.
7. Moving to the Cloud
Technology trends in medicine include moving data and record systems to the cloud to reduce costs and address resource constraints, reports SelectHub. Cloud-based systems enable physicians to access a large amount of data quickly. And cloud-based providers are offering better security than in the past.
8. Monitoring Patients' Wearables
From Fitbits to Apple Watches, patients are generating a significant amount of data on wearables, and the use of wearables is anticipated to increase nearly 25 percent by 2026, according to Fortune Business Insights.
Some wearable devices will send information to the person's physician, leading to loads of data to sort through. However, on a positive note, wearable data offers clinicians information about how patients are doing at home or work rather than just in the office.

AMN Healthcare continues to innovate in our approach to serving locum tenens providers and the facilities they staff.
Want to work at a leading-edge facility? Choose from thousands of locum jobs we currently have available or talk to a recruiter about your assignment options.