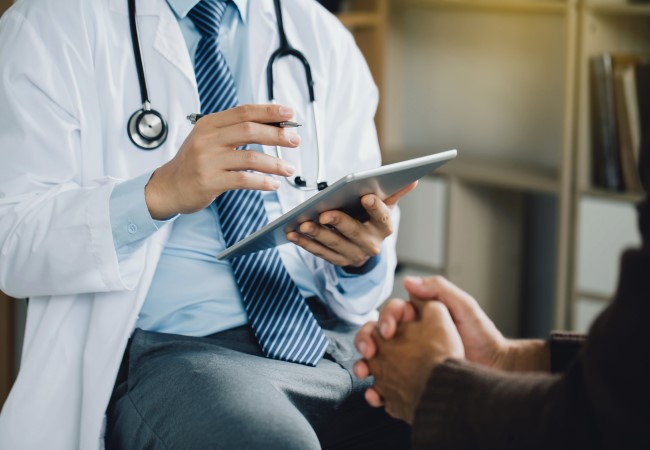 Locum Psychiatry & Psychology: Jobs & Trends
Perspectives for Mental Health Awareness Month
Millions of Americans deal with mental illness, many having their anxiety and depression escalated during the COVID-19 pandemic. Mental Health Awareness Month in May offers an opportunity to call attention to the need to improve the nation's mental health care system and bring on more psychiatrists and clinical psychologists who can increase access and help people with behavioral health issues.
"It's a privilege to be able to work with this population," said Anthony B., a locum psychiatry physician who works with AMN Healthcare company. However, he acknowledged that the barriers to receive care are huge, including the stigma of mental illness.
"Mental health is about all of us, each of us have stressors and challenges," he said. "There needs to be better work–life balance and support systems for people."
The Mental Health Alliance reported that "nearly 20 percent of American adults experienced a mental illness in 2019," and "more than half of adults with a mental illness do not receive treatment."
The theme for this year's Mental Health Awareness Month—"Together for Mental Health"—highlights the importance of advocacy activities and support. It is intended to encourage people to get the care they need, according to the National Alliance on Mental Illness, of which AMN Healthcare is a StigmaFree Company partner.
"Physicians and nurses are not immune to mental illness," Anthony said. "They need to make sure they are taking care of their own mental health."
Clinician shortages in psychiatry and psychology
Shortages of psychiatrists compound the problem of access to mental health services. And often it does not receive the same attention as shortages of other physicians due to stigmas associated with mental illness, according to a white paper.
Victoria C., a AMN Healthcare locum psychiatrist for the past 10 years, indicated that it often takes something big to blow through the stigma and get mental health help. That may mean a person endures a major loss that tips the balance, or even incarceration. Additionally, untreated childhood traumas may present in adulthood.
"Early mental health treatment would give people a chance for a better life," Victoria said.
The American Hospital Association called the current situation a "mental health crisis" in a letter addressed to the U.S. House of Representatives in February 2022. The AHA reported "more than 100 million Americans live in areas with shortages of psychiatrists, as designated by the Health Resources and Services Administration (HRSA). HRSA projects shortages of psychiatrists and addiction counselors to persist through 2030."
"The biggest challenge we see in our industry is demand [for mental health clinicians] outweighs supply," said Cortney T., recruiting manager for the behavioral health division of AMN Healthcare. "We have all of these great opportunities."
Many psychiatrists nearing the end of their careers opted to retire during COVID-19, and the number of new psychiatrists are not enough to fill that void, Cortney said.
"The pandemic has given people time to see what is important and what they want to do with their time," added Tori P., an account manager with AMN Healthcare. "More and more people are deciding not to work. It's not bringing them the joy it once did."
Practicing as a locum psychiatrist or psychologist
Locum psychiatry and locum psychology jobs can take place in inpatient facilities and outpatient clinics, substance abuse centers and correctional institutions. Although telepsychiatry gained acceptance during the pandemic, now many places seek in-house locum providers.
"Telepsych is going to be a big next step," said Alexandra P., behavioral health locums specialist at AMN Healthcare. But if testing or medications are required, the physician needs to be onsite.
Many locum contracts are short-term, covering for vacations or a maternity leave, while others may be full-time for a longer duration, giving locum psychiatrists or psychologists an opportunity to explore a setting or location before accepting a permanent job. Locum psychiatry jobs are available across the country, while locum psychology jobs are primarily in California.
"You can try different settings and see what you want to do," Cortney said. "There's a lot of flexibility."
Some clinicians work a part-time locum tenens position in addition to their primary jobs to help pay off student loan debt.
"The compensation piece is huge," Cortney added. "A locums provider will earn more than in a permanent contract."
Victoria has worked in locum psychiatry in community mental health, substance abuse and corrections settings. She typically practices a couple of days per week, near home.
"A good thing about locums is you can try something out," Victoria said. "If you are comfortable, you can extend the assignment."
Victoria added that she has learned so much working with other physicians and team members. She recommends physicians considering locum tenens assignments to accept shorter contracts initially, to go to the interview in person, if possible, and to ask questions.
AMN Healthcare offers many benefits for locum psychiatry or locum psychology professionals, including assisting with credentialing and obtaining licenses in different states, helping with travel, and providing free housing and malpractice insurance.
"AMN Healthcare is easy to work for and very supportive," Victoria said.
Many positions require board certification or board eligibility, and some employers want locum providers who are familiar with their electronic medical record system or speak more than one language, Alexandra said.
Anthony retired from his practice and began working locums psychiatry due to its flexibility and ability to let him continue to practice medicine.
"It's nice to work part time and do more of what you want to do," Anthony said. Plus, "it keeps people [from] completely retiring."
AMN Healthcare has a variety of locum psychiatrist and psychologist positions available in choice locations.