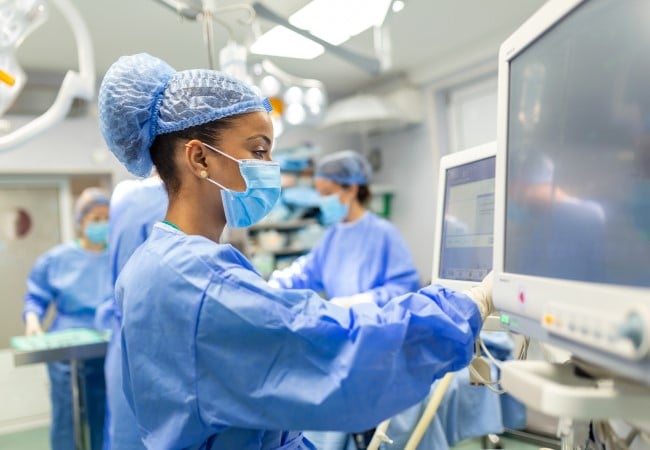 CRNAs' Role in Critical Care During the COVID-19 Pandemic
As we continue to see an uptick in the number of confirmed cases of COVID-19 across the United States, healthcare leaders are seeking to ensure facilities have the right clinicians in place should the pandemic continue to worsen in the next few months.

One type of clinician that can leverage his or her skills during a time of crisis is the certified registered nurse anesthetist (CRNA). According to the American Association of Nurse Anesthetists (AANA), facilities can optimize their healthcare workforce during COVID-19 outbreaks by utilizing CRNAs in their role as advanced practice registered nurses (APRNs). These advanced practitioners can also provide other types of support, depending on the needs of the patient population and healthcare facility.

FIND locum tenens CRNA jobs across the U.S.

"CRNAs can play an important role in providing life-saving critical care management for patients impacted by the COVID-19 virus in their APRN role. CRNAs are prepared to practice autonomously and are qualified to make independent judgments based on their education, licensure, and certification," said Brett Morgan, DNP, CRNA, senior director of AANA's education and practice division.

CRNAs comprise over 50 percent of the U.S. anesthesia workforce, administering more than 49 million anesthetics each year. They are master's- or doctorate-prepared clinicians with highly specialized skills. These skills can be very helpful with the complexity of issues that affect a hospitalized coronavirus patient.

Skills such as airway management, ventilator support, and advanced patient assessment are all included in CRNA training and can be leveraged during the pandemic to help treat an influx of patients with respiratory issues.

The AANA notes that CRNA candidates begin their educational program averaging 2.9 years of acute care nursing experience, with at least one year of critical care nursing required. This experience, along with their training and expertise in anesthesiology, positions them to help in many different areas.

In addition to their training with airways and ventilators, CRNAs can also assist with placement of invasive lines and monitors (including central lines, peripherally inserted central catheters, or PICCs, and arterial lines), advanced hemodynamic monitoring, and assessing patients who require alternative positions, paralytic medications or deep levels of sedation that are not normally managed in the ICU setting.
In a recent position statement, however, the AANA cautioned CRNAs to carefully evaluate several factors before taking on responsibilities outside their normal experience and skillset, advising them to have a frank discussion with facility leaders.
The continuing need for CRNAs in the COVID-19 response
According to data from the Centers for Disease Control and Prevention (CDC) and National Healthcare Safety Network in mid-June 2020, there are nine states that currently have over 70 percent of their inpatient beds occupied. And the Johns Hopkins Center for Health Security identified a potential need for 200,000 additional intensive care unit (ICU) beds during a moderate pandemic scenario.

Elective procedures and nonemergency surgeries are also making a comeback, after weeks of deferment, leading to more work for anesthesia professionals and other providers. With beds filling up, hospitals throughout the country may be faced with bed capacity issues as well as a shortage of qualified clinicians.

"To best respond to this unprecedented crisis, CRNAs should be given full authority to practice to their highest level of education and training. They should be integrated fully into the critical care team, and their roles should reflect their high degree of clinical skill and expertise," Morgan said.

"New roles that may not currently exist in health systems are needed in this complex and challenging environment," he continued. "These could include direct patient care of high acuity patients as well as directing the care of multiple critically-ill patients. CRNAs are the answer to rapidly, safely and effectively extending the critical care resources that facilities need to care for the patients being affected by the COVID-19 pandemic."

Morgan also advocates for expanded roles for nurse anesthetists in the future.

"Employers and facilities should include CRNAs in leadership and executive roles, including in planning discussions, policy development, have CRNAs be active members of the medical staff and support CRNAs to work to their full education, training, and skills."

Similar Articles You May Also Like:
To find out what's out there for your physician career, search our locum tenens and permanent jobs from the link below.