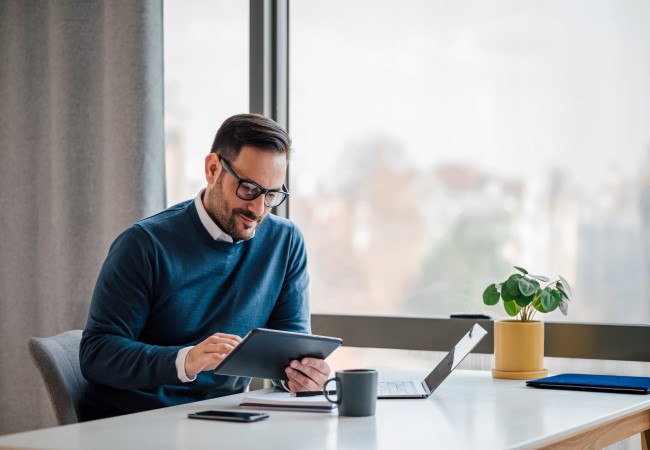 Top Four Tips for New Grads Starting Their First Psychiatry Job
As a newly minted psychiatrist, physician assistant, or advance practice nurse working in psychiatry, your early career can be both an exhilarating and stressful time. As you start to explore new professional opportunities and continue developing your identity as a physician, you must also begin to navigate the business side of practicing medicine.
To help you tackle this critical time in your career with confidence and success, we've compiled four useful tips for new grads starting their first jobs in psychiatry.
Explore Locum Tenens For New Grads
Locum tenens opportunities offer an excellent way for new psychiatry grads to pay off medical school debt while also getting to experience working in a variety of healthcare settings. Physicians and advanced practitioners who accept locum tenens assignments through Staff Care earn a per diem salary, in addition to extra compensation for overtime, on-call, and weekend work.
Psychiatry locum jobs are particularly in high demand, thanks in part to the nation's ongoing physician shortage. Working locum tenens assignments can be financially lucrative for new psychiatry grads, with pay rates for psychiatrists averaging $145 to $180 per hour.
Locum tenens for new grads also enable new physicians, physician assistants, and nurse practitioners working in psychiatry to experience living in different parts of the country without needing to make significant long-range financial commitments, such as buying a house. Whether you've always dreamed about the hustle, bustle, and sizzle of New York City, or maybe snowboarding in the snow-filled mountains of Colorado, or just savoring the simple pleasures of a small rural town in the Midwest, psychiatry locum jobs are the key to helping you explore professional opportunities and get a taste of living life in different locales.
1. Take Advantage of Early Career Resources
As you transition to practice, there are a number of professional organizations that offer helpful early career resources for new psychiatry grads. For starters, the American Psychiatric Association (APA) provides a diverse array of resources and practical guidance aimed at helping new psychiatrists understand how to manage and minimize risk in a new medical practice, how to navigate the complexity of malpractice insurance, what to look for in physician contracts, how to market yourself as an early career psychiatrist, tips for interviews and the negotiation process, and even a practice management helpline to facilitate handling the myriad details associated with establishing a new psychiatry practice.
2. Develop a Strategy to Pay Off Medical School Debt
It's difficult for any new physician to focus on their professional career when they have a mountain of medical school debt hanging over their head. Working as a locum tenens physician to help pay off medical school debt is an excellent strategy, not only for tackling student loans and reducing corresponding stress but also because psychiatry locum jobs offer new grads a unique opportunity to experience a variety of work settings and potential places to call home in the future.
One of the most important steps new psychiatry grads can take is to allocate time to work with banks, other types of lenders, and psychiatry professional associations to develop an overall strategy to pay off medical school debt. Some options available to new grads starting their first psychiatry job include student loan consolidation and refinancing, loan forgiveness, and other flexible repayment programs oriented specifically for recent medical school graduates.
Another important strategy to help ensure you generate the revenue necessary to pay off your medical school debt is to educate yourself about new reporting requirements associated with the Medicare Access and CHIP Reauthorization Act of 2015 (MACRA). MACRA outlines how psychiatrists and other physicians working with Medicare patients get paid. Let's face it, getting quickly and efficiently reimbursed for professional services rendered is an essential part of paying off medical school debt!
3. Allocate Time for Professional Development and Lifelong Learning
As you begin to build your new career in psychiatry and grapple with dozens of decisions you face and actions you must take, it's easy to neglect thinking about your long-term future. Don't fall into this common trap.
Now is the time to budget a reasonable amount of your time to identify and pursue professional development opportunities, especially those that are accredited by the Accreditation Council for Continuing Medical Education (ACCME). As challenging as it can be for new grads starting their psychiatry careers to find spare time, it's particularly important to keep up with your medical licensure requirements, such as Maintenance of Licensure (MOL) and Maintenance of Certification (MOC).
As time goes by and your mountain of medical school debt starts to look more like a hill, it's also important not to overlook lifelong learning opportunities for psychiatrists. One good resource to help you monitor lifelong learning opportunities is FOCUS: The Journal of Lifelong Learning in Psychiatry, which is available through membership in the APA.
New psychiatry grads should also take advantage of the robust variety of monthly online courses available to help build a career in psychiatry. These courses focus on new practice trending topics, such as primary care issues common in patients with mental illness, choosing a practice setting, starting or buying into a practice, how to write a business plan, practice services and amenities, telehealth psychiatry, marketing strategies for building your practice, building patient satisfaction, credentialing, privileges, and physician authorization numbers, and liability considerations and how to get paid under new collaborative and integrated care models.
4. Mix it Up with Medical Moonlighting
In addition to working as a locum tenens physician to help pay off medical school debt, many of today's psychiatrists opt to work medical moonlighting jobs for other reasons, including gaining experience in new settings and meeting new challenges, sharing expertise through teaching and mentoring, or just trying to counter the boredom that can arise during downtimes. Although that might sound counter-intuitive, many physicians, particularly those who work in dynamic high-pressure environments such as the ER, find that they struggle with boredom after a long intense shift ends. Moonlighting physicians can also help hospital administrators address complex scheduling challenges, especially during seasonal fluctuations.
Locum tenens physicians, physician assistants, and advance practice nurses continue seeing increased demand as patient mental health needs rise and hospitals and facilities work to fill gaps in their medical staffing. If you are interested in exploring the exciting psychiatry opportunities nationwide, search locum psychiatry jobs or reach out to connect with an expert recruiter today.