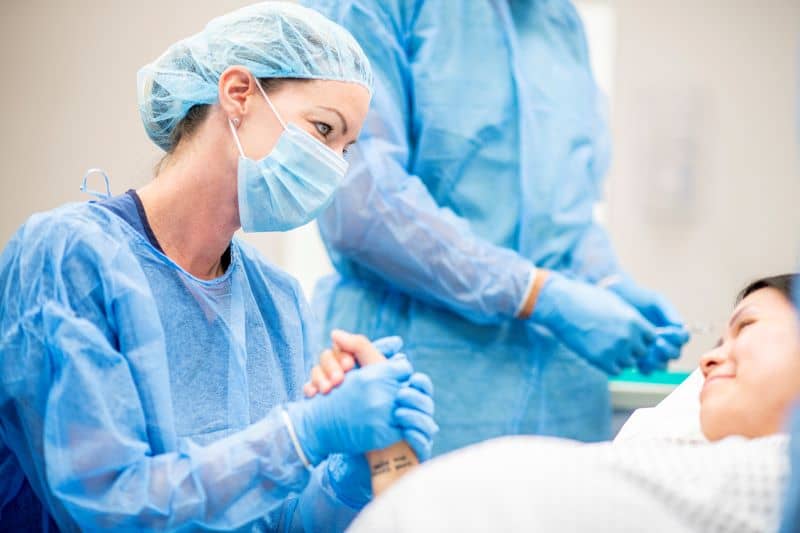 5 Skills Every Labor & Delivery Nurse Should Master
Labor and delivery (L&D) nurses enjoy a unique privilege, using their skills to help bring new life into the world.
"You are able to celebrate the start of a life journey with families," said Katrina C. Little, MSN-Ed, RN, faculty lecturer in the Department of Nursing at Metropolitan State University-Denver, about practicing in labor and delivery, both as a staff nurse and travel nurse.
"Families will always remember it, and [we] try to make it something positive. I enjoyed the spontaneity."
Find L&D travel nurse jobs across the U.S.
Five key labor and delivery nursing skills
"Working with women in labor, and their support person, nurses must possess strong clinical and communication skills to ensure babies and moms come through healthy and safe," Little indicated.
Labor and delivery nurse skills that can help guide a successful delivery include:
1. Quickly establishing trust and rapport by being genuine.
"Being able to set the tone for positivity in the room, even in the most challenging of circumstances, helps gauge the rest of the experience," Little explained.
2. Being professional, knowledgeable and current in evidence-based practice.
Most patients have done Google searches and read a variety of online stories, and may question their nurse's actions, Little explained. Nurses should discuss with patients what to expect, explain any interventions and answer their questions. That education is important, especially for first-time mothers.
3. Showing that you care and advocating for patients.
Throughout the course of a mother's labor, others on the clinical team may come and go, but the L&D nurse will spend the most time by the mother's side and can be a strong source of encouragement and help.
4. Prioritizing appropriately.
L&D nurses must quickly assess patients' needs and determine who needs what and who needs assistance first, Little said.
"Multitasking, time management and organizational skills are needed," Little added.
5. Fetal monitoring, based on the patient's plan of care.
This is a key part of your assessment duties, and can help ensure a safe delivery. L&D nurses can even get certified in electronic fetal monitoring to improve their skills and expertise.
Becoming a labor and delivery travel nurse
Labor and delivery travel nurses remain in high demand, with hundreds of travel positions available across the country at any one time. Most assignments will require two years of recent experience on a labor and delivery unit.
Little recommends those years take place in an academic or county facility, which can provide a wide variety of experiences.
"You are expected to know what you know and know what you do not know," Little said. "To do that you need a strong foundation."
Labor and delivery travel nurses with the necessary skills can earn from $1,900 to $2,400 a week, which can add up to more than $31,000 for a 13-week assignment. Hospitals or other employers determine the pay rate and may pay more for experience or certification. Additionally, travelers receive housing or a housing allowance and stipends for meals and incidentals.
Some hospitals and birthing centers prefer nurses who have earned and maintain certification, which indicates the nurse has the required skills and knowledge.
Little suggests L&D travel nurses not be afraid to negotiate their worth before accepting an assignment.
Travelers' days off can be spent at the beach, in the mountains, or in the heart of the city that never sleeps. Exploring new areas of the country is a big benefit of travel nursing.
No matter where they choose to work, L&D travel nurses' goals remain to help with the delivery of a healthy and happy baby while maintaining the mother's health.
AMN Healthcare is seeking compassionate and talented labor and delivery travel nurses for assignments throughout the U.S.