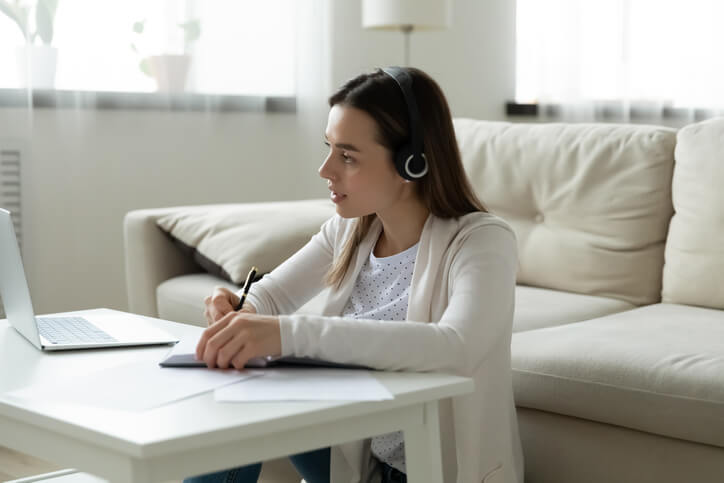 Top Pros and Cons of Online Nursing Continuing Education
As a nurse, there are many reasons you may be looking into nursing continuing education courses.
In many states, nurses must complete continuing education units (CEUs) to renew their licenses, and online nursing programs are a great way to learn about the latest medical advancements and certifications.
With your busy schedule, you may think that online nursing programs are the best option for your CEU needs, but will you get the same educational benefit through other mediums?
Below are the pros and cons of online nursing programs.
Top 3 Pros Of Online Nursing Programs
1. Scheduling Flexibility
One of the most common reasons nurses turn to online nursing programs is the scheduling flexibility they offer. Nurses can work long shifts that often change by the week, making them unable to commit to a designated time for traditional courses.
"It can be difficult for nurses to dedicate a whole day to attend a seminar, so online education allows them to learn and take courses on their own schedule," says Martha Johnson, founder of StepStone Education.
"Online content is often available on all mobile devices so you can complete a lesson while waiting to get your kids from practice or while taking the train to work."
Dr. Melissa Robinson, Associate Dean of Nursing, Online Education, for Linfield College, expands on this thought.
"Online RN to BSN Programs have made it possible for nurses who are working to advance their education without changing their work schedules or reducing their income," she says.
"They provide flexible, asynchronous course attendance that makes it possible for nurses to work, take care of their families, and advance their education."
2. Better Accessibility
Another benefit to online nursing programs is the availability of nurses in rural areas. For many, completing CEUs or a nursing degree in a traditional setting would require extensive contracts outside their hometown.
Now, an online RN program or nursing continuing education brings the material to them, wherever they live.
"Online RN to BSN programs have also made it possible for nurses in rural and isolated communities to have access to higher education," explains Robinson.
"Geographically, nurses who live and work in rural settings tend to be isolated from higher education opportunities. This is beneficial to the nurse working in their local community and benefits employers that rely on nurses to fill essential roles in the healthcare system."
3. Exposes Students to People from Other Areas
Nurses who attend traditional courses at their nearest medical school will often find themselves learning with other local nurses.
While this isn't always a bad thing, participating in online nursing programs can expose nurses to a greater variety of people from all over the country.
"Online RN to BSN programs that include an interactive virtual component provides nurses with a high level of collaborative learning," offers Robinson.
"Nurses at all levels of experience, from new graduates to those with many years of practice experience, are in the same online classroom. Students and faculty share specialty knowledge, practice experiences and benefit from mentoring relationships."
Top 3 Cons Of Online Nursing Programs
1. No Face-to-Face Interaction with Instructors or Students
Perhaps the biggest downside to online nursing programs is the lack of face-to-face contact with instructors and classmates.
This can have a detrimental effect on learning as limited social interactions fail to push students in the same way a traditional setting might.
It can also be difficult for some to learn with a less hands-on approach, depending on the subject material.
The physical isolation of online courses may be appealing to those with introverted personalities, but others may feel something is missing.
Some students may become frustrated when they have questions and are forced to interact with the instructor exclusively online or, in rare cases, over the phone.
2. Instruction is Less Engaging
Some nurses may also find themselves uninspired by the coursework that is generally offered through online nursing programs.
For those excited about the latest advancements in nursing, CEUs online may dampen their enthusiasm.
"Nurses are part of a smart, intelligent, and vibrant community, but our continuing education can be boring and dull," Johnson says. "Many courses are provided in text-only, which makes the content forgettable."
For educators like Johnson, this tedious trend is a systemic issue in online nursing programs, and she is working to find solutions for her own class offerings.
3. Assessments Maybe less Effective and Accurate
In a traditional education setting, tests determine whether a student has absorbed the material they have been given.
Tests are also given for online coursework, but there is less oversight to guarantee a student is answering from memory and not looking up the answers.
In fact, cheating is such a rampant issue in the online education world; it caught the attention of researchers at MIT and Harvard, who learned that students would often use the CAMEO strategy (copying answers using multiple existences online).
Accreditation can also be an issue with online CEUs for nurses. Online courses make it possible for nurses to access them from anywhere, but it also makes it possible for anyone to post a course and claim it is legitimate. However, there is a way to avoid this issue.
"When searching for online continuing education credits, it is important to look for content that is accredited," suggests Johnson.
"The American Nurse Credentialing Center (ANCC) establishes standards in nursing continuing education to ensure that the information is up to date, follows industry standards, and is grounded in evidence.
"By choosing content that is accredited, nurses can ensure that what they are learning is designed to improve care and patient outcomes," she continues.
Take advantage of discounted educational courses and free CEUs when you become a contract nurse with NurseChoice.