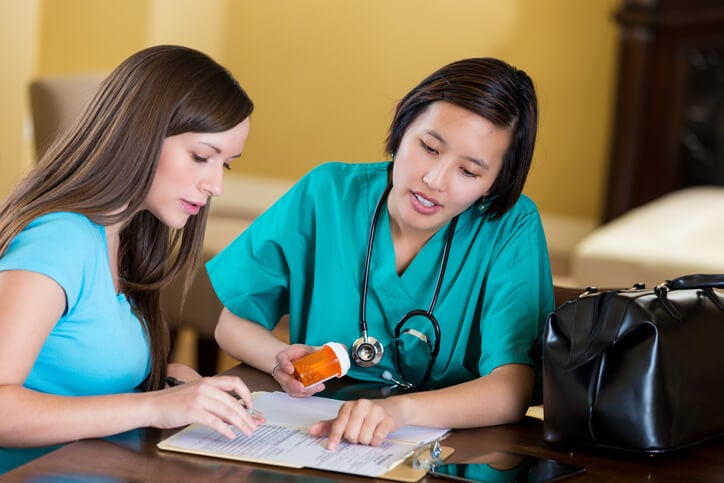 Patient Education in Nursing: How to Best Educate Your Patients
Patient education is one of the most important roles nurses have in their daily activities.
Patient education in contract nursing allows patients to understand their condition better and take a more proactive role in managing their healthcare independently.
Before you can properly educate your patients, you must understand your patient's educational limitations and readiness to learn to ensure you're providing the best patient education and counseling possible.
Patient Education: How To Best Educate Your Patients
One of the most important aspects of self-care is the desire to learn. Your patient's education hinges on them being ready to learn, otherwise your efforts will be unsuccessful warns Shanna Shafer, a BSN with over 10 years of experience in a variety of practice areas.
Shafer also stresses vital prerequisites like making sure your patient is fed, comfortable, free from pain and in a safe place before starting any teaching.
"A patient who has just heard a devastating diagnosis is unlikely to hear and less likely to recall any information being provided," adds Janet Renfro, PhD, an Adult Nurse Practitioner.
1. Know Your Patient's Limitations
You must consider your patient's education and literacy levels to tailor your teaching methods to match their degree of understanding.
While some patients may be fairly familiar with medical terminology, others may struggle with the simplest terms due to learning or language barriers.
Shafer suggests getting a baseline of the patient's knowledge and comfort level with the topic before you begin.
"Ask them what they know about the subject you're addressing," said Shafer. "Pay attention to their responses, including the non-verbal cues they provide."
Shafer went on to explain the importance of patient education beginning at the appropriate point.
She uses teaching a diabetic afraid of needles how to inject insulin as an example of how some patients may require more education and patience.
Instead of pulling out a syringe and demonstrating how the patient should draw up his insulin, you should address the patient's psychological status and assuage his fear of needles first.
"Effective patient education also requires nurses to use non-medical lingo, speak at a comprehension level that matches your patient, utilize translation services to eliminate language barriers, engage patients in the teaching and provide ample opportunities for your patient to ask questions," Shafer added.
Besides understating your patient's limitations, Renfro suggests identifying what the patient already knows and what they most want to know.
"Reiterating information the patient already knows wastes both the patient's and the nurse's time," explains Renfro.
"Also, focusing on the issue of most concern to the patient will gain their attention. Once the issue is addressed, the patient may be willing to learn more."
2. Make Nurse Patient Education Easily Digestible
Inundating your patient with too much information at once will only leave them bewildered and upset. That's why it's important to begin patient education as early as possible so that you can provide small bits of information over time.
This makes information easier to absorb and it allows you to evaluate the patient's understanding of what you've previously discussed. Shafer says this is especially important for patients with complex medical issues.
"If your teaching is going to be extensive, or involves a major medical diagnosis or change in health, you want to provide incremental education sessions," says Shafer.
"A newly diagnosed diabetic is not going to be able to process all they need to know in one teaching session. Start educating your patients in short sessions that allow time for processing and absorption. Just as we say that discharge planning starts on admission, patient education should start on admission as well. Every interaction affords you with the opportunity to teach your patients."
Renfro agrees you should "avoid information overload. The patient is unlikely to retain too much information delivered too fast. Both time and opportunity may be wasted."
3. Know your Own Patient Education and Counseling Limitations
Effective patient education can only be accomplished if you fully understand the topic(s) you're covering. If you're completely unfamiliar with the home care a patient must follow, prepare accordingly by researching it or asking another medical professional to educate you on the topic.
"It should go without saying," emphasizes Shafer, "but make sure you yourself are fully informed about the teaching you are about to perform. If you're unfamiliar with Cystic Fibrosis Related Diabetes, but plan to give your patient discharge information regarding nutrition and diet, you need to know the very specific details of both this type of diabetes and the underlying disease of cystic fibrosis. The last thing your patient needs is education that isn't accurate."
4. Make Sure Your Information was Understood and Absorbed
As Shafer points out, one of the most important patient education contract nursing skills is ensuring your teaching was understood and absorbed. You can often accomplish this by asking the right questions.
When you're finished educating a patient, Shafer suggests asking follow up questions about what they know and having them demonstrate techniques or procedures you taught them, so you can be sure your teaching was clearly understood.
5. Involve Others When Possible
Family plays a critical role in a patient's own healthcare management. With your patient's permission, Renfro suggests including family members or other supporters. This improves the chances your instructions will be followed.
"Even under the best of conditions," states Renfro, "patients may not remember everything they heard. A second party can take notes, which will allow the patient to focus on listening and asking questions without worrying about missing or forgetting something."
Dina Patel, a pediatric nurse case practitioner adds that "as nurses, we're the last people a patient sees before being discharged and usually after a very stressful situation. I believe that we have a huge impact on patients' outcome. We must take the time and educate them about their condition, address any questions and what to expect, and follow up with them."
"Effective patient education is one of the most crucial aspects of nursing care," concluded Shafer. "When performed successfully, it can have a significant impact on patients' lives."