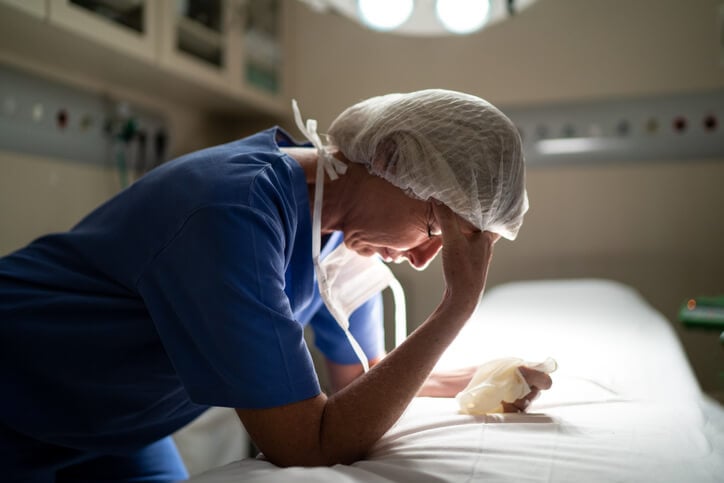 How to Decompress After a Tough Emergency Room Nursing Shift
Any nursing shift can be difficult, but emergency room nursing offers situations that can be particularly tough to deal with when it's time to clock out.
The fast-paced nature of treating patients who suffer from life-threatening injuries coupled with the high stress involved with meeting their needs can easily bring exhausted nurses to the point of breaking down.
When the day is over, and it's time to go home, it's important to find a way to decompress so you can leave the stress of your nursing shift behind and make the most of your life outside of emergency room nursing.
Below are three ways you can decompress after a tough emergency room nursing shift.
3 Ways To Successfully Decompress After A Tough Emergency Room Nursing Shift
1. Put Your Nursing Shift in Perspective
When putting your heart and soul into your emergency room nursing shift, separating your work from your home life can be difficult. However, it's important to remind yourself that there is a separation.
Kimberly Dwyer, Ph.D., is a Licensed Clinical Psychologist and Managing Partner at Rocky Mountain Center for Development, LLC. "A great strategy for decompressing after a rough work shift is to create separation rituals," she says, "making a very mindful and conscious effort to shift from work-life into home life."
"Some suggestions are to mentally (or verbally) say goodbye to work as you leave," she says. "For instance, one might say, goodbye patients, goodbye staff, I wish you well and will leave you here at the hospital in good hands until I return."
Dwyer believes this type of ritual will help nurses make a "conscious effort to shift from work-life into home life" at the end of their nursing shift.
She also suggests breath meditation for the calming effects on the central nervous system. "Mindfulness of the breath entails bringing full attention to the breath in the present moment," she says, "and even a brief focus on the breath can start to calm the fight or flight response that is triggered in crises."
Controlled breathing is a well-established relaxation technique that offers a wealth of benefits. There are several methods nurses can try after a difficult shift, so it's important to find the one that works best for you.
This can also be a great tool for resetting in the middle of a nursing shift if the care of a particular patient has produced a negative outcome. A little controlled breathing can help you move past the impact and be ready for the other patients in your care.
2. Decompress Your Body
When our bodies enter high-stress situations, such as a tough nursing shift, it's common for our muscles to tense up as our brains interpret our stress levels as threats to our health and safety.
To release the day's tension, Milana Perepyolkina, the internationally bestselling author of Gypsy Energy Secrets: Turning a Bad Day into a Good Day No Matter What Life Throws at You, offers simple relaxations techniques.
"During a tough ER shift, nurses spend too much time in tension mode," she begins. "To reverse stress, tense all your muscles on purpose, and then relax as if you are a soft stuffed animal. Repeat several times. Even 5 minutes of relaxation allows us to recharge our mental batteries."
She also points out the mental benefits of using this technique after an emergency room nursing shift. "It is not possible to have relaxed muscles and think stressful thoughts at the same time," she says.
"Our mind can't do that. Sit quietly with your eyes closed. Breathe slowly and deeply for about 5 minutes. Breathe in and hold your breath for a few seconds, breathe out, and hold your breath again."
Perepyolkina also suggests using lavender essential oils to deepen your relaxation and release nursing shift tension. "All thoughts that are connected to stress and tension will evaporate. You will notice that you have no thoughts while you are holding your breath and your mind and body moves from stress to relaxation."
3. Trick Your Brain
The biggest contribution to stress after an emergency room nursing shift is over is the brain's inability to recognize that the danger has passed. This can be reversed by forcing your brain to acknowledge the stressful situation is over, thereby allowing you to relax and recover.
Jill Howell, MA, ATR-BC, LPC, author of Create Your Way to a Less Stressful Life, offers the "brush it off" technique she's taught to several nurses over the years. "It's a great thing to do before you get into your car after you leave your shift so you can leave the night at the door and not take it with you."
"Starting at the top of your head, use your palms to brush off any negative thoughts or feelings," she says. "Brush down your shoulders and your arms. Brush under your arms. Brush off the front of your torso, down the sides of your torso, and your back. While you do this, imagine that you are brushing off your stress and any negative energy surrounding you. Wiggle a little, maybe jump up and down some. Now take a deep breath and release!"
Howell says this technique only takes a minute, and "everyone has at least one minute." The science behind the technique is in the repetitive motions. Psychologists understand that our brains need stability and predictability to allow us to feel happy.
This knowledge is often used to help treat patients with anxiety. For nurses, the unpredictability of your emergency room nursing shift causes stress and tension. Still, the repetitive motions of brushing off your day can give your brain a foreseeable pattern, allowing you to relax.