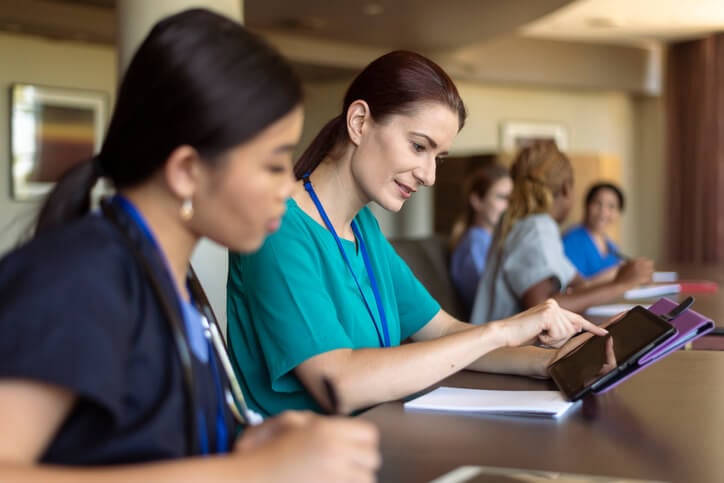 5 Examples of Nursing Career Goals That Are Achievable
Whether you're a nurse who just graduated or a long-time professional who feels like your career has stagnated, setting nursing goals is a great exercise for RNs who want to advance their nursing career.
Check out these examples for nursing career goals for inspiration to set your own professional nursing career goals.
5 Achievable Examples Of Nursing Career Goals
1. Advance your Degree
Whatever education level you're at currently, setting a goal to advance to the next degree provides you with a clear road map to success.
With structured class schedules and school advisers to keep you pointed in the right direction, this example of nursing career goals only requires your time and commitment to achieve.
2. Take a Management Position
Out of the other examples for nursing career goals on this list, this one is probably the least structured.
Setting your sights on a management position is a goal that can increase your salary and open new professional opportunities.
It will require a flexible strategy to achieve but can become more attainable in a shorter amount of time if you're willing to relocate.
3. Become a Specialist
Choosing a specialty is one of the nursing career goals you can achieve more than once. Select a specialty you feel passionate about or have demonstrated a natural aptitude for, and begin the training you need to become an expert in that field.
Achievement only requires your commitment and passion for the specialty you've chosen. Your increase in specialized knowledge can also open doors to help you achieve some of the other goals on your list.
4. Obtain Professional Certifications
Obtaining professional certifications is another of the nursing career goals that can be achieved multiple times.
With a variety of certifications available, such as the American Association of Critical-Care Nurses, you have an incredible selection to help take your career in a new direction.
All you need to do to achieve this goal is put in the time, study the material and pass the test.
5. Provide Nursing Services to Rural Areas
If you're searching for charitable examples for nursing career goals, this one fits your needs. People who live in rural areas often have little to no access to the medical care they need.
Many programs allow nurses to fill this need in areas that lack comprehensive medical facilities. This goal gives you the joy of making a difference in the lives of the people who live in these areas and can help you qualify for programs to reduce your student loan debt.
Some traveling nurse positions offer perks in an attempt to supplement medical care in these areas.
Additional Nursing Resources: