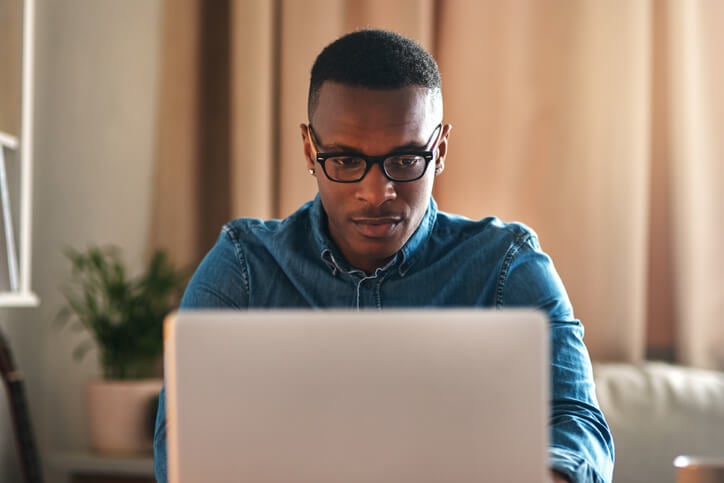 CS-Tips for Acing Your AMN Healthcare Virtual Interview
As you seek out your dream job, you'll have the unique opportunity to utilize some of the AMN Healthcare interview questions —a quick and easy online process that allows clinicians to interview for positions 24/7. Combining cutting-edge technology with our network of AMN clinical managers, virtual interviewing can help reduce your time-to-offer, so you can hit the ground running on your contract assignment. With the process being a little different from face-to-face interviewing, we put together some tips to help you land your next offer.
How to Conduct a Virtual Interview
1. You will receive an interview invitation from AMN Healthcare, with the subject line: Virtual Interview – Complete Now. This will be a direct link to your individual interview, which can be completed either on a smartphone or computer.
The interview itself consists of two parts—a written portion with questions related to your skill set and an audio portion with more situational prompts, related to hypothetical workplace experiences.
2. Begin with the written questions, which you can answer with no time limit—before moving on to the audio questions. You will have a time limit of two minutes per audio question.
3. Once both portions of your interview are completed, you will have the opportunity to provide feedback on the process and your interview will be sent to the AMN Clinical Team for review.
4. The team will score your interview and determine the best job match for your discipline and skill set.
If the clinical managers determine that your profile matches with the specific needs of a facility, you will be eligible to receive an auto-offer from AMN for the open position.
5. Once the clinical team has concluded with your review process, your recruiter will contact you to let you know the next steps.
Tips for a Successful Virtual Job Interview
The AMN virtual interview process is meant to be a convenient and efficient way for clinicians to find their next position—but to set yourself up for success, you should prepare in the same way as you would an in-person interview. As a refresher, we've compiled some of the best ways to stand out in your AMN Healthcare virtual interview:
Prepare Your Interview Setting
Remember, this is a professional interview—you want to ensure that you are completing it with full focus and without distractions. Find a quiet location to work and set aside dedicated, uninterrupted time to complete your interview.
Professional Appearance
Even though this process can technically be completed from anywhere, don't treat it like a sweatpants party. Dress and carry yourself professionally, as if you were going into the manager's office for an in-person interview. You won't be on video, but it always helps to dress for success.
Thorough & Thoughtful Answers
As you work through your written questions, keep in mind that there are no time limits for your answers. Take your time to answer the written interview questions thoroughly and thoughtfully before moving to the audio section.
Know Your Audience
The interview questions were designed and coordinated with AMN's clinical leaders and the managers from the facilities you will be considered for. Answer your questions with honesty and substance. Everyone reviewing your interview wants to ensure that your next position is the right fit for you to excel.
Don't Procrastinate
The review and offer process works on a first completed-first reviewed basis—don't wait until the last minute to complete your virtual interview, as the earlier you complete the process, the earlier you will be considered for a position opening.
Hopefully, this overview helped you understand a little more about how the AMN Virtual Interview process works and what you can do to stand out from other applicants as you work toward landing your next assignment. If you have any further questions about the process or to get started on your virtual interview today, reach out to your recruiter for more information.