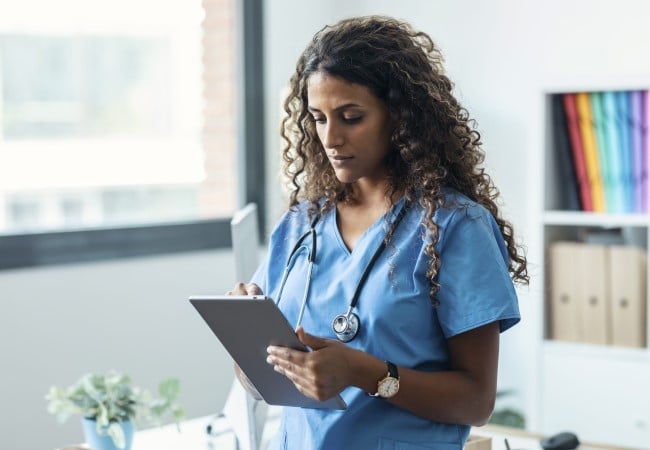 10 Unusual Nurse Practitioner Jobs
Nearly a quarter of a million nurse practitioners (NPs) practice in a wide variety of positions in the United States, with more in universities preparing for a new career.
Nurse practitioner jobs offer good career possibilities, with the graduate programs experiencing a lot of growth, reported Whitney Nash, Ph.D., APRN, ANP-BC, FAANP, associate professor at the University of Louisville School of Nursing. In their doctor of nursing program, "we have more applicants than we can take."
10 Unusual Places You'll Find NP Jobs
The American Association of Nurse Practitioners (AANP) reports that the NP workforce is growing, with 23,000 NPs graduating in the 2015-2016 academic year. Currently, there are 248,000 NPs licensed to practice in the United State, which is more than double the number of NPs reported in 2007 (112,000).
In 2017, NPs conducted about 1.02 billion patient visits.
Approximately 25 percent of NPs are in private practice, 12.8 percent in outpatient clinics, 10.3 in hospital inpatient settings, 8.2 percent in Federally Qualified Health Centers, and 5.9 percent in urgent care or emergency rooms. Yet some find more unusual places to practice, including the following.
1. Horse Racing Venues
The Kentucky Racing Health Services Center serves workers in the thoroughbred horse racing facilities and their families. The University of Louisville School of Nursing operates the clinic, which is located a block from Churchill Downs, in partnership with the Kentucky Racing Health & Welfare Fund. The clinic offers a medical home for workers, including grooms and stable hands.
"The workers are an underserved group, and they do not have health insurance," said Nash, founding director of the center.
Nurse practitioners see about 1,500 patients here annually. NP, RN, and medical and dental students from the university rotate through the clinic. Students in the Latino Studies program serve as interpreters for patients who speak Spanish. Patients pay just a $5 co-pay.
2. Mobile Medical Units Serving the Homeless
As an example, NPs at the Health Care Center for the Homeless provides primary medical care to homeless individuals throughout the three-county Orlando, Florida-area in The HOPE Mobile Unit. The NPs take their care to where homeless people frequent.
3. WTC Health Program
NPs are an integral part of the team at the World Trade Center (WTC) Health Program Clinical Center of Excellence at Mount Sinai in New York. The program continues to care for those directly affected by the September 11th terrorist attacks in New York, the Pentagon, and in Shanksville, Penn. A multidisciplinary team provides care at the center to first responders and others with WTC-related conditions and symptoms.
4. Writing and Editing
Many nurse practitioners enjoy writing and can share their knowledge and expertise by writing and updating continuing education courses. Other NPs find niche editing textbooks or journals, performing peer reviews, or consulting for education companies.
5. Caring for At-Risk Youth
NPs with Orlando Health's Teen Xpress provide free care to uninsured and underinsured at-risk students in Central Florida middle and high schools. Services range from physical exams to treatment for common ailments, such as sore throats or asthma. The NPs often pick up early indications of more complex concerns, such as diabetes or hypertension. The two mobile clinics receive support from The United Way.
6. Telehealth
Researchers from the University of Virginia in Charlottesville reported in Advances in Medical Education and Practice that telehealth will become vital to providing access to care. Therefore, it's expected that more NP jobs will involve the use of this technology.
Companies like MediTelecare hire NPs to provide behavioral healthcare to geriatric patients in skilled nursing facilities via telehealth technology. The NPs work part-time and full-time. Patients are seen via videoconference.
7. Aesthetics
Many NPs are performing cosmetic procedures, such as dermal fillers, laser treatments, or injecting Botox, in a medical spa or a dermatology or plastic surgeon's office. The NPs who work in these settings often have more time to spend with patients than those who work in acute care settings.
8. Locum Tenens
NPs wanting to travel and/or try out different practice settings enjoy locum tenens jobs. Nurse practitioners can skip the challenges associated with a permanent position and accept locum tenens assignments for short- or long-term work. Assignments may be part-time or full-time and may be close to home or across the country.
Locum tenens nurse practitioner jobs are plentiful and can be found in a variety of settings. The recruiters at Locum Leaders can help you find the right opportunity.
9. Retail Clinics
NPs often work in retail settings, and the number of retail clinics is growing. About 2,225 are currently operating in the U.S., according to research from Kalorama Information, a division of MarketResearch.com in New York, which studies and issues reports on the convenience care market.
The number of clinics continues to grow because people like the convenience and flexible hours. The growth in the number of retail clinics should continue to boost the number of NP jobs.
10. Rural Settings
Many of today's NPs are providing care to underserved populations. The 2016 AANP survey indicated about 15 percent of NPs practice in a location with 10,000 or fewer people and 11,000 NPs take care of patients in communities with fewer than 2,500 people. These rural NP jobs exist in every region of the country.
Matthew Davis, MPH, PhD, assistant professor at the University of Michigan School of Nursing, and colleagues found that NPs were more likely than physicians to practice in areas with the greatest need for health care.
AMN Healthcare company, is recruiting NPs, PAs, and physicians for locum tenens jobs across the U.S.
CONTACT US to learn more.