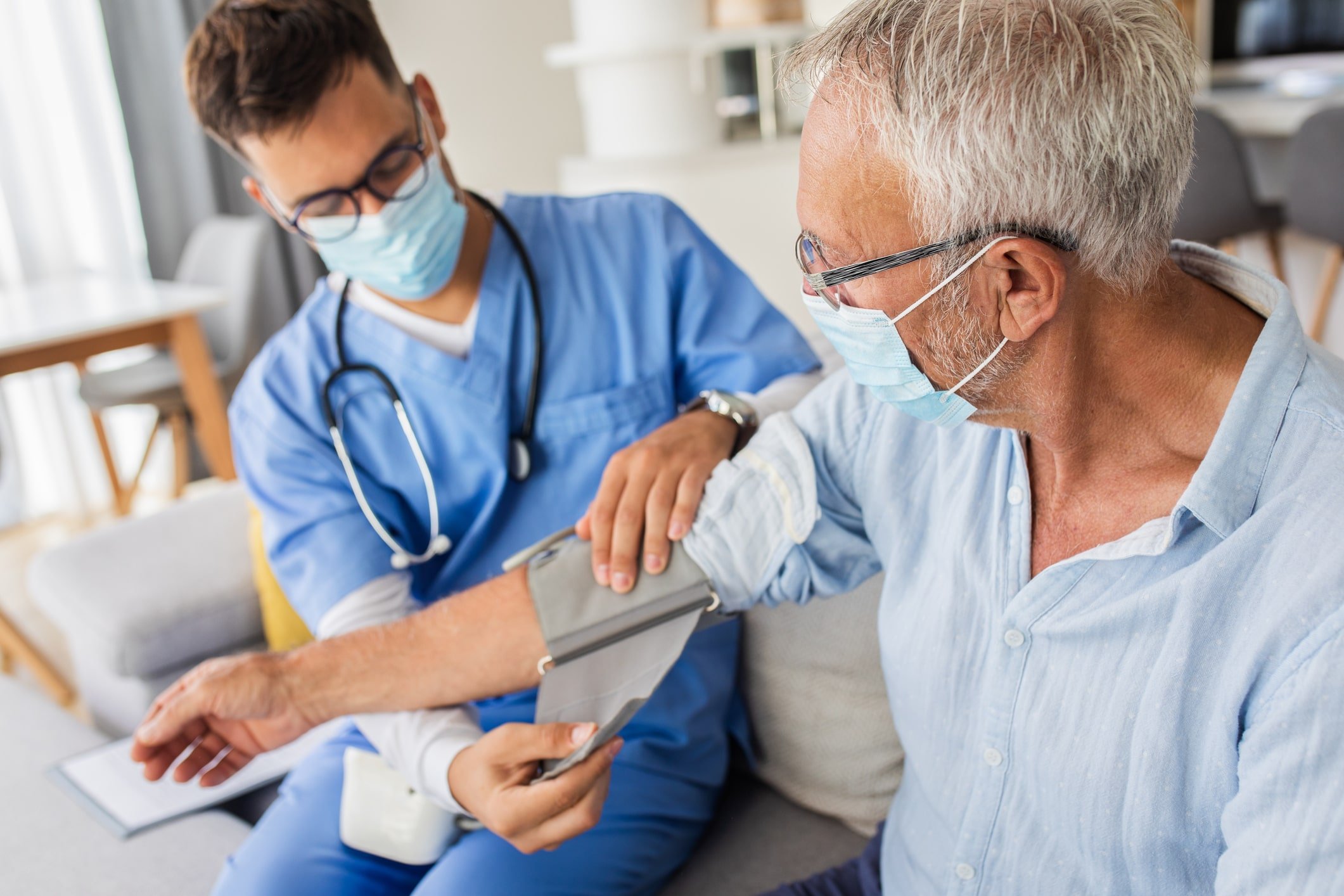 RN-to-Patient Hospital Staffing Ratios Update
Following years of rallies, protests, public hearings and letter writing campaigns by the California Nurses Association/National Nurses Organizing Committee (CNA/NNOC), AB 394, the first RN-to-patient hospital staffing ratios law, became effective January 1, 2004 in all California acute-care, acute psychiatric and specialty hospitals. The law requires that no RN can be assigned responsibility for more patients than the specific ratio at any time, under any circumstances, based on patient acuity and scope of practice laws.
As of January 1, 2008, the ratio law completed its "phase-in period" and has now been updated, by the California Department of Health Services (DHS), with new mandated minimum numerical ratios for three units. Step Down has been reduced from 1:4 to 1:3, telemetry from 1:5 to 1:4 and other specialty care units, such as cancer care, from 1:5 to 1:4. These join the other following units already in effect.
Intensive/Critical Care 1:2
Neo-natal Intensive Care 1:2
Operating Room 1:1
Post-anesthesia Recovery 1:2
Labor and Delivery 1:2
Antepartum 1:4
Postpartum couplets 1:4
Postpartum women only 1:6
Pediatrics 1:4
Emergency Room 1:4
ICU patients in the ER 1:2
Trauma patients in the ER 1:1
Medical/Surgical 1:5
Psychiatric 1:6
"California's ratios are a spectacular success story," said CNA/NNOC's Council of Presidents member, Zenei Cortez, RN in a California Nurses Association press release. "Under our ratio law, lives are being saved, our ability to be effective advocates for our patients is stronger, and more RNs are entering the work force and staying at the bedside longer, mitigating the nursing shortage."
According to CNA/NNOC's booklet The Ratio Solution, the law includes other multiple provisions designed to remedy unsafe staffing in acute-care facilities. For example, additional RNs must be added to the minimum ratio based upon a documented patient classification system that measures patient needs and nursing care, including severity of illness, complexity of clinical judgment and the need for specialized technology.
"The ratios are a floor, not a ceiling," stated Cortez. The law requires that there can be no averaging of the number of patients and the total number of RNs. The ratios are the maximum number of patients assigned to any one RN at all times during a shift.
The booklet states that hospitals cannot cut back on their ancillary staff, as this would increase an RN's workload and patient count. The DHS's safe staffing standards maintain the existing staffing model that utilizes RNs, LPNs/LVNs and unlicensed assistive personnel so that RNs can concentrate on taking care of their patients, instead of doing such things, as taking vital signs, changing diapers and giving baths.
LPNs/LVNs are not in the ratio count and are assistive to the RN. An LVN cannot be assigned overall responsibility for a patient. Hospitals may not assign unlicensed assistive personnel to perform nursing functions or perform RN functions under the supervision of an RN including administration of medication, venipuncture and invasive procedures.
In a CNA/NNOC February 11, 2008 press release, a travel nurse in Ohio stated that "a hospital can float a nurse into critical or emergency situations with absolutely no experience or expertise. It is unconscionable and I have witnessed it."
Therefore, AB 394 requires that RNs must be oriented and have demonstrated current competency before the hospital assigns them to a clinical area. Temporary or "floating" nursing staff must receive the same orientation and competency determination as permanent staff.
Some healthcare staffing companies, like AMN Healthcare, put their RNs through a comprehensive assessment to ensure that they have the necessary training, licensure and knowledge of key competencies before placement to help hospitals meet this provision.
Even though the ratios apply "at all times," including meals and breaks, this is an often-overlooked staffing area that is a critical piece to the ratio guidelines. A competent charge nurse, RN manager or break RN must relieve a nurse during his or her breaks. According to a CNA/NNOC February 11, 2008 press release, one California hospital was forced to pay $1.9 million in penalty pay last year, after RNs filed hundreds of complaints about having to pick up a colleague's patients during meals and breaks.
Many California RNs have realized that certain hospitals may find ways to skirt around the ratio law and are therefore, leaving those hospitals to work for nurse staffing agencies so they can personally determine which assignments are best for them. Likewise, nurses across the country have left their hospitals because of unsafe and intolerable staffing ratios; more than 86,000 actively licensed RNs have come into California's workforce since the law was signed, according to the Board of Registered Nursing. Many of these new residents also look to nurse staffing agencies for placement.
"Because of the law's success in California, nurses in other states, such as Arizona, Illinois, Maine, Ohio, Texas and Massachusetts are pushing to adopt similar bills in their own states," stated Cortez. "RNs across the nation have seen the future and the enormous benefits of this law. They know it works for patients, nurses and communities."
"In California, hospital industry efforts to overturn the law have failed due to its enormous popularity with patients and the public, support from legislators, validation from the courts and its demonstrated success in improving patient care," added Cortez.
In May 2007, the Agency for Healthcare Research and Quality reported that improved RN staffing ratios are associated with a reduction in hospital-related mortality, failure to rescue and lengths of stay. Every additional patient assigned to an RN is associated with a 7 percent increase in the risk of hospital-acquired pneumonia, a 53 percent increase in respiratory failure and a 17 percent increase in medical complications.
Other findings, published in the January/February 2006 issue of Health Affairs, show that if all hospitals increased RN staffing to match the top 25 percent best staffed hospitals, more than 6,700 in-hospital patient deaths, and, overall 60,000 adverse outcomes could be avoided. The findings do not include the ancillary value to families of reduced morbidity, such as decreased pain and suffering and days lost from work and huge economic savings for the hospitals.
Although data shows that lower ratios work, many hospitals struggle to meet them due to the dire nursing shortage, and fear that this could lead to closing units, diverting patients from the emergency department and limiting patient access to services and procedures.
"California hospitals are doing the best they can to comply with the ratio requirement," said California Hospital Association spokesperson Jan Emerson in a January 3, 2008 American Hospital Association news brief. "This includes the use of traveler nurses, which are necessary because of the continuing shortage of nurses in California."
Opponents of RN-to-patient ratios believe that a legislatively-mandated "one-size fits all" approach that is number driven is not the answer, as patient acuity, as well as nursing units and hospitals, are all unique.
"There are many variables we do not yet fully understand," said Linda Burnes Bolton, Dr.PH., R.N., F.A.A.N, in a prepared statement. Bolton is the chief nursing officer at Cedars-Sinai Medical Center in Los Angeles and co-author of a study conducted by the California Nursing Outcomes Coalition to assess the impact of mandates on hospital operations and patient outcomes that was published in the March 2008 issue of Policy, Politics & Nursing Practice. "As previous studies have suggested, further research is needed to closely examine numerous factors, including nursing unit data, organizational differences and characteristics of the work force."
© 2008. AMN Healthcare, Inc. All Rights Reserved.