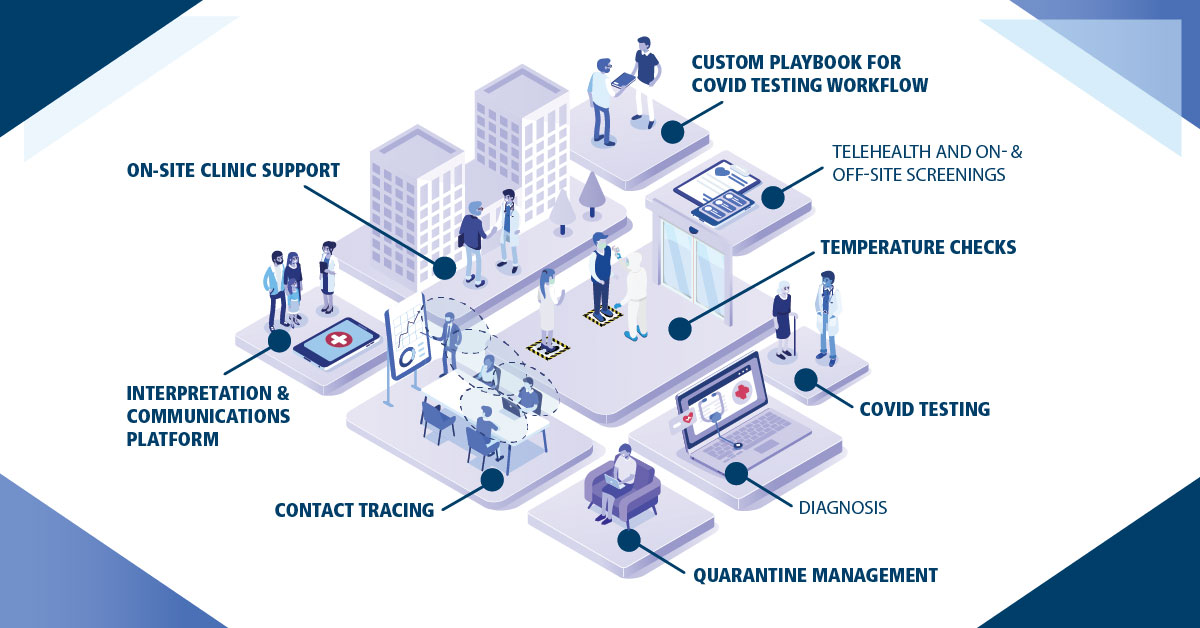 Return to Work Healthcare Workforce Solutions
Protect the Health of Your Employees
As businesses prepare to return to work, it's important to take the necessary steps to implement new safety protocols to ensure the health and well-being of your employees.
Whether you need a custom playbook that maps out a new process or need assistance finding the right healthcare provider to conduct temperature checks, AMN Healthcare is your all-in-one resource for scalable, flexible solutions.
A Tailored Approach
Let us handle your Return to Work preparation and implementation so you can focus on what matters – keeping your team members safe and driving your business forward.
AMN Healthcare is the industry leader in healthcare workforce solutions.
We know healthcare – allow us to be the experts.
We can be your total partner, helping you plan and execute the right solution.
We have the largest healthcare provider base, ensuring we can support the needs of your company.
The Right People, Right from the Start
We can provide the right mix of people to help with your custom Return to Work strategy. We have the resources to handle advisory and project management and will collaborate with you to build and execute a custom playbook based on your exact needs.
Additionally, we have subject matter expertise in COVID testing and can leverage our knowledge base to inform the right testing protocol for your company/facility and employees. We also have access to the largest number of pre-screened and qualified physicians, advanced practitioners and nurse and allied professionals to provide you with the talent you need.
Custom Solutions to Meet Your Needs
We meet you where you need us, with the right services, expertise, people and technology to help you manage the safe return of your employees to the workplace.
Custom Playbook for COVID Testing Workflow – partnering with you, we can provide a custom playbook that outlines the steps we can take to ensure your employees are properly tested, retested, cleared for work – and more.
On- & Off-Site Screenings – we can provide your employees with access to a digital questionnaire that can screen employees on- or off-site.
COVID Testing – whether an employee has a high temperature or you'd like to screen all employees prior to resuming business, we can assist in administering COVID tests to ensure confidence in the workplace.
Diagnosis – we can provide the resources needed to provide a diagnosis regarding COVID tests.
Temperature Checks – staffing to ensure that each and every employee receives a temperature screening upon entering the workplace each day will reduce the spread and ensure any sick employees are treated or quarantined early on.
Quarantine Management – if an employee tests positive for COVID, we can identify a clear strategy for quarantine as well as follow-up and retesting procedures.
Contact Tracing – if an employee tests positive for COVID, our team has the tools to help with contact tracing in order to quickly identify and notify other employees who might have come in contact with the infected individual.
On-Site Clinic Support – resources to staff your on-site clinic will provide a safe place for employees to turn for swabbing, temperature checks and more.