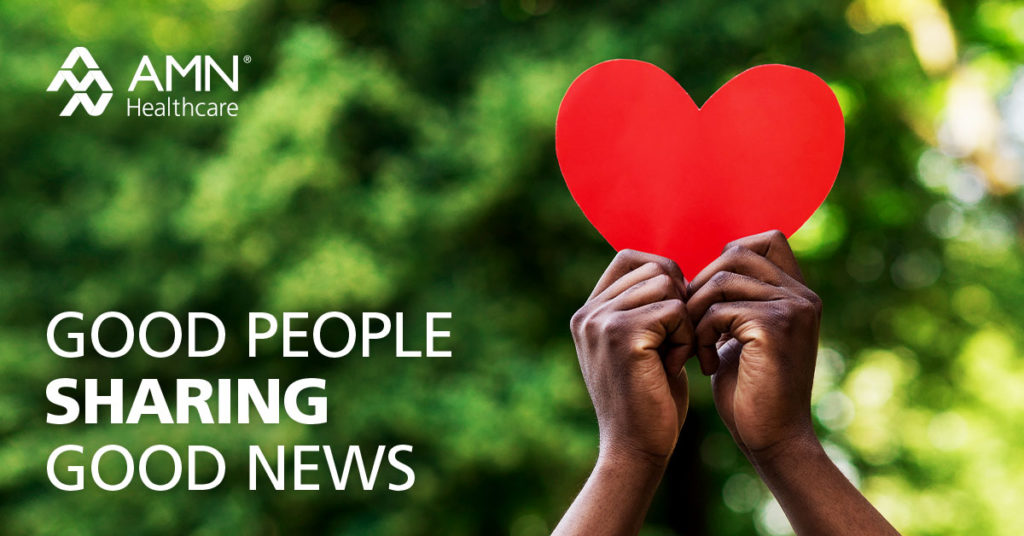 Good People Sharing Good News #2
COVID-19 has gripped the world in a way none of us have ever experienced. But in the face of adversity, many have risen up to the challenge. We hope these short stories of grace, compassion, and selflessness brighten your day and give you the strength to keep doing amazing things for your communities.
Billboards Thanking Healthcare Workers Go Up in Nashville
A Nashville-based advertising group launched the outdoor campaign they're calling #OUTPOUR to thank the city's frontline medical workers. The campaign includes thank you messages emblazoned across 74 digital and print billboards across the city. Atlanta may be next, the Buntin Group says.
Source: Nashville Business Journal, April 17, 2020. "Billboards thanking health care workers appear in Nashville"
Denver Mural Depicts Healthcare Worker with Angel Wings
A new mural along a street in Denver depicts an image of a health care professional wearing a mask and boxing gloves, with angel wings unfurling behind her. The artist has explained that he wanted to thank all the healthcare workers who are tirelessly giving of their time and energy to care for COVID-19 patients.
Source: CBS Denver, April 13, 2020. "Mural On Colfax Avenue Depicts First Responders As Angels… With Boxing Gloves"
Florence + The Machine Donate Song Proceeds to UK COVID-19 Fund
English indie rock band Florence + the Machine has released the new song "Light Of Love" and is donating all the proceeds to the UK's Intensive Care Society COVID-19 Fund. According to lead singer Florence Welch, the effort is designed to "show my love, respect and admiration to all those working on the front line of this crisis."
Source: Vents magazine, April 17, 2020. "Florence + The Machine Share "Light Of Love" To Benefit U.K.'S Intensive Care Society COVID-19 Fund"
North Carolina Surgeon Flies Lab Tests Across State Lines to Speed Up Results
Surgeon Dickson Schaefer flew his Cessna 182 out of Fayetteville Regional Airport in North Carolina on a recent Saturday afternoon to deliver coronavirus test samples to a lab in Nashville, Tennessee. He was on a mission for Angel Flight Soars and Cape Fear Valley Health, to speed up the effort to get lab test results for patients. He says he's glad he can use his hobby to help people, both the patients waiting on the results and the healthcare workers who will care for them.
Source: BladenJournal.com, April 18, 2020. "Heart of gold: Physician lends own plane, time to speed results to patients"
Atlanta Nurse Honored for Helping Out After Recovering from COVID-19
Atlanta nurse Santana Sims became ill with COVID-19 and had to be quarantined while she recovered. Now she's back at work to continue caring for other sick people, while also taking the time to deliver care packages to other nurses on the front lines. Her family and friends recently held a parade to recognize her for being their "she-ro."
Source: 11alive.com, April 19, 2020. "Nurse who battled COVID-19 now helps others with care packages. Saturday, she got a special surprise"