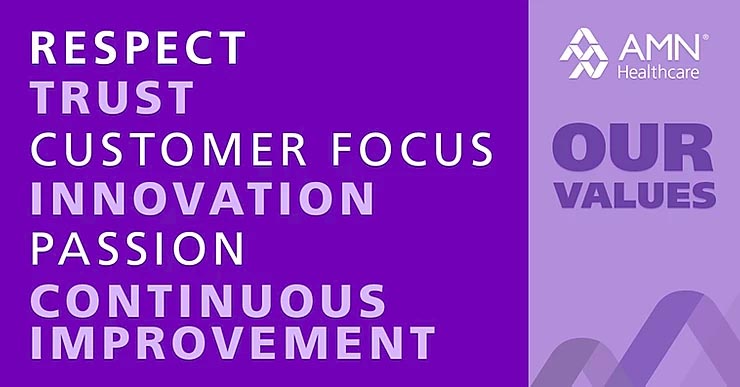 Doing the Right Thing
Our Values
Like all other companies, AMN Healthcare is facing unprecedented challenges created by the COVID-19 virus. We feel it is important to share some information about how decisions are made at AMN during this crisis, and the ways we are balancing the impact of these decisions on our clients, healthcare professionals, team members and others that depend on AMN. These communications are about key decisions we have already made, and the decisions we will be making in the coming weeks. We hope they provide helpful transparency, and, as always, we appreciate any feedback you can provide to us.
Throughout the day, leaders at AMN are making decisions that will impact the lives of patients our healthcare professionals serve but also our healthcare professionals themselves, along with our clients, suppliers, team members and all of our communities. AMN leaders need to move quickly during this crisis and are often acting with limited or changing information. AMN's values have always been a foundation for our decisions, and these values make an excellent framework for today's challenges.
Our Core Values:
Respect
Trust
Customer Focus
Innovation
Passion
Continuous Improvement
Most of the time in our decision-making, we get it right the first time. But occasionally, we'll miss the mark and must modify our decisions to fit a fast-changing situation. Thank you for your support when we get it right — and for your feedback when we miss the mark. Your responses will be an essential part of Doing the Right Thing. We look forward to the dialogue.