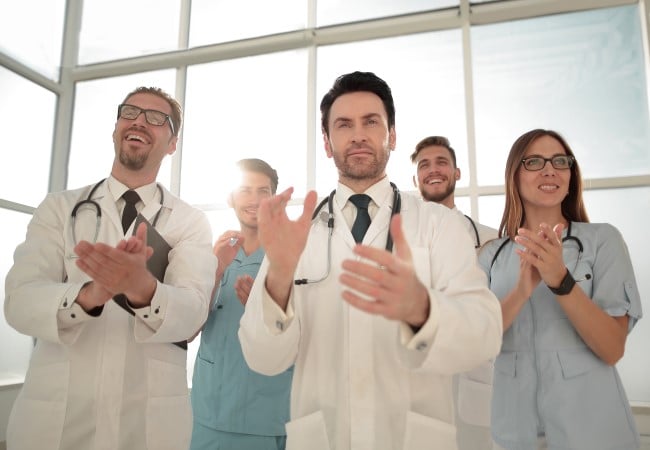 Match Week 2022: What's New This Year
Medical School Graduates Matching with Residency Programs
Graduating medical students will soon learn, at the end of Match Week 2022, whether they have been accepted in a residency program and where they will spend their medical residencies, required to practice medicine and care for patients.
The AAMC (Association of American Medical Colleges) projects that there will be around 21,700 graduates from U.S. MD-granting schools this year," said Geoffrey Young, Ph.D., AAMC's senior director, Transforming the Healthcare Workforce.
"The pandemic certainly has had effects on the soon-to-be-MD graduates," Young continued. Their training has been impacted by a global pandemic, the demonstrated lack of health equity for vulnerable patient populations, and an emphasis on social justice. We believe that our graduates have been well trained and are ready to provide equitable, high-quality compassionate, and culturally responsive care to varied patient populations.
Match Week 2022 takes place March 14-18, spanning Monday to Friday.
The Match: A 70-Year Tradition
The National Resident Matching Program (NRMP), established in 1952, manages the annual process of fairly matching more than 50,000 applicants for U.S. residency positions with the preferences of directors of more than 10,000 programs. About 37,000 positions are available. The NRMP also conducts fellowship matches for 65 subspecialties. The NRMP Results and Data for the 2021 Main Residency Match indicate that the five most popular residency specialties for U.S. medical school seniors last year were:
Internal Medicine
Emergency Medicine
Pediatrics
Family Medicine, and
Psychiatry
Young said, "We suspect that 2022 results will be similar." The match occurs after the medical students apply to and interview with medical residency programs and register for the match through NRMP's Registration, Ranking, and Results® (R3®) system.
This year is the first class to complete the residency application process completely virtually due to pandemic, said Steven Berk, MD, dean of the Texas Tech Health Sciences Center School of Medicine.
The applicants, institutions, and programs must pay current, non-refundable registration fees. The applicants and programs ranked their preferences in February, then NRMP runs its computerized mathematical matching algorithm, and the applicants and programs receive the binding match results on Match Day, which is Friday, March 18, 2022.
The Supplemental Offer and Acceptance Program (SOAP) offers applicants and programs not matched an opportunity to receive a placement during Match Week 2022. Programs are able to offer unfilled positions to eligible applicants who were not matched or partially matched. Not all specialties match with NRMP. For instance, The American Urological Association runs an independent match for urology candidates, and the San Francisco Residency and Fellowship Match Services operates the ophthalmology match.
Match Week 2022
This year's Match Week starts on Monday, March 14, 2022. Medical school officials can access a report of unmatched applicants and unfilled programs. Applicants can learn whether they were matched and start preparing applications, and programs can find out if their medical residencies were filled.
Matches may not occur if the applicant did not rank the program, the program did not rank the applicant, or the applicant and program had ranked each other but the program was filled with other applicants more preferred by the program.
On March 15, programs can start reviewing SOAP applications and may contact applicants. Programs also can start developing SOAP preference lists within NRMP's R3 system. The next day, the programs can review applications, conduct interviews, and certify their preference lists for SOAP candidates.
March 17 offers programs and applicants multiple SOAP rounds in attempts to make matches. At noon on Match Day, March 18, applicants learn their match results and medical schools hold Match Day ceremonies. While each medical school is different, many have advertised that this year's events will be in person, albeit with limited attendance and enforcing public health measures due to the ongoing COVID-19 pandemic.
The list of unfilled programs remains in NRMP's R3 system until April 30, 2022. Medical residencies begin on July 1, 2022.
For new doctors looking to increase their income and start paying back medical school loans as soon as possible, some residency programs allow residents to moonlight, although jobs for medical residents may not include clinical care.
Those experiences help shape the residents' clinical and communication skills and prepare them for jobs after completing their medical residencies.
More Changes to Come in 2022 for Medical Specialties
In January 2022, NRMP announced it was combining its Medical Specialties Matching Program and Pediatric Specialties Fellowship Match into a new Medicine and Pediatric Specialties Match. The match registration will open on August 24, 2022, and MSMP Match Day will be on November 30, 2022, for this new subspecialty match to fellowship training positions.
NRMP announced in December 2021 the results of its 2021 Pediatric Specialties Match for the appointment year 2022. More than 1,500 positions were filled.
"It's exciting to see the consistent increase of applicants in the Pediatrics Specialties Match over the years," said NRMP President and CEO Donna Lamb, DHSc, MBA, BSN, in a statement. "This trend really speaks to the growing interest of resident physicians who remain committed to the improvement of children's health and well-being."
Also in December 2021, NRMP announced matching and filling 5,759 fellowship positions during the 2021 Medical Specialties Matching Program (MSMP). Allergy and Immunology, Cardiovascular Disease, Endocrinology, Gastroenterology, Hematology and Oncology, Pulmonary/Critical Care, and Rheumatology filled at least 95 percent of positions offered and the newest subspecialty, Critical Care Medicine, filled 157 positions (98.1 percent) of the 160 offered in its first year.
Applicants' subspecialty medical fellowships begin in July 2022; appointments from this year's combined MSMP Match will begin in July 2023.
"It's rewarding to watch the MSMP grow, not only in terms of applicant interest and available training positions but also from its launch 20 years ago with only three internal medicine subspecialties," Lamb said.
AMN Healthcare can match medical residents and fellows, and experienced physicians, with part-time and full-time locum tenens opportunities in an array of medical specialties. CONTACT A PHYSICIAN RECRUITER to learn more.