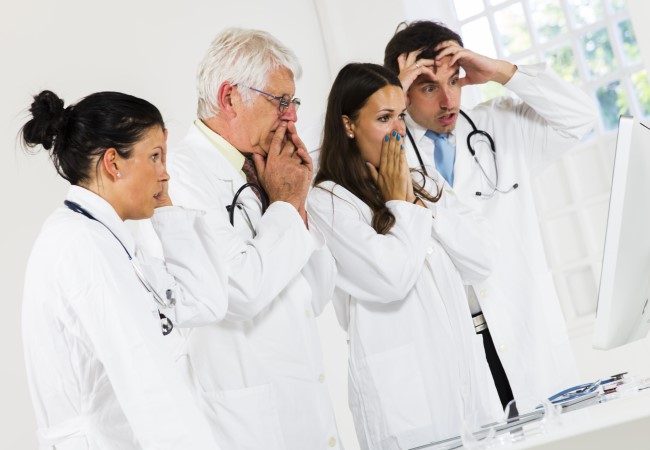 After Match Week: Options for Residency Candidates Who Didn't Match
Congratulations to the thousands of medical school graduating seniors who received a residency position during the 2023 Main Residency Match program.
This year's Match had the largest number of residency training positions offered, and the largest number of applicants, in the program's 70-year history. The results were announced to applicants and residency programs on the final day of Match Week, also known as Match Day, on March 17, 2023.
"The 2023 Main Residency Match proved once again to be a highly successful Match with outstanding results for participants," said Donna L. Lamb, DHSc, MBA, BSN, CEO and president of the National Residency Matching Program, in a March 17, 2023 press statement.
While the residency slots cover a number of medical specialties, primary care had an especially strong showing this year, Lamb noted. "We were excited to see the record number of primary care positions offered in this year's Match and how the number of positions has consistently increased over the past five years, and most importantly, the fill rate for primary care has remained steady."
Across all specialties, this year's match rate for U.S. MDs was 93.7 percent, while U.S. DOs saw an all-time-high match rate of 91.6 percent.
Overall, the program's residency match rate for U.S. medical doctors has remained the same, around 93.5 percent, for more than 30 years, said Mary Halicki, program director, of Careers in Medicine, at the Association of American Medical Colleges (AAMC).
But what options are available after Match Week for those candidates who did not match?
"It's rough," said Margarita Loeza, MD, MPH, assistant dean of student affairs and admissions at the Charles R. Drew University of Medicine and Science in Los Angeles. "A lot of doctors go unmatched the first round. It's not uncommon. They need to find help, look for mentors, and talk with their school deans to find out what they can do to improve their applications for the next cycle."
About the Residency Match
The National Resident Matching Program (NRMP) announced the 2023 Main Residency Match was the biggest in history, with 40,375 certified residency positions and 42,952 applicants who certified a rank order list for a residency slot in September 2022, after they had interviewed with different programs. Then from February to early March, the applicants and residency program directors ranked each other in order of preference, according to NRMP, which then used a computerized mathematical algorithm to pair up the applicants with a binding residency slot.
NRMP notified medical school graduates who did not match on Monday, March 13, 2023. Those schools could then let the applicants know, giving them an opportunity to participate in the Supplemental Offer and Acceptance Program (SOAP).
"Individuals who found out they were partially matched or unmatched on Monday, March 13 may have participated in the NRMP's Supplemental Offer and Acceptance Program to try to obtain an unfilled position," said Lamb in a recent interview.
NRMP also provides a Medical Specialties Matching Program (MSMP), but it is not an option for individuals who did not match. Lamb explained, "[The MSMP] is for fellowship matches or specialized training after an individual completes their residency training."
On March 17, 2023, the last day of the NRMP Match Week, applicants learned where they matched and will start a residency in July. Match Day ceremonies take place at medical schools this Friday.
A few specialties, including urology, conduct their own match programs for residency slots. The Urology Match results were announced in February. The San Francisco Match for ophthalmology residents was announced in February and for some plastic surgery residencies in May. There also is a Military Match for Army, Air Force, and Navy residency positions.
Options after Match Week
"If individuals do not obtain an unfilled position during SOAP, some U.S. seniors may delay graduation to get additional clinical or research experience," Lamb said. "Other applicants may also obtain research positions in hopes of improving their application for next year's Match if they choose to reapply and participate in the Match again."
Alternately, Halicki noted, "Some students find residency programs outside of SOAP, for example at FindAResident," an AAMC search tool.
As for continuing in medical school, Halicki warned that it depends on the medical school's policies and the availability of student loans and financing. She suggested unmatched graduates consider pursuing an additional degree, such as a master's in public health or a master's in business administration, and then re-enter the Match upon completion.
Loeza added that remaining in school or in touch with professors and the dean of the medical school the graduate attended can prove beneficial in securing letters of recommendation for the next match cycle. She suggests asking them for help and seeking out mentors. Doing research can help if the specialty requires research, she said.
Talking with physicians already working in the specialty can help an individual who did not match figure out why that happened, Loeza said. Then that person can work on those weaknesses. Reasons for not matching may include poor academics or exam scores or not interviewing well.
Additionally, staying in a clinical environment helps keep skills and knowledge current. A job as a medical scribe might make sense, or future physicians can volunteer to scribe, translate or assist in other ways at a free, volunteer clinic serving low-income, uninsured patients.
After failing a residency match, individuals can take the United States Medical Licensing Exam Step 3, usually taken during residency.
"It's better to take it in the year you have off than as an intern," Loeza said. "Then let the program know you have been studying and do not have to take that test."
Another option might be applying for a less competitive specialty residency. But Loeza cautions doing this only if the medical school graduate is truly interested in the other specialty.
"It's hard to do a job you are not interested in," Loeza said.
Although several strategies exist for securing a match next year, nothing helps for certain.
"We cannot say, 'This will help you get in,'" Loeza said. "You can do things to help yourself, but there are no guarantees."
AMN Healthcare, specializes in placing physicians, medical residents and fellows, and advanced practitioners in part-time and full-time locum tenens opportunities.
CONTACT A RECRUITER to learn more.