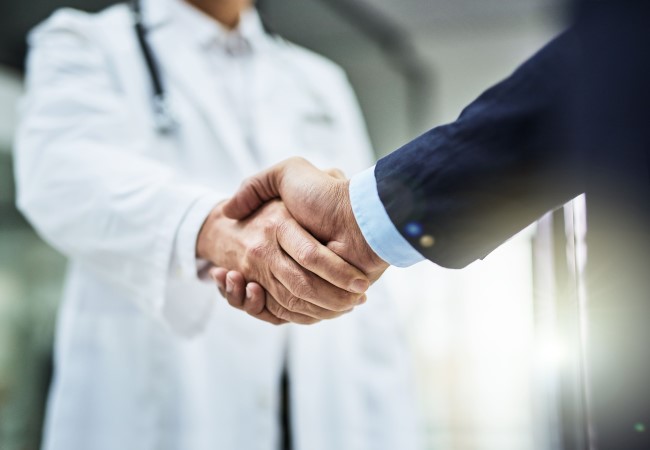 We're Hiring Locum Doctors for Compensation and Pension Exams
Doctors, do you have experience giving compensation and pension exams? If so, you're in demand — and we have a variety of career opportunities for you, in great facilities across the United States.
The drive for America's veterans to receive "medical disability examinations for compensation and pension purposes" is on the rise nationwide, with tens of thousands of examinations conducted annually, according to the American Legion.
C&P exams don't involve treatment but require a review of a veteran's history and subsequent examination. The process typically involves filling out a disability benefits questionnaire so that the VA can evaluate and decide upon each claim for benefits.
As the nation's leading locum tenens recruitment service, AMN Healthcare has a presence as locums staffing partner in many VA facilities. But the opportunities aren't limited to those settings: C&P exams are often offered in other hospitals and healthcare facilities, and experienced physicians have become increasingly in demand in those settings.
Locum Doctor Jobs For C&P Exams
What's it take to land a locums opportunity in C&P exams? Requirements vary, but for the most part, physicians must have the experience that includes:
Verifiable credentialing through the U.S. government's "Data Bank" — i.e., the National Practitioner Data Bank (NPDB) and the Healthcare Integrity and Protection Data Bank (HIPDB), collectively "a confidential information clearinghouse created by Congress to improve health care quality, protect the public," and reduce abuse and fraud (via npdb-hipdb.com).
Experience or prior training on the VA claims process and data sensitivity protocols.
The ability and preparation undergo a thorough background check, possibly including the acquisition of a National Agency Check with Inquiries (NACI) security clearance.
Relatively strong computer literacy, not just with electronic medical records in general but the capacity to follow specific military data protocols.
As with most locum career opportunities, a variety of schedules are often available for physicians working C&P exam jobs. Training may be available for some positions, but preferred candidates will already meet the requirements listed above.
Whether you prefer to work days or evenings, part-time or full-time, in your home state or across the country, if you have experience in administering C&P exams, chances are great that we have a role to meet both your professional goals and personal preferences.
Similar Articles You May Also Like:
To find out what's out there for your physician career, search our locum tenens and permanent jobs from the link below