Medical Moonlighting for Residents: The Pros and Cons
Medical moonlighting opportunities, including locum tenens work, can help new physicians pay off debt, provide mid and late-career physicians secondary sources of income, or enable doctors a chance to check out a potential employment location.
Medical moonlighting also extends to residents, although with a few caveats and qualifications. AMN Healthcare employs medical residents for locums work on a limited basis, but we know that many residents and fellows look to our experts for career guidance — here on our Locum Tenens Blog, as well as our New Physicians Program, which offers a wealth of resources. With that in mind, let's take a look at the pros, cons, and the "how-tos" of medical moonlighting jobs for residents.
What Residents Should Know
In its most basic terms, moonlighting is a secondary job worked in addition to one's main, primary job. The term relates to any kind of employment, not just medical employment. For residents, moonlighting may mean working as an independent physician, outside of the scope of your residency training program.
There's also a difference between internal moonlighting (working in the same facility as your primary position) and external moonlighting (working outside of it).
Some resident programs, such as HCA Healthcare, do not allow internal moonlighting. Yet others, such as The University of Texas Health Sciences Center at Houston McGovern Medical School's diagnostic and interventional imaging residency program, offer multiple internal moonlighting positions for residents in "good academic standing."
The American Medical Association (AMA) suggests additional financial assistance for residents could decrease the need for moonlighting, but residents in good standing should still have the opportunity to moonlight.
Individual residency programs may have policies about their residents' moonlighting. For instance, George Washington University in Washington, DC, indicates residents' moonlighting must not interfere with their ability to achieve the educational program's goals. It also limits moonlighting to residents who have met certain criteria.
In addition to program-specific rules, the Accreditation Committee for Graduate Medical Education itself has capped the number of "combined educational and work hours for residents" at 80 hours per week. Any moonlighting must not interfere with the resident's fitness or "compromise patient safety."
The process of finding medical moonlighting jobs can be somewhat difficult for residents to do on their own. Some hospitals require a board-certified physician. Some places also require residents to have a permanent license, such as the Iowa Board of Medicine.
The most consistent warning you'll hear about medical moonlighting for residents is on the topic of malpractice insurance. A new physician will want to make sure that any moonlighting jobs offer quality malpractice coverage. The resident should either learn what good malpractice coverage consists of or work with an agency that provides coverage to its workers, as Staff Care does for its locum tenens providers.
Jennifer F. Tseng, MD, MPH, surgeon-in-chief at Boston Medical Center, and James Utley Professor and Chair of Surgery at Boston University School of Medicine offered tips for residents in a May 2020 article in General Surgery News. She acknowledged that moonlighting can be tempting, but it can also interfere with your personal life or research. She recommends doing no more than two moonlighting shifts per month.
The sacrifice of free time has to be considered. "Are you willing to trade time with family and friends – or pillow and blanket – for moonlighting shifts?" asked Joshua S. Coren, DO, MBA, chair and professor of the department of family medicine and director of continuing medical education at the Rowan University School of Osteopathic Medicine in Stratford, New Jersey.
"Residents [who moonlight] could also miss educational programs or events at their primary hospital," Coren said.
Additionally, medical residents need to devote time to finding an ideal match after they finish their residency.
Benefits for Residents
Even considering the caveats listed above, there's no denying the benefits of medical moonlighting for residents. For starters, the extra income can help the new physician reduce debt. Although one must remember that as income increases, the amount of the loan repayment can also increase.
Tseng recommends using any money earned by moonlighting to pay down debt or to support a family, not to splurge.
Medical moonlighting also can expand the resident's experience, help build confidence and introduce him or her to different practice settings.
Shelby Haque, MD, a faculty member in the department of emergency medicine at the University of Alberta, Canada, supports resident moonlighting and has written about the benefits.
"From an educational standpoint, I had a clear advantage in terms of comfort with critical care procedures and management of critically ill patients," Haque recalled. "To put it into context, more than 60 percent of the critical care procedures I performed during my year of emergency medicine training -- central lines, chest tubes, intubations, and so on -- were done while moonlighting. When I was eventually hired, my work as a physician extender was a big selling feature on my resume."
To learn more about medical moonlighting locum tenens jobs for residents, connect with an experienced recruiter from the form on the right.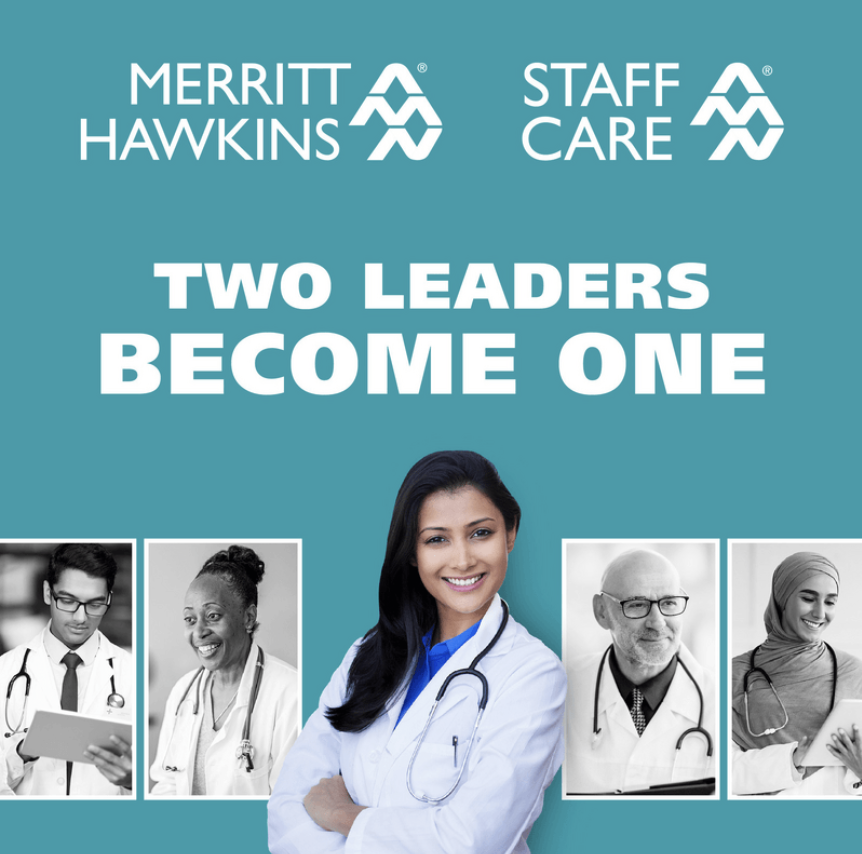 Welcome to AMN Healthcare
Bringing two Physician staffing leaders, Merritt Hawkins and Staff Care, together as AMN Healthcare.