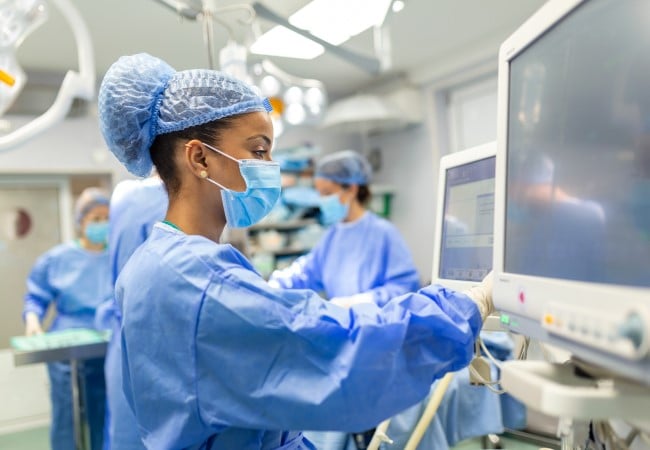 CRNA Scope of Practice: Advancing Anesthesia Safety
As certified registered nurse anesthetists celebrate CRNA Week, January 21-28, 2018, it presents an opportunity for other healthcare professionals, patients, and policymakers to become more familiar with this advanced practice nursing role.
It also provides the opportunity for CRNAs to stand up for their profession.
"CRNAs and our students from around the country will make an extra effort to educate people within our communities as well as in our workplaces about the role and value of nurse anesthetists," said Bruce Weiner, DNP, MSNA, CRNA, president of the American Association of Nurse Anesthetists (AANA) in Park Ridge, Illinois.
"We are highlighting the safe anesthetics we deliver every year."
National CRNA Week is the AANA's annual celebration of anesthesia patient safety. It offers an opportunity to talk with legislators and others about the care provided by nurse anesthetists. This year's theme is "Certified Registered Nurse Anesthetists: Every Breath. Every Beat. Every Second. We Are There."
About CRNAs
More than 52,000 CRNAs and student registered nurse anesthetists belong to the AANA or about 90 percent of the nurse anesthetists working in the United States. CRNAs in all 50 states administer approximately 43 million anesthetics to patients annually, according to the AANA 2017 Member Profile Survey.
Patients began receiving anesthesia from nurse anesthetists more than 150 years ago. Credentialing as a CRNA began in 1956. CRNAs are graduate-level trained RNs, with critical care experience, providing a full range of anesthesia and pain management services, Weiner explained.
CRNAs practice in medical group practices or are employed by acute care hospitals or ambulatory surgery centers. In the military, rural and under-served communities, CRNAs are the prime anesthesia provider.
About 40 percent of CRNAs are male, as compared to 10 percent of RNs.
"Nurses are recognized as the most trusted healthcare provider," Weiner said. "Advanced practice nursing is attractive to a lot of nurses today. A lot of it has to do with autonomy and impact on one's life"
Multiple studies have shown CRNAs provide safe and quality care.
A 2010 article in Health Affairs found that mortality and complication rates for CRNA-administered anesthesia were similar before and after certain states opted out of a physician supervision requirement for Centers for Medicare & Medicaid Services' reimbursement for anesthesia provided by certified registered nurse anesthetists.
"There has been a wealth of information and evidence published over many years that clearly documents that the quality of care advanced practice nurses, including certified registered nurse anesthetists, provide is equal to that provided by our physician equivalents," Weiner said.
Independent Practice for CRNAs
CRNA scope of practice limitations remains a frustration for many practitioners. AANA continues to educate hospital administrators and policymakers about the importance of independent practice.
"Allowing CRNAs to practice at their full scope without physician supervision is an effective solution of reducing healthcare costs while maintaining safety and quality of patient care," Weiner said. "Removing barriers to practice, we can provide greater care to our patients to have surgery take place in the location where they come from rather than having to travel outside of their communities."
A study in Medical Care in 2016 reported finding no difference in the odds of complications or anesthesia due to CRNA scope of practice laws or delivery models, meaning with a physician or solo practice.
The Costs of Limiting CRNA Practice Authority
In part, because CRNAs do not have full independent practice across the country, anesthesia costs are rising.
"CRNAs are a solution to keeping health care costs down," Weiner said.
According to a 2010 Nursing Economics paper, "CRNAs acting independently provide anesthesia services at the lowest economic cost."
Average compensation during 2016 for full-time CRNA employees was $186,014 according to the 2017 AANA Compensation and Benefits Survey. This compares to two different scales for anesthesiologist salaries: the Medscape Physician Compensation Report 2017 indicated anesthesiologists earned $364,000 annually, while the Bureau of Labor Statistics reports the most recent anesthesiologist annual earnings at $269,600 in 2016.
But the potential for cost savings with independent practice is not simply due to fact that CRNAs earn less. If nurse anesthetists were allowed full, independent practice, it would also avoid overlapping charges.
"There is a replication of services when CRNAs and anesthesiologists work in tandem," says Weiner, explaining in some situations anesthesiologists are one-on-one supervising CRNAs.
The Institute of Medicine 2010 report "The Future of Nursing: Leading Change, Advancing Health" called for nurses to practice to the full extent of their education and training, a concept Weiner supports.
In states without independent practice, CRNAs administer anesthesia under the supervision of an anesthesiologist. [SEE the CRNA Independent Practice Map.]
"The CRNA is determining the type of anesthetics the patient will receive and administering that anesthetic," Weiner says.
The Veterans Health Administration in January 2017 granted APRNs independent practice, with the exception of CRNAs, in VA facilities. A Denver VA was canceling surgeries for 60 to 90 days due to a lack of efficiency within that facility.
"We continue to push that our military veterans have access to anesthesia services," Weiner says.
CRNA Week offers an opportunity to bring the issue of CRNA scope of practice to the forefront.
"The evidence is clear," Weiner said. "When CRNAs work independently, the quality of care is equal to that of an anesthesiologist."
AMN Healthcare leads the nation in locum tenens opportunities, including part-time and full-time.