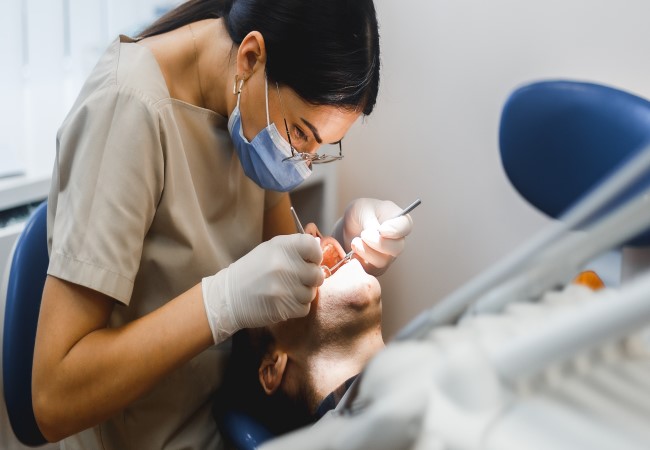 The Many Options Available for Locum Tenens Dentists
Calling all dentists: whether you are just starting out and want to earn extra money to pay off student loan debts, or a seasoned practitioner tired of running a practice but don't want to give up the joy of practicing dentistry, locum tenens dentist assignments can provide a number of options to meet your goals.
"Locum dentists are helping communities, taking care of patients and doing what they are passionate about," said Paula Thomas-Linwood, dentistry recruiting manager at AMN Healthcare. "It's rewarding to take care of patients in need or in an office in need of someone with experience."
Most locum tenens dental jobs are for general dentistry. However, some specialists, including endodontists, oral surgeons and pediatric dentists, also are in demand.
"If dentistry is being practiced, we will see locum dentist jobs there," Thomas-Linwood said.
The dentists who work locum tenens jobs—and where you'll find them
These temporary or part-time dental jobs may be in corporate dental practices, private practice, community health centers and government facilities, including the Department of Corrections.
Most of the locum tenens positions are in suburbs or rural areas, according to Thomas-Linwood, with fewer available in large metropolitan areas, such as Dallas or Miami.
"Dentists are in short supply in the Midwest, and we will help dentists license for Wisconsin, Missouri, Minnesota, Michigan and Iowa," Thomas-Linwood said.
Some newer dentists will work at their own practice two or three days per week and accept locum tenens assignments in a nearby area on the other days, she explained.
Other dentists consider locum assignments when they are looking for a permanent job and want to try out different areas.
Retired dentists often work locum tenens, because they are not ready to give up dentistry.
"A lot of them like to travel to different states," Thomas-Linwood said. "The majority just love what they do. They may have retired or taken a year off. Locums is a good way to get back in, doing a week or two a month."
Some locum tenens dentists work seasonally, desiring to spend summers in Minnesota, Wisconsin or Michigan, for instance.
Work options and logistics for locum dentistry assignments
Locum dentists must be licensed in the state where care is provided, and AMN Healthcare will help their dentist candidates secure additional licenses, which gives them more opportunities. Federal government positions, such as those at the Indian Health Service, accept a license from any state.
Typically, credentialing is quick for dental jobs, rarely more than a couple of weeks, depending on what is needed.
"We can get a dentist to work for the first time in as little as five business days," Thomas-Linwood said.
Locum tenens assignments can be brief, sporadic, recurring or long-term. The assignment might be for two days per week or two weeks per month or five days for three months.
"I've had locums in place for more than a year, straight," Thomas-Linwood said. "Some will stay in another state for six or seven months."
The locum tenens dentist might cover for vacation or maternity leave or fill a vacancy while the practice attempts to hire a full-time dentist. If it ends up being a good fit, the practice may want to hire the locum dentist, and that is allowed.
Compensation depends on the job market, location, and size and type of practice, with some assignments competitive with associate dentist pay rates. The hiring practices or clinics set the rates, based on their budget. Some clients will pay a percent of production; those practices might pay a daily minimum guarantee or percent of production, whichever is greater for the day, Thomas-Linwood said.
In addition to wages, locum tenens dentists receive reimbursement for lodging and mileage, as well as medical malpractice insurance covered by the locum tenens agency.
The outlook for the dentist job market
The American Dental Association reported that 200,419 dentists were practicing in the United States in 2019, averaging 61.1 dentists for every 100,000 people. However, there are dentist shortages in certain geographic areas or among disadvantaged populations.
Demand for dentists is expected to remain high. The U.S. Bureau of Labor Statistics reports the outlook for dentist jobs is growing faster than the average occupations, with a 7 percent increase predicted from 2018 to 2028.
"The need for dentists, including locum tenens dentists, is always high," Thomas-Linwood said.
Similar Articles You May Also Like: