Strong Support for National Nurse Licensure, Especially Among Millennials
Registered Nurses, and particularly those of the Millennial generation, say it would be better for their careers if nurse licensing were carried out on a national level instead of state by state, according to a recent RN survey by AMN Healthcare.
The survey of more than 3,000 RNs found that 68% of all respondents favored national licensure, while 77% of Millennial nurses agreed. The report, 2017 Survey of Registered Nurses: Viewpoints on Leadership, Shortages, and their Profession, includes many findings on issues of importance to nurses.
Nurse support for national licensure likely reflects the increasingly competitive job market, where employment opportunities are flourishing, including across state lines and in travel occupations. National employment searches are becoming more common and necessary as healthcare organizations must seek farther afield for quality nurse candidates. Travel nursing also has grown in appeal.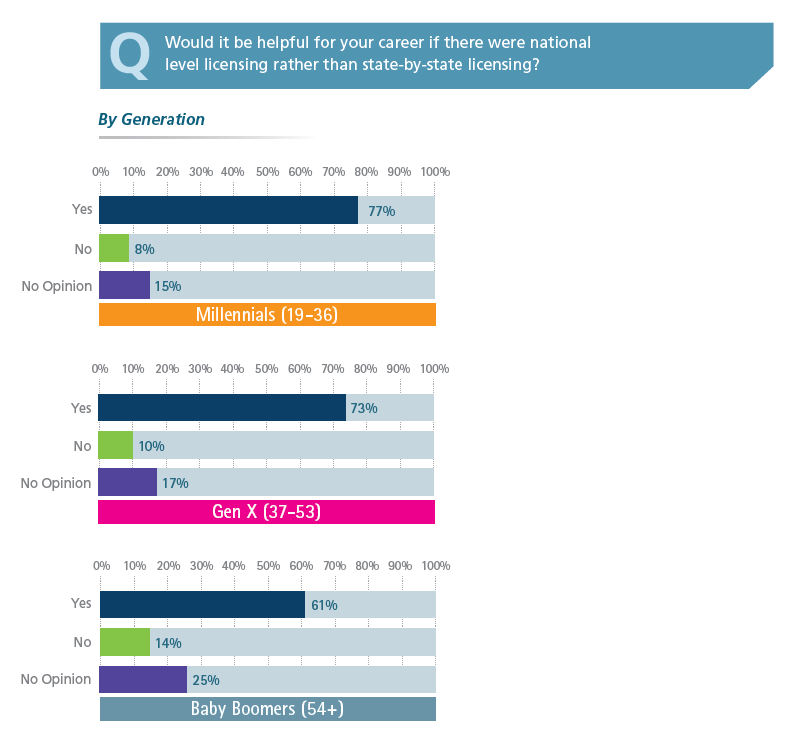 National nurse licensure could increase flexibility and mobility for nurses, while expanding the recruitment field for healthcare organizations. Nurses who own a compact license can:
work across state lines without the need to apply for multiple state licenses
renew one license rather than licenses from multiple states
enjoy simplified compliance because only one license is authenticated and validated
better contribute to serving patients in under-served communities
save money in licensure costs
conveniently practice across state borders
These factors are fueling the national nurse licensure movement that began in the early 2000s. Created by the National Council of State Boards of Nursing in 2000, the nurse licensure compact gives eligible registered nurses the ability to practice in other nursing compact states without having to secure an additional license. Proponents say that multistate licensing will give patients greater access to quality care, facilitate telemedicine services by quality clinicians across state lines, and provide healthcare organizations with larger numbers of qualified job candidates.
The current status of multistate nurse licensing is the Enhanced Nurse Licensure Compact, or eNLC, which allows registered nurses and licensed practical/vocational nurses to have one multistate license and practice in both their home states and other eNLC states. An applicant for licensure in a state that is part of the eNLC must meet 11 uniform requirements, including a federal criminal background check. So far, 26 states have approved eNLC legislation, while legislation and other regulation changes are pending in several states.
Interstate licensure compacts also are in progress for physicians, advanced practice registered nurses, physical therapist, emergency medical technicians, and psychologists. They are being considered for many other allied health professionals.
The 2017 Survey of Registered Nurses also revealed a variety of important findings about nurses' viewpoints on their profession:
82% of nurses agree or strongly agree that more nurse leaders are needed
73% of Baby Boomer nurses planning to retire say they will do so in three years or less
48% of nurses in 2017 said that nursing shortages are worse today than five years ago, compared to 37% in 2015
48% of nurses say they won't pursue further education, compared to 43% in 2015
83% of nurses say they are satisfied with their choice of nursing as a career
55% of nurses worry that their jobs are affecting their health