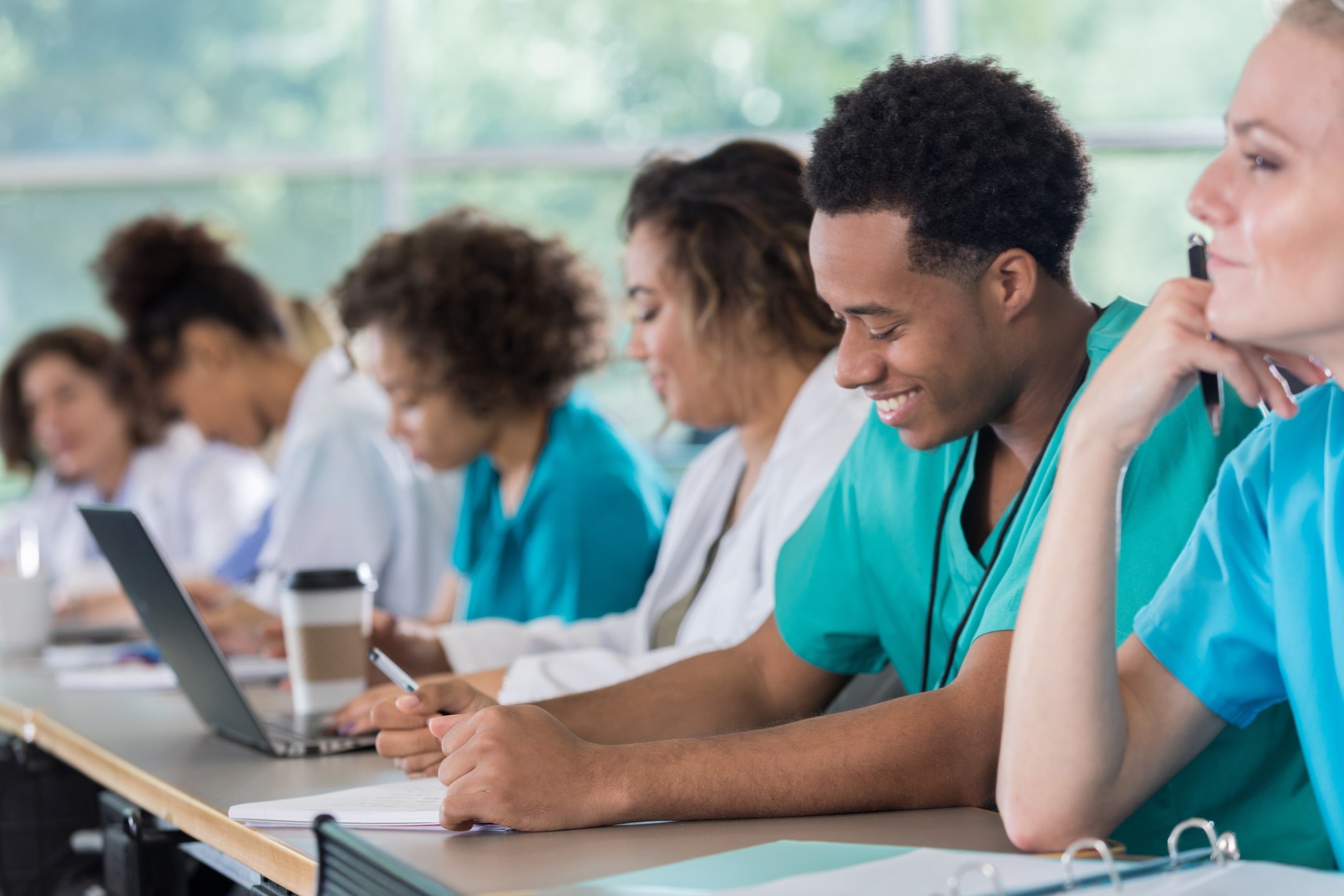 Medical Schools Expand with Little Change in Demographics
There is good news regarding growth in medical school enrollments. Yet studies show that while the number of students is increasing, the population attracted to the profession and accepted into programs remains much the same, albeit somewhat more diverse in new programs. Will this trend avert a physician shortage? And what does it indicate for today's physicians?
"The issue may not be 'Are their enough doctors?' but 'Is there enough capacity in the system?'" said David Friend, MD, managing director in the healthcare practice at BDO USA, an accounting and consulting organization based in New York, who cited more non-physician providers are or will be working to the top of their licensure and assuming more responsibility.
"The doctor becomes a manager," added Patrick Pilch, managing director of BDO. "They deal with higher acuity and more serious issues."
As care coordination improves across settings, physicians will be able to care for greater numbers of people because other professionals will share in the care.
"The physician will be a force multiplier by the way he or she can capitalize on better care coordination," Pilch said. "If you get better coordination, you can drive out a lot of cost and create value."
Younger physicians may recognize an opportunity to grow their practices through physician extenders, while established physicians, used to solo practice, may resist handing off patients to a nurse practitioner and will maintain their practices, Friend predicted.
Increasing medical school enrollment
In 2006, the Association of American Medical Colleges (AAMC) called for a 30 percent increase in enrollment. Christiane Mitchell, AAMC's director of federal affairs, said the schools are on target to meet that goal within two years.
This year, 14 medical schools boosted class size by more than 10 percent. Four new schools opened and accepted their first students. AAMC reports that a record number of students applied to and enrolled in the nation's medical schools in 2013, with applications up 6.1 percent to 48,014. The previous high was set in 1996 with 46,965 students. The number of students enrolled in their first year of medical school exceeded 20,000 for the first time, a 2.8 percent increase from 2012.
"Schools are doing their part with increasing enrollment, but the concern is residency slots," said Jamila Vernon, spokesperson for the AAMC in Washington, D.C.
Bottlenecks contributing to a physician shortage
To practice in the United States, newly minted physicians must complete a residency program. Federal dollars for partial support to hospitals for residency training has been capped for 16 years, based on the percentage of Medicare patients each hospital treats. Still, academic centers have funded 10,000 additional positions. Now, the Affordable Care Act has decreased reimbursement to hospitals by $155 billion, which Mitchell said limits facilities' ability to fund any more positions.
Additionally, Friend pointed out that some hospitals have restructured or closed, eliminating residency programs. Funds can now be reallocated to other programs in the region. All of this contributes to problems associated with having physicians unable to receive residency training. Those that are unable to find residency slots could conduct research or complete an academic fellowship for a year and try again for a residency position, Mitchell said.
AAMC has set a goal to expand graduate medical education slots by 30 percent by 2019, to accommodate the new graduates. That will likely require action from the U.S. Congress. AAMC is advocating for a 15 percent increase, which would allow for 4,000 new positions, and has earned support from physician and hospital organizations.
Newcomers aren't the only ones affecting physician supply issues, however, as many of today's physicians are in the baby boomer generation and may soon retire. Mitchell indicated the AAMC expects as many as one-third of physicians will retire within the next few years.
Other physicians, Friend said, may switch their practices to concierge medicine, where patients pay an annual fee, and the physician limits the practice to fewer patients.
Physician diversity trends
In its most recent survey, AAMC found the diversity of applicants and new students remained relatively steady, with two gains. First-time female applicants grew by 6.9 percent, to comprise 47 percent of the new classes, and Hispanic/Latinos enrolled in medical school rose by 5.5 percent.
Scott A Shipman, MD, director of primary care affairs and workforce analysis at AAMC, and colleagues studied whether the growth of enrollments has helped to address diversity and new physicians' interest in practicing in underserved areas. They found new schools admitted greater percentages of students from racial minorities and that their graduates were more likely than those from existing schools to work in rural and underserved areas. They reported the findings in a special workforce issue of Academic Medicine.
AAMC would like to see a more diverse physician workforce. That needs to begin at the school level.
In partnership with the Coalition of Urban Serving Universities/Association of Public Land-grant Universities and the National Institutes of Health, AAMC has created Urban Universities for HEALTH (Health Equity through Alignment, Leadership, and Transformation of the Health Workforce), which aims to enhance and expand a culturally sensitive, diverse and prepared healthcare workforce.
The University of Cincinnati Academic Health Center (AHC) is one of only five schools participating in the academic learning collaborative focused on investigating approaches to healthcare workforce development that lead to improved health outcomes and reduced disparities in local communities.
This Ohio university also has initiated a community-driven emphasis on creating a more diverse medical and healthcare workforce. An AHC- led pipeline project, for example, has identified barriers in Cincinnati and has developed plans there to expose minorities to health careers. It will start by partnering with a local primary school and a high school.
"We learned that there are a number of things we will need to address as we work to create a pipeline program," said principal investigator Greer Glazer, PhD, University of Cincinnati College of Nursing dean in a written statement. "We need to build the confidence of students at an early age, expose them early on to the possibility of a career in healthcare, educate parents about career opportunities for their children, engage entire communities around the topic, and build--and in some cases, rebuild--trust."
Diversity means more than including people from different racial backgrounds. It also refers to deaf and hard-of-hearing individuals, who are underrepresented in healthcare fields, according to a recent report from the Task Force on Health Care Careers for the Deaf and Hard-of-Hearing Community. The task force offered several recommendations for breaking down the barriers including employer education; widespread use of innovative access technologies; creative approaches for funding access services; and a website to help make connections and share best practices in teaching deaf and hard-of-hearing students in the classroom and clinical settings.
What's ahead in medical education
In that special issue of Academic Medicine, other papers discuss changing medical education. Kelly E. Mahon, MA, from the American Nurses Association, and colleagues write about holistic admissions, looking at more than test scores to include academically qualified students with a good bedside manner and professionalism, and more diversity.
Suzann Pershing, MD, chief of ophthalmology, VA Palo Alto Health Care System, and Victor R. Fuchs, PhD, professor emeritus at Stanford University, both in California, discuss restructuring medical education to prepare physicians to participate in teams; to shorten the training, perhaps by fast-tracking undergraduate education or creating differentiated tracks in the last two years of medical school; a need for more emphasis in education about cost-effective care and treating older adults; and that education must continue throughout physicians' careers.
"We will see more medical schools train physicians to be team-oriented," Pilch said.
Additionally, Friend added, more physicians may earn dual degrees in business and medicine, so they are better prepared for system management and improving population health, rather than caring for individual patients.
"A lot of universities have multidisciplinary capabilities, connected to business schools, schools of nursing, but it's hard to do," Friend added.
© 2013. AMN Healthcare, Inc. All Rights Reserved.