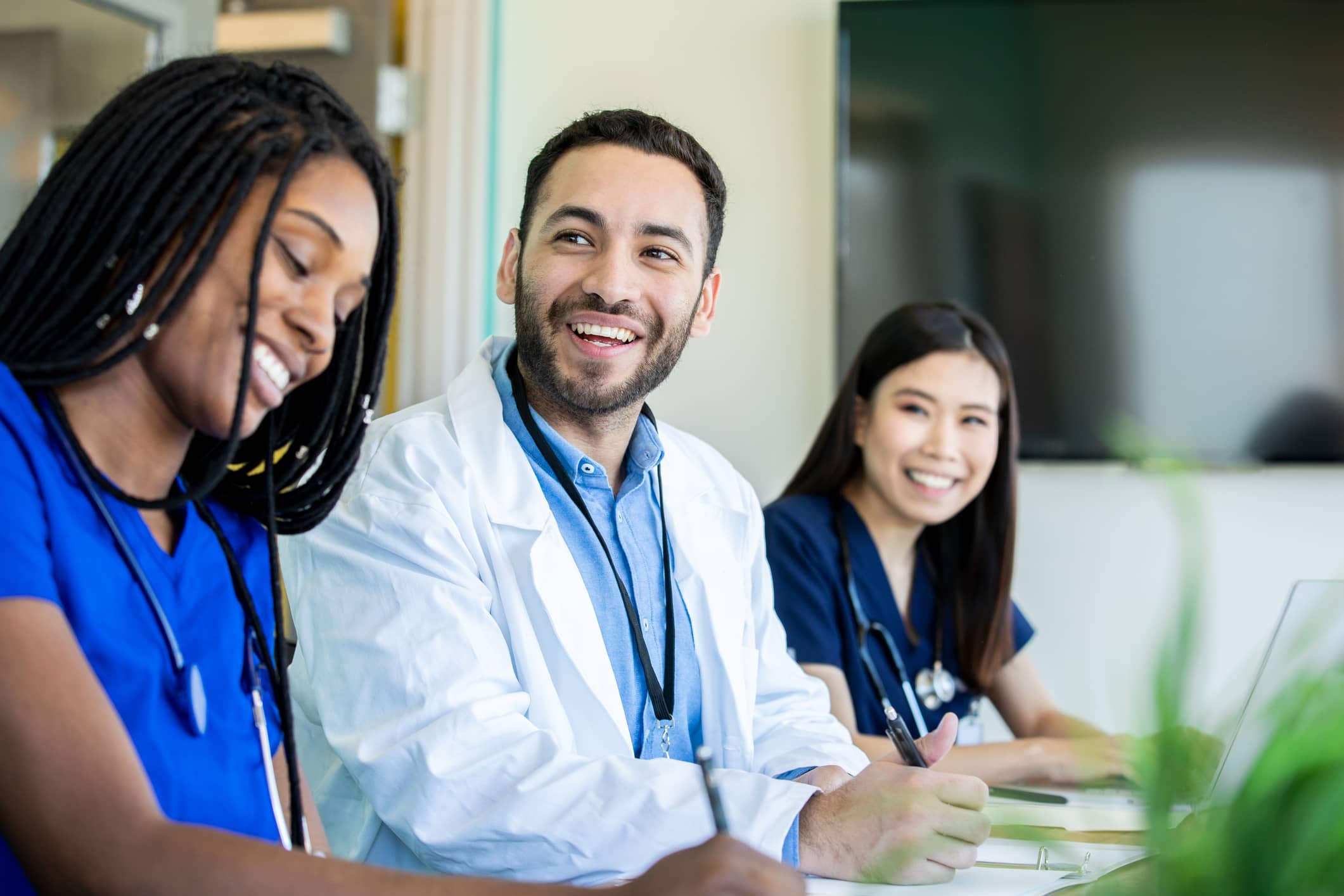 Improving Relationships Between Hospitals and Physicians
Healthcare reform has many in the industry contemplating partnerships between hospitals and physicians in new accountable care organizations or sharing bundled payments, which is prompting more talk about improving hospital and physician relations. But some hospitals have made collaboration a priority in the quest for better patient outcomes.
"Transition of care points improve if we are aligned correctly and that equals quality of care," said Daniel Salinas, M.D., chief medical officer of Children's Healthcare of Atlanta, who transformed their system into one led by physicians and administrators sharing decision-making from the upper levels through each service line.
Improving quality
"Physician-nonphysician synergy is powerful," Salinas added. "The administrators acknowledge and validate what the physician brings, in terms of clinical expertise and thought process, and the physicians acknowledge and validate the administrators' business acumen, strategic thinking and ability to get things done."
Salinas listened to physicians and learned they wanted more transparency, involvement in decision-making, more collaboration and a system that functions. That drove Children's Healthcare to develop a physician leadership cabinet, to reorganize the organization to develop the shared management teams and to re-enfranchise primary care physicians with a voice in creating a better system.
Maria Fernandez, physician communication consultant at Children's Healthcare, added the changes came about through consistency, honesty and delivering on what is promised.
"We built trust, and we gave hope," Salinas added.
Building trust is a key factor in good collaboration, which benefits the patients, said Christy Dempsey, senior vice president of clinical and operational consulting for Press Ganey Associates of South Bend, Ind.
"For hospitals and physicians to collaborate well, you have to address the issue of trust," Dempsey said. A recent Press Ganey survey conducted for Modern Healthcare found that 62 percent of responding employed physicians said trust was a medium-to-large obstacle to better relationships with hospitals.
"Having physicians at the table making data-driven decisions is the key to overcoming trust issues," Dempsey said. "Then they hold each other accountable for those decisions and making it work together in a collaborative relationship and, ultimately, build a foundation of trust."
Lutheran Medical Center in Brooklyn, N.Y., has closely collaborated with its physicians, having operated for years with a philosophy that a hospital can be successful only if good relationships with physicians exist.
"Nothing is done in this institution without talking to and partnering with physicians," said Claudia Caine, chief operating officer at Lutheran Medical.
When Lutheran Medical launched a house call program, hiring physicians to do the visits, the hospital let doctors market the service as an extension of their practice. The house-call doctor then calls the primary care physician from the patient's home to collaborate on the case.
"We are always thinking of ways to make the pie bigger, not smaller, for the docs," Caine said.
In implementing an electronic medical record (EMR), Lutheran Medical involved physicians in the process and included features, such as reviewing or ordering tests in their offices, which would enhance doctors' lives. Now Lutheran Medical's physicians are ordering 93 percent of patient medications using computerized provider order entry, far exceeding the federal government's meaningful use requirement of 30 percent.
South Nassau Communities Hospital in Oceanside, N.Y., hopes an EMR will enhance communication with its physicians and create smoother transitions of care, said Linda Efferen, M.D., FCCP, chief medical officer at South Nassau.
"Improving the hospital-physician relationship is an ongoing dialogue to explore the challenges and barriers," Efferen said. "It's gaining a level of understanding about the issues and overcoming those barriers."
Although discussions and meetings with physicians pre-date healthcare reform, Efferen said physician initiatives will become more formalized as reimbursement changes.
Connie Curran, EdD, RN, FAAN, president of Best on Board, a company that provides education, testing and certification for hospital board members, maintains that leadership for effecting change in hospital-physician relations should start with the facility's board of directors.
"The board can be helpful in creating criteria that are real and attract physicians that have the same values [as the hospital's values]," Curran said.
Many goals of hospitals and physicians are similar, she added. They want to provide good quality care. Both entities can build on that commonality.
Rochell Pierce, vice president of physician relationship management at Aegis Health Group of Brentwood, Tenn., added that hospitals must listen to their doctors and get to know what issues are of concern, so they can resolve them. She recommends creating an environment where physicians can be productive and grow their practices by using a disciplined, formal and measurable program, measuring by tracking desired outcomes, such as referrals and physician satisfaction.
"You want to reward productive physicians," Pierce said. "Recognizing and thanking physicians for their hard work to the community is very important."
Physician employment
Both hospitals and physicians are expressing greater interest in the employed-physician model. The Press Ganey survey found that 92 percent of physicians thought the percentage of physicians employed by hospitals will increase.
"It all stems from issues around healthcare reform," Dempsey said. "It's fear of the unknown, uncertainty about what is going to happen."
Physicians are under a lot of pressure, facing decreased reimbursement and challenges associated with healthcare reform, and hospitals can mobilize around initiatives, such as care management, more quickly with employed physicians, explained Tracey Mayberry, a partner with CSC Healthcare Group in Long Beach, Calif.
"Market conditions move the parties toward each other; life apart is less attractive than life together," Mayberry said. "People have to come into it for the right reasons and understand the reasoning and how that plays out."
John R. Thomas, president and CEO of MedSynergies of Irving, Texas, added that physician practices also have faced difficulty accessing capital at a time when they had to invest in technology, and hospitals need to move quality outside their four walls.
It's a perfect storm of technology, billing complexity, regulation, capital access and economics that have forced both parties to have rational discussions," Thomas said. "The motivation is around providing better quality, lower cost, better access to the healthcare system."