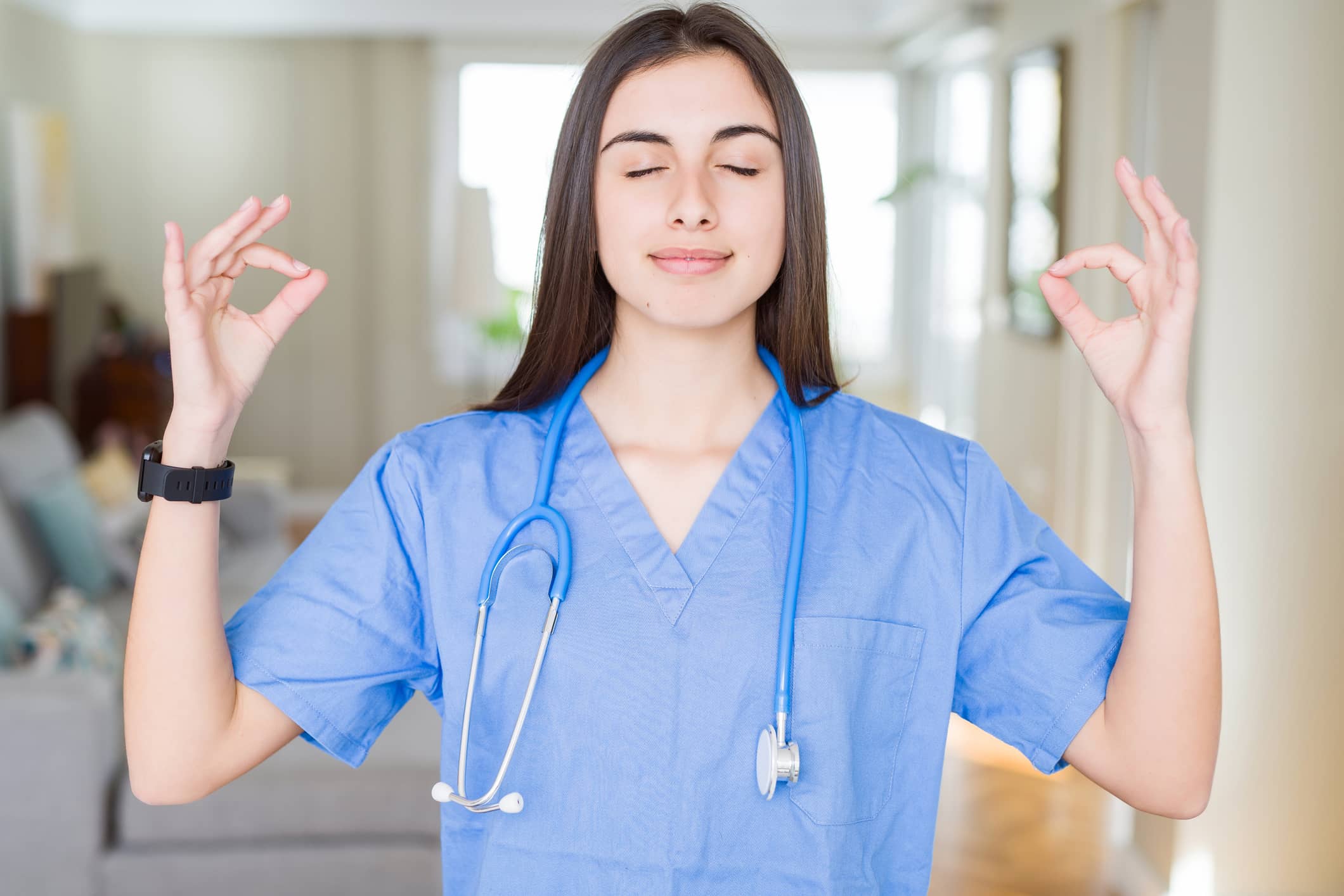 Hospitals Explore Ways to Reduce Nurses' Stress
Nancy Dallmann, RN, was having what she described as "a busy, rushed, bad day" in the intensive care unit at North Valley Hospital in Whitefish, Montana, which is located in the northwest corner of the state, about 20 miles from Glacier National Park. The nurses in the ICU of this 25-bed hospital care for cardiac, pediatric and med/surg patients.
"Yesterday was a crazy day from the get-go," Dallmann explained. "It was probably about 3:30 [p.m.] and I was going to be there until seven o'clock. The massage therapist walked by--she happened to be in the unit giving patients massages--and the unit coordinator said, 'Come here and give Nancy a massage.'"
Dallmann got a 15-minute shoulder and neck massage. "After that, I was much more relaxed. Whatever else was going on I could handle. I still feel good today."
Nurses experience this type of stress daily, according to Carol Blake, RN, executive director of the North Valley Hospital Foundation and Community Relations. That is one of the reasons the hospital adopted the Planetree philosophy, which focuses not only on how to reduce stress for patients and families, but also on how to alleviate stress for hospital staff.
"We try to plan a lot of different celebrations to embrace the work of our employees," Blake said. "For instance, we have special lunches for various departments so the people can get to know each other. We select three departments that don't typically work together. They have time to unwind and get to know each other over a lunch prepared by our five-star chef."
Dallmann's impromptu massage was free, but the hospital also offers all employees low-cost, scheduled massages.
"We have 'Five-Dollar Fridays,'" Dallmann explained. "We get a 15-minute massage for five dollars. I've taken advantage of that a few times and given massages as gifts to other employees."
When compared with many other jobs, health care workers have higher rates of substance abuse, suicide, depression and anxiety, according to a 2008 report by the U. S. Department of Health and Human Services. Some of the reasons that nurses are at risk for these problems are because they:
Understand the potential for serious injury to patients if they make mistakes
Often work short-staffed
Work double shifts at times
Work in unfamiliar areas on some shifts
Fear needle sticks and/or injuries from heavy lifting and pulling
Know that patients and families are suffering, and that some patients die
Have to be gracious in the face of abuse
Know the potential for lawsuits
These factors were on the minds of hospital planners in Longmont, Colorado, when they began designing a new section of the 201-bed Longmont United Hospital, 40 miles northwest of Denver.
"When we designed the new patient tower [in 2000], we designed it with a more family-oriented architecture," explained Nancy Driscoll, RN, BSN, MS, vice president of patient care services. "Our walls are curved, we have subtle lighting, lots of artwork and softer colors. We also designed off-stage areas--places where nurses can go to get away from patients and families."
Even after construction was done, ICU nurses at Longmont United came up with another idea: to convert a sleep room in the ICU staff lounge to a "serenity room." It offers relaxing music, artwork, a water feature, and best of all, a recliner/massage chair.
"Now we're looking at putting a serenity room on other floors," Driscoll said.
The staff works hard so that everyone gets a turn in the room, according to Lori Hicks, RN, BSN, MS, patient safety officer and director of risk management at Longmont United.
"We have a professional nursing council and they come up with ways to reduce stress," she said. "We also created a garden of peace outside of the ER area where you can reenergize. It has beautiful trees and flowers and benches, and there is no outside noise. You can't hear the cars from there. All units can get to it; it's for the staff and patients and their families, too."
Such perks not only reduce stress but reduce nurse turnover, too.
While the average turnover rate in hospitals nationwide runs between 6 and 12 percent, Longmont's turnover is closer to 3 percent, said Sharon Rominger, RN, BS, MS, chief nursing officer.
Other hospitals throughout the country have come up with a variety of offerings to help nurses make it through their shifts. Some, like Bergen Mercy Hospital in Omaha, Nebraska, instituted five-minute "peaceful moments" for nurses and an environment where staff can retreat to listen to music, light candles, drink herbal tea, eat cookies and receive hand massages.
Griffin Hospital, a 160-bed facility in Derby, Connecticut, offers several healing touches for patients that nurses also can enjoy: freshly baked bread, pet visitation, harp recitals and a healing garden with pond, benches and plants known for comforting smells.
Some nurses, like Dallmann, have only to glance out the window for a moment of serenity.
"Hospital surroundings can play a big factor in how you feel," she explained. "A big part of the design of this hospital is that all the rooms have a magnificent view. We look out on the mountains and Glacier National Park, and just being able to look out the window is a great thing."
© 2008. AMN Healthcare, Inc. All Rights Reserved.