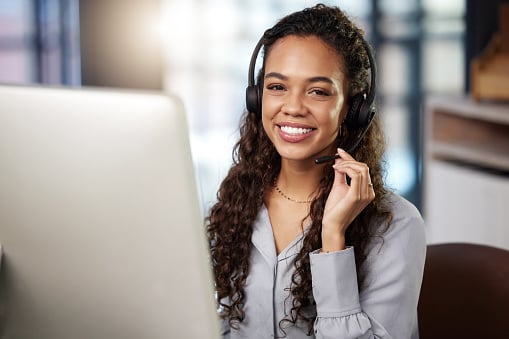 Your Path to Medical Interpreting: From Interview to Employment
Your Path to Medical Interpreting: From Interview to Employment
Medical interpreters accurately interpret everything said in a healthcare encounter, including complex healthcare information that may be perceived differently from one culture to another. The stakes are high, as the quality of
the medical interpreter's work directly correlates with patient experience and outcome.
This guide will set you up for success to land your dream job as a medical interpreter. We spoke with the experts, both career medical interpreters and the people hiring them, to bring you the inside scoop so you can navigate
your medical interpreter career.
Download the Guide With the Form on the Right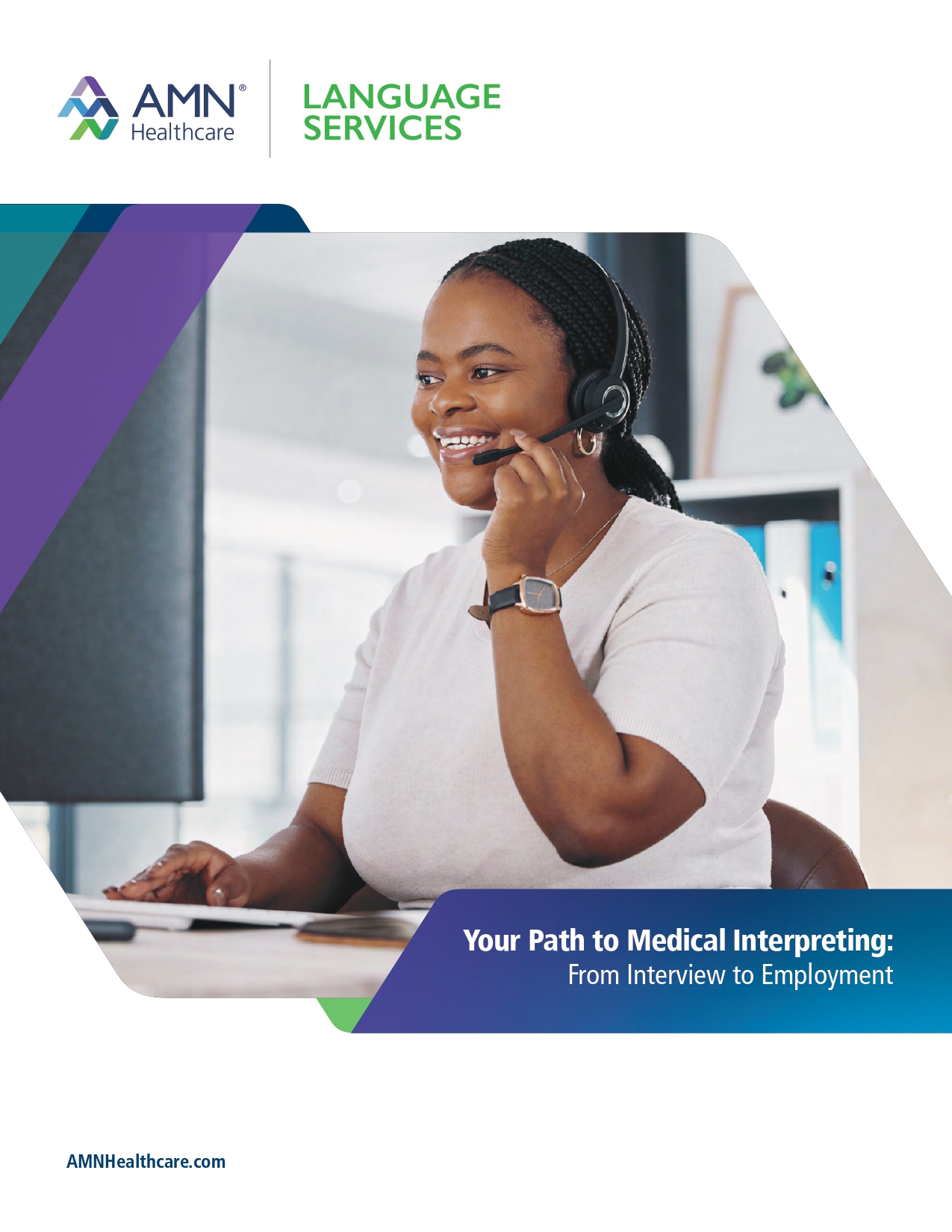 Section 1: The Interview Process
When applying for any job, there are steps you can take to stand out from other candidates—from your resume
and application through the interview process. Here are a few of our recommendations:
1. Keep Your Resume Updated
When you are not actively seeking employment, it's easy to let your resume become outdated. Highlight your unique interpreter experiences on paper to allow potential employers to get to know you better and proactively create a positive impression.
2. Showcase Your Professionalism
Since most of your interviews will be conducted virtually and your interpreting sessions will take place virtually, you must demonstrate your on-camera professionalism to hiring managers. Professionalism begins with your interview set-up and the way you present yourself.
Look the part: Ensure your interview area is well-lit, free from distractions, and dress the part of an interpreter. Interpreters are recommended to wear professional clothing.
Professional behavior: Make eye contact, don't look at your phone or work on an external monitor, and demonstrate a good screen presence during the call. Your medical interpreter job will require you to be hyper-attentive when you're dealing with someone's health and safety—so, illustrating those skills to your potential employer can make a significant impact.
3. Remain Engaged Throughout the Process
Engagement is a crucial factor in successful interviews and hiring processes. Being engaged starts when you apply and carries through the entire hiring process—both with hiring managers and your recruiter. You can demonstrate engagement through:
Responsiveness: Respond to communications in a timely manner to show your enthusiasm for the role.
Express curiosity: Ask informed questions during the interview and follow up with the hiring manager and recruiter to keep yourself top of mind.
4. Demonstrate Your Medical and Technological Skillset
The key word in medical interpreting is, of course, medical. Successful interpreters are proficient in conveying medical information between the source and target languages, as each patient interaction is a vital part of the medical record.
While your medical and technological skillset will not be formally tested until after the interview phase, you can stand out by using the interview as an opportunity to showcase these skills.
Use medical terminology: Hiring managers are looking for candidates that are familiar with medical terminology in patient care to pass your medical language assessment and facilitate effective outcomes. To learn more about how you can prepare for your medical assessment, read "A Medical Interpreter's Guide to Language Assessments."
Showcase your tech skills: Being tech-savvy is an important skill to showcase because you'll communicate through a technology platform. You don't need to be an expert in technology, but you should have basic computer skills and show a willingness to learn.
5. Preparation is Key
During the interview process, you and the company are getting to know each other. Proactively doing your research about an employer not only helps weed out companies that don't align with your values, but also prepares you for an interview.
Align your values: Make sure your potential employer's values align with your personal values. This will foster both a productive interview and can ensure you fit in with the company culture if you're hired.
Prompt questions: Conducting research enables you to ask questions about employee benefits, job expectations, and company culture. Add these additional questions to your arsenal to show your engagement.
6. Ace Your Language Assessment
The hiring process for a medical interpreter begins with a short prescreen interview. You'll record yourself answering a series of questions about your experience and background. The language assessment following the prescreening interview will evaluate your language and interpreting skills to ensure you're ready to take on the responsibility of a medical interpreter.
Here's what you can expect after your prescreen interview:
Respond to the email about taking the exam: After your prescreen interview, a third-party company will email you a link to the assessment within a few hours. You can complete the assessment at a convenient time for you. Most complete it within 72 hours.
Plan to take the assessment: Choose a quiet spot, preferably in advance, that's free of distractions where you can sit and take notes while taking the assessment. Let people know not to interrupt you. The assessment itself will take 20-30 minutes, but you may want to allow some extra time on either side.
Brush up on your medical terminology: It's a good idea to review your medical terminology. This preparation can help give you confidence during the test.
Refine your language skills: Make sure you are comfortable with the grammar, vocabulary, and idioms of the language you will be interpreting. Practice reading, writing, and speaking in the language as much as possible.
Practice interpreting: If you're new to the field, find opportunities to practice interpreting, whether it be with a friend, family member, or colleague. Try to simulate the medical scenario you may be in, or practice interpreting when watching television or listening to the radio.
Request feedback: Seek feedback from others about your skills. This can be from a mentor, colleague, or a professional interpreter.
Prepare mentally: Preparation can make you feel confident. On the day of the assessment, try to stay calm and focused. Take deep breaths and remember that you have prepared to the best of your ability.
Note: If you hold a national certification from the National Board of Certification for Medical Interpreters (NBCMI), the Certification Commission for Healthcare Interpreters (CCHI) or the Registry of Interpreters for the Deaf (RID), you will not have to do a language assessment.
Section 2: You're Hired…Now What?
At AMN Healthcare, we have a robust training and development program to set interpreters up for success from day one.
Most leaders throughout AMN Healthcare Language Services are or have been interpreters themselves, so they know the challenges medical interpreters face and know what success looks like.
How We'll Train You:
The medical interpreter training is conducted in a small, virtual environment supported by multiple trainers.
The training is remote and generally lasts four days.
There are a variety of instructional strategies to fit every learning style: presentations, discussions, and hands-on kinesthetic learning.
Most importantly, you will have the opportunity to practice and demonstrate your knowledge (both interpreter and platform knowledge) in a private space prior to interpreting any sessions with patients and providers.
After the initial sessions, the trainers will regroup with you to talk about the work – what went well and how you can improve in the future.
After you complete the training, you will join a team supported by a language operations manager and interpreter support specialists. These team members will assist you and your colleagues in your day-to-day work.
Section 3: Facing and Overcoming Challenges
Due to the demanding nature of medical interpretation, it is common for even the most dedicated professionals to experience interpreter fatigue. It takes conscious awareness to overcome these challenges. You need awareness that you are facing these challenges and an understanding of how to address and resolve your anxieties.
Tips for Success:
Have a support system in place: Interpreters are a voice for the patient, and with this integral position comes exposure to medical and emotional trauma that includes vicarious trauma, PTSD, burnout, and stress. It is important for interpreters to release the emotional hardships that can evolve by developing coping strategies for processing distressing clinical material. To help interpreters overcome challenges and maintain their confidence, AMN Healthcare offers benefits to support your mental health and wellbeing. Support systems include 24/7 communication with your team members and our robust Employee Assistance Program. To learn more about
vicarious trauma and how we support interpreters, read "How AMN Healthcare Supports Medical Interpreters Facing Vicarious Trauma."
Establish healthier work habits: Be prepared ahead of a busy shift. Ensure you are taking your scheduled breaks and following ergonomic best practices.
Opt to transfer: When sessions are particularly long or emotionally exhaustive, interpreters can pass the session when the time is right to another interpreter on the team.
A career in medical interpretation is rewarding because it deeply contributes to improving patient satisfaction and patient care. We hope this guide has given you the tools you need to succeed in your interpreter journey, from interview preparation to tips for overcoming on-the-job challenges.
If you're a medical interpreter who is compassionate and wants to help patients and their families, please apply or connect with our team.