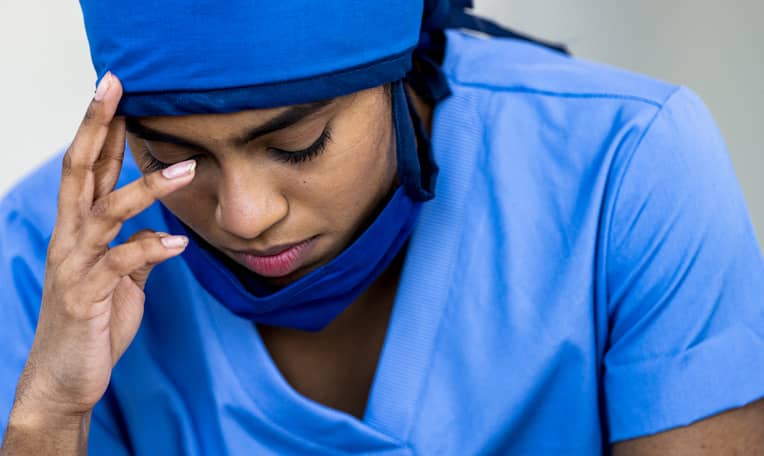 Why Mental Health Matters for Healthcare Providers
The COVID-19 pandemic has led to extraordinary threats to the mental health of healthcare workers, which could lead to long-term consequences for the clinicians, patients, and healthcare system.
"Working on the frontlines in the COVID ICUs is intensely stressful," said Nadine Kaslow, professor of psychiatry and behavioral sciences at Emory University in Atlanta. "It's been profoundly painful. They've witnessed so much death. They've been working really long hours. They've had to give everything to these patients."
Clinicians at risk for anxiety, depression, and more
Kaslow reported that healthcare workers have an increased risk for a variety of problems – for anxiety, for depression, for acute stress disorder now, and post-traumatic stress disorder (PTSD) down the road.
An August 2020 article in Annals of Internal Medicine reported that past pandemics have led to healthcare professionals with higher levels of distress, burnout, and post-traumatic stress. Nurses tended to experience PTSD symptoms.
Not only have frontline workers had to deal with an overwhelming number of patients dying, they also do not have the personal protective equipment (PPE) they need to keep themselves safe. Months into the pandemic, nurses are reusing masks in some U.S. hospitals that do not have enough PPE.
More than 1,000 healthcare workers have died of COVID-19, and the PPE shortage puts nurses and physicians at increased risk. It can also raise anxiety levels.
Jianbo Lai, MSc, and colleagues in China, reported in JAMA Network Open that Chinese healthcare workers caring for COVID-19 patients had a high risk for depression, anxiety, insomnia, and distress. They recommended interventions to promote mental health for frontline workers.
Another 2020 study in JAMA Network Open indicated "untreated stress in this population [healthcare workers] can lead to anxiety, depression, substance use, sleep disorders, disrupted personal relationships, reckless behaviors, stress-related health problems, and even suicide."
Prolonged stress and emotionally intense stress can result in burnout and lead to serious consequences. Back in 2018, C.P. West at the Mayo Clinic, Rochester, Minnesota, and colleagues called burnout an "a public health crisis," negatively affecting physicians, patients, and healthcare organizations" in an article in the Journal of Internal Medicine.
Worse patient outcomes
Clinician burnout and fatigue can result in medical errors, longer recovery times, lower patient satisfaction, and poorer quality of care.
A 2010 study in Annals of Surgery found surgeons with burnout and depression were more likely to make a major medical error. And a 2018 study in Behavioral Sciences found nine percent of physicians with a burnout in the prior three months had made at least one major medical error.
Poor clinician outcomes
Burnout can lead to poorer job performance and satisfaction, poor self-care, substance abuse, depression, and auto accidents.
Physicians and nurses with mental health disorders are more likely to leave clinical practice. Physicians already have a high rate of suicide and the pandemic has not helped. Lorna Breen, MD, in New York committed suicide in April 2020, telling her family she just could not take care of all of the patients in her emergency room. She had also contracted the coronavirus and returned to work after she was presumably recovered.
Health system challenges
Burnout also can affect health systems with increased physician turnover and costs and reduced productivity.
Physician and nurse shortages exist and are likely to worsen if clinicians leave the profession. That could leave underserved areas even more short of medical care.
Depending on the specialty, the cost of replacing a physician can amount to more than $1 million. With hospitals and healthcare systems still struggling with COVID-19 financial pain, losing a physician only worsens the bottom line.
Mental health and healthcare providers
Health systems and other employers can take steps to improve the mental health of healthcare workers. Awareness, support, and ending the stigma of receiving help represent a good start.
AMN Healthcare partnered with the National Alliance on Mental Illness (NAMI) to make AMN a stigma-free company and a safe place to discuss mental health. Clinical team leaders encourage travelers to share their behavioral health issues. Free counseling is available through the employee assistance program, with mental health practitioners answering the telephone and providing immediate emergency counseling. Telehealth services are available as well, and the company offers free access to some sections of the Calm.com website.
At the University of Rochester in New York, psychologists are assigned to eight clinical departments. The groups hold weekly or biweekly Zoom chats for physicians, so they can share their experiences and support each other, reported Susan McDaniel, Ph.D., professor of families and health in the departments of psychiatry and family medicine at the University of Rochester. The team also sends out a newsletter twice weekly that features clinicians' ways of coping in a positive way, including poems or music.
"We have an easy way to connect people, hopefully, early in time when they become distressed," McDaniel said. "So that it doesn't turn out to be something that is long-lasting."
Rezvan Ameli, Ph.D., at the National Institutes of Health in Bethesda, Maryland, reported in JAMA Network Open in 2020 that a brief mindfulness-based program could reduce healthcare workers' stress. It also has been found to reduce physician burnout, according to the Annals of Internal Medicine article.
Brigham and Women's Hospital in Boston is offering emergency department clinicians free access to a technology platform, which will collect data and monitor the person for stress and mental health symptoms, to try to identify triggers.
Many apps exist to help people cope with depression, anxiety, and other problems and online support groups can help clinicians cope. Volunteer psychiatrists are manning the Physician Support Line, which offers free and confidential peer support.
Healthcare workers "need a lot of extra support, attention," Kaslow said. "But they also need ways to take care of themselves and to be honored and appreciated for what they have done."
Related:
COVID-19 Resources for Healthcare Facilities
Return to Work Healthcare Workforce Solutions
AMN Healthcare offers a comprehensive suite of staffing and workforce solutions for all types of healthcare facilities.