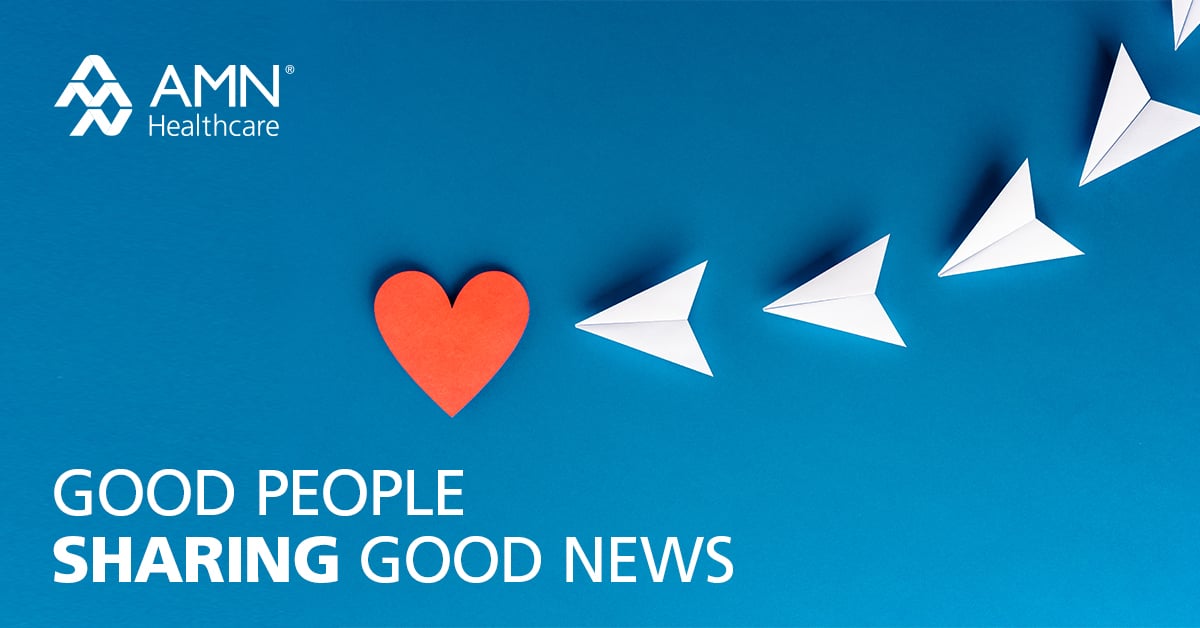 Good People Sharing Good News
Nurse Sings Song of Gratitude From Apartment Window
Gregory Eichelzer, RN, a clinical nurse educator in the Cedars-Sinai Emergency Department, gave an impromptu, heartfelt performance of Josh Groban's song "You Raise Me Up," out the window of his West Hollywood apartment building to a storm of applause from neighbors. Why? Because he was so inspired by a huge thank you note posted by a neighbor on her apartment window. But he changed the "me" to "us" to represent all healthcare workers.
Source: Cedars-Sinai. "Cedars-Sinai Nurse Educator Shares Gratitude With Song."
Neighbors Gratefully Serenade Nurse Outside Her Home
A Massachusetts nurse's efforts on the frontlines of the coronavirus crisis haven't gone unnoticed. Two musicians with a violin and a cello played Leonard Cohen's classic "Hallelujah" on the sidewalk in front of her house, with a giant "thank you" sign in the background.
Source: Massachusetts Live. "Coronavirus good news: Musicians in Massachusetts play Leonard Cohen's 'Hallelujah' outside neighbor's house to thank her for work as nurse on frontlines of crisis"
Retailers Supporting Healthcare Workers and Others Affected by Coronavirus
Retailers are struggling during the coronavirus pandemic, but many are also helping out in gratitude for all the hard-working healthcare professionals and other essential workers who keep going to work each day, as well as others who are suffering from the effects of the pandemic. The USA Today is running a growing list of retailers that are "giving back," include a shoe company that's donating a pair of sneakers to a healthcare worker for every pair that's sold.
Source: USA Today. "20 retailers giving back during the coronavirus pandemic"
Free Meals for Boston Hospital Workers
People in the Boston area can send a hot meal to a healthcare worker without leaving the comfort and safety of their own home. Numerous Boston-area restaurants are offering customers the chance to order meals online and have them delivered to the staff at Massachusetts General Hospital and other Boston hospitals. Or they can donate money towards the cost of meals for staffers.
Source: Massachusetts Live. "Coronavirus good news: As Boston hospital employees battle COVID-19 pandemic, nearby restaurants give patrons the option to buy hot meals for frontline health care workers."