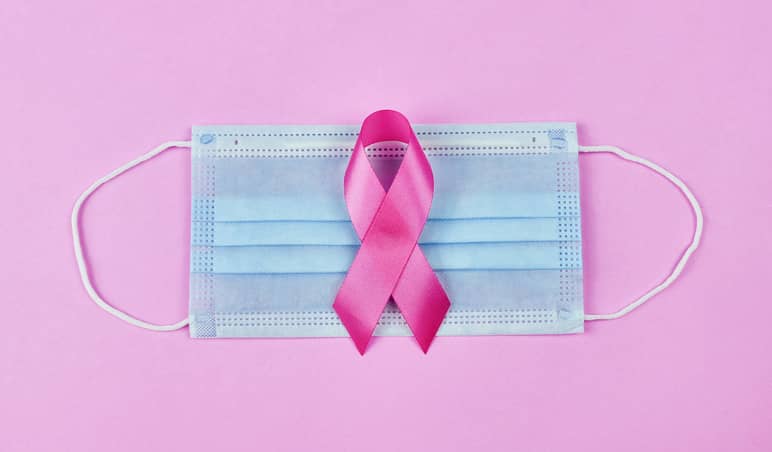 How Hospitals Raise Awareness of Breast Cancer During a Pandemic
Bright pink ribbons, fundraisers and awareness campaigns have made October synonymous with Breast Cancer Awareness Month. Yet, as hospitals continue to battle COVID-19 cases, healthcare leaders are called upon to continue to raise awareness of breast cancer during a pandemic.
Our nation's medical facilities—from top teaching hospitals to smaller, rural clinics—are all doing their part. One central message continues to be the importance of mammograms as early detection tools.
According to the American Cancer Society, when breast cancer is detected early, and is in the localized stage, the 5-year relative survival rate is 99 percent. Monthly breast self-exams and regular clinical breast exams and mammograms are all key efforts that patients can make for early detection.
Mammograms that were canceled or delayed as a result of the pandemic can now be conducted safely, leaders say, and it is up to hospitals and their respective staff members to get that message out to the patients.
How hospitals are still raising awareness of breast cancer
According to the American College of Radiology (ACR), mammography has helped reduce breast cancer mortality in the United States by nearly 40 percent since 1990. Many hospitals have been hosting special, COVID-19-friendly events throughout the month of October to help spread awareness on the importance of screenings and early detection.
UC Health, an integrated health system in Cincinnati that supports the Tristate Region of Ohio, Kentucky and Indiana, is holding mammography screening events for Breast Cancer Awareness Month. The screening events are offered to women in the local community and provide an opportunity to access screening mammograms as well as important breast health information/education.
During these events, all COVID-19 safety precautions are being strictly followed, and attendees as well as participating physicians, clinicians and staff must wear masks, observe social distancing and practice proper hand hygiene. UC Health also has integrative medicine specialists on hand to share health and wellness information, along with brief massage sessions, using the same safety precautions.
In the West, Rocky Mountain Cancer Centers have developed a comprehensive resource page on the topic of breast cancer awareness during a pandemic. It features information for patients and their families on the importance of screening during COVID-19 as well as a variety of other resources to get involved with Breast Cancer Awareness Month by attending virtual fundraising events and walks, donating funds and volunteering.
Breast cancer during a pandemic: Hospital safety measures
Hartford HealthCare in Connecticut has released a series of videos featuring top breast surgeons to help patients understand the importance of coming in for their regular mammograms and screenings. To make patients feel comfortable in light of the current pandemic, they have also implemented a variety of protocols designed to prevent the spread of COVID-19.
Some of the measures include:
Screening all employees for temperature when they report to work each day;
Requiring all people in the facilities, including staff, to wear masks;
Limiting visitation;
Cleaning and disinfecting facilities according to an enhanced and extensive schedule.
Even though mammography and screenings are readily available to most patients now, many are still concerned about getting exposed to the virus during a treatment. According to the ACR, a patient's risk of exposure to coronavirus during medical imaging is low.
The Breast Cancer Research Foundation acknowledges patients' concerns, however, noting on their website, "It's fair to be concerned about getting treatment during the pandemic. Hospitals and treatment centers are aware of this and have put extra precautions in place to protect patients and staff." They explain that things have changed since the start of the pandemic:
"By and large, it is safe to go to the doctor or a hospital, as long as you wear a mask and practice social distancing from other patients. Your treatment is important. Most of the time, doctors will try to keep treatments on schedule. But again, consult with your doctor about whether he or she advises any modifications."
Access more coronavirus resources from AMN.
AMN Healthcare offers a comprehensive suite of healthcare staffing and workforce solutions for hospitals and other medical facilities.
Contact AMN to learn how we can help you.