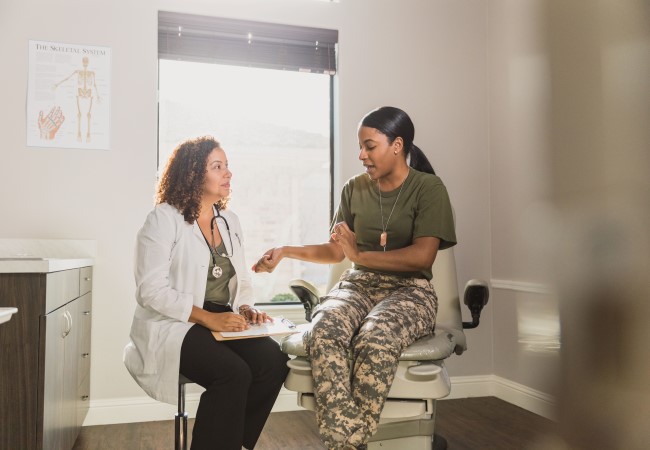 Top 10 Questions About Locum Tenens Government Jobs Answered
People choose medicine as their profession for a variety of reasons, but it often starts with a desire to make a significant difference in other peoples' lives.
So, what if you had the chance to make a difference for those who lay it all on the line for our country, or others who might need more help than your average patient?
Locum tenens government jobs give physicians and advanced practitioners the chance to care for these types of individuals while meeting their own professional and personal goals.
Brian Walker, AMN Healthcare's director of government services, recently addressed the most common questions about these temporary government assignments, explaining how they are similar to other locum tenens jobs—and how they are different.
FIND Locum Tenens Government Jobs
Answers To 10 Common Questions About Locum Tenens Government Jobs
1. Where are locum government jobs located?
Locum tenens government jobs may include working for any of the following:
Department of Defense (DOD) facilities, primarily on military bases serving active military personnel and their families, including the U.S. Navy, Marines, Army or Air Force
Veteran's Affairs facilities, including VA hospitals and clinics
Indian Health Service (IHS) facilities, which are often in rural areas
Facilities under the jurisdiction of federal or state bureaus of corrections
Other state facilities including behavioral health hospitals
Federal government facilities may be found in all 50 states, the District of Columbia, and U.S. territories, and practitioners can choose from a wide variety of destinations and settings—from rural to metropolitan.
"You can find [federal] locum assignments from coast to coast," Walker said. "Along with more traditional settings, we've placed locums in locations ranging from an Indian reservation at the bottom of the Grand Canyon to Alaska, Hawaii, and even Midway Island."
2. What medical specialties are in demand for locum tenens government jobs?
"The locum tenens jobs with the federal government tend to mirror those in other divisions," said Walker. "We place most specialties, but our largest demand is in primary care across government segments; also psychiatry with the VA and correctional facilities."
"We fill a number of locum tenens jobs in surgery, internal medicine, even dentistry,' he continued. "We also place a lot of nurse practitioners and physician assistants with the VA, the DOD, and IHS facilities."
3. How long do locums government assignments last?
The length of assignments will vary depending on the government agency and the individual facility need, according to Walker.
"Most assignments are long-term, and clients want at least a three-month commitment, like with the Indian Health Services. Yet some IHS jobs can involve just one- or two-week vacation coverage."
"The same thing with federal corrections; they tend to want three to six months," Walker explained. "And DOD jobs with the military are often six months or longer."
Many locum tenens practitioners enjoy the stability of longer assignments with these government agencies.
4. Does it take longer to get placed in a locum tenens federal government job?
Surprisingly, no.
While the privileging process itself can take a little longer for first-time government locum tenens, practitioners may actually be able to start sooner than with other locum positions because they typically don't need a new state medical license. (State government jobs are likely to require them.)
In many cases, AMN Healthcare is able to place locum tenens physicians and advanced practitioners in federal government jobs within six to eight weeks.
5. What is the credentialing process like?
"We're able to work with any active, unrestricted state license," said Walker. "I would say 98 percent of our [federal] government assignments do not involve getting a new state license."
Yet clinicians should still expect to undergo some scrutiny, and the sooner they can provide necessary documentation the sooner they can get placed. The credentialing staff works with practitioners to make the process as efficient and painless as possible.
" Government agencies don't grant temporary privileges, and they require very thorough background and security clearances. They also have to verify malpractice insurance, etc.," he explained. " Fortunately, we have many tenured folks doing the credentialing work for AMN Healthcare."
Once a practitioner has worked for a government facility, like a VA hospital, the process to work at another facility in that healthcare system can usually be expedited.
6. What are the requirements for working locum government jobs?
As noted, healthcare candidates need an unrestricted license to practice medicine in a government locum tenens job. The experience prerequisite will depend on the situation and the individual.
"Some of the government agencies are not as prescriptive above practice experience, but they want to be sure that candidates have enough experience with the patient loads, acuity levels, etc.," explained Walker.
"The Indian Health Services, for instance, tends to have patients with more chronic conditions like heart disease," he said. "Many of their patients don't see physicians on a regular basis, so they may have untreated issues and multiple co-morbidities. IHS wants to be sure that practitioners are comfortable dealing with these conditions."
Military facilities prefer that locum tenens have at least three years of experience, but Walker recommends asking a recruiter about current job opportunities and requirements.
7. How do the housing benefits work?
Similar to other locum tenens assignments, a practitioner's housing, travel expenses, and some per diem payments are covered by their staffing agency.
"Most of our practitioners prefer us to have us take care of their housing," said Walker, "but they do have the option of taking a stipend and making their own arrangements."
AMN Healthcare will normally find clinicians a private apartment close to their assignment facility, depending on local availability. Working within government guidelines and budget, the staff will do their best to accommodate families, pets, and special requests.
"One of our physicians had a pot-bellied pig that she wanted to bring along, so we went looking for housing that would accommodate that. Ultimately, we want to make each practitioner feel as comfortable as possible, and will do our best to avoid having them pay anything out of pocket," Walker explained.
8. Who takes care of the logistics for government locum jobs?
When a physician or advanced practitioner contacts AMN Healthcare about government opportunities, he or she will work with a recruiter who is experienced with government contracts. Their recruiter will be the main point of contact throughout the job search, interviewing, privileging, and onboarding process. Recruiters are also there to provide any necessary support during an assignment.
The recruiter serves as a liaison with government agencies and small businesses that contract with the government to make it a seamless experience for the practitioner.
The AMN Healthcare team helps with relocation issues including housing arrangements, stipends, and travel reimbursements. They also provide malpractice coverage and professional liability insurance, handle paychecks, and more.
9. Does it take special expertise to manage government locum contracts?
Healthcare jobs at government facilities are continuously changing, and it takes special knowledge and training to keep up with the regulations, staff these positions and help candidates through the process.
"AMN Healthcare was one of the original locums staffing companies to contract with the federal government," said Walker. "Our long-term relationships and experience make us uniquely qualified to place candidates in locum tenens government jobs and provide the support they need to succeed."
The company also offers some exclusive government jobs that practitioners can't find anywhere else.
10. What do healthcare practitioners enjoy most about government assignments?
Locum tenens practitioners appreciate government assignments for a variety of reasons, including flexibility in choosing when and where they work, paid travel opportunities, and the experience of treating new patient populations.
Yet the intrinsic rewards are often the real draw.
"I often tell government job candidates that they will enjoy working with the people they are seeing, and time after time they report back that it's true," said Walker. "Whether it is veterans, active military or Native Americans, they like hearing these patients' stories and being able to give back to them."
"And people in these communities are really appreciative," he added.
"It is more of an intangible benefit, but our physicians and advanced practitioners enjoy giving back."
CONTACT an AMN Healthcare recruiter to learn more.