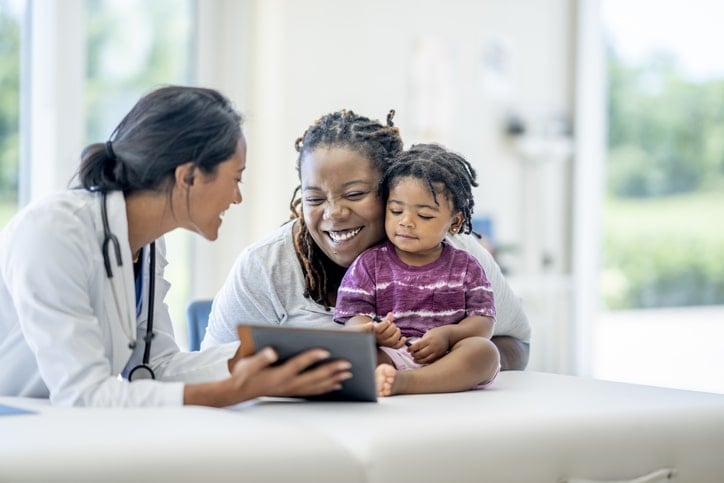 Average Time Doctors Spend With Patients
Patients and physicians alike can attest to the fact that the average time a doctor spends with each patient has been getting shorter in recent years.
Decreasing reimbursements have forced physicians to see more patients to retain the same amount of income. That means shorter patient visits and less time for relationship building.
Yet, physicians consider their relationship with patients the most rewarding aspect of their practices.
Physicians start out life wanting to help their patients optimize their physical and emotional health, yet we burden them with the amount of time and attention they have to spend worrying about the nonclinical and business aspects of their practices.
According to a recent survey of more than 19,000 physicians, the average time a doctor spends with a patient can vary widely by specialty, due to the realities of practice policies, specialty needs, patient acuity levels, and the working environment.
Average Time Doctors Spend with Patients by Specialty
The Medscape Physician Compensation Report 2017 found overall that:
- 30 percent of physicians spend 17-24 minutes with each patient and that
- 29 percent spend 13-16 minutes with each patient
These figures differ slightly from the 2016 survey, which found 13-16 minutes the most common amount of time physicians spend with patients.
Stephen Zuckerman, Ph.D., co-director and senior fellow at the Urban Institute in Washington, DC, reported that he is seeing a gradual upward drift in billing codes, which may or may not correlate with doctors spending more time with patients. For established patients, there are five levels of code, he explains, with movement to level four from levels two or three.
The average time doctors spend with patients varies by medical specialty, with primary care physicians tending to get the shorter end of the stick. Those responding to the Medscape survey reported the following:
AVERAGE TIME PHYSICIAN SPECIALISTS SPEND WITH PATIENTS
| | | |
| --- | --- | --- |
| Specialty | Most frequent response | 2nd-most frequent response |
| Cardiologists | 13-16 minutes (40%) | 17-24 minutes (28%) |
| Endocrinologists | 17-24 minutes (46%) | 13-16 minutes (23%) |
| Gastroenterologists | 17-24 minutes (46%) | 13-16 minutes (26%) |
| Oncologists | 17-24 minutes (38%) | 13-16 minutes (27%) |
| Ophthalmologists | 9-12 minutes (41%) | 13-16 minutes (24%) |
| Otolaryngologists | 13-16 minutes (30%) | 17-24 minutes (29%) |
| Rheumatologists | 17-24 minutes (45%) | 13-16 minutes (32%) |
| Urologists | 13-16 minutes (35%) | 9-12 minutes (34%) |
*Source: Data courtesy of Medscape's 2017 Physician Compensation Report.
AVERAGE TIME PRIMARY CARE PHYSICIANS SPEND WITH PATIENTS
Specialty

Most frequent response

2nd-most frequent response

Family Physicians

13-16 minutes (35%)

17-24 minutes (35%)

Internists

17-24 minutes (40%)

13-16 minutes (27%)

Ob/Gyns

13-16 minutes (34%)

9-12 minutes (27%),

17-24 minutes (27%)

Pediatricians

13-16 minutes (37%)

9-12 minutes (30%)
*Source: Data courtesy of Medscape's 2017 Physician Compensation Report.
The average time a doctor spends with a patient also depends on the reason for the visit. A simple sore throat in an otherwise healthy individual will take less time than a patient with multiple comorbidities and a sore throat.
The Importance of Time and Physician-Patient Relationships
As face time with patients shrinks, it puts physician-patient relationships at risk. The 2016 Survey of America's Physicians, conducted by Merritt Hawkins for The Physician's Foundation, found physicians consider patient relationships the most satisfying aspect of their practices.
In the same survey, 15 percent of physicians reported a lack of time with patients contributed to job dissatisfaction.
More time away from patients can add to a doctor's level of frustration, and even contribute to physician burnout in some cases.
On the positive side, patients are more likely to follow their doctor's instructions if they feel they can trust their physician and that he or she has taken the time to listen, understand and show that he or she cares.
Making the Most of Your Time with Patients
Carl R. Olden, MD, FAAFP, a family physician in Yakima, Washington, and board member of the American Academy of Family Physicians, recommended three things that physicians can do to help make the most of their time with patients:
Focus on sitting down with your patient.
Don't display signs you are hurried.
Spend a reasonable amount of time on human interactions.
"It's important to establish the relationship before focusing on what brought them in," Olden said.
Next, set the tone to deal with the patient's primary concerns.
"The medical assistant can help with that, narrowing down the most important things to discuss," he said. "Additional concerns could potentially be addressed during subsequent visits. Ancillary staff can also give preventive vaccines before the physician walks into the room."
"Culturally-sensitive touch is also important in establishing rapport with patients," Olden added. He also advises physicians to ask each patient if there is anything else he or she needs to discuss before standing up to leave the room.
Another timesaving tip to keep physicians on track: don't schedule two patients who have multiple comorbidities back to back.
Physicians at Olden's practice are scheduled with a new patient every 20 minutes, with 30 minutes for complex cases. Their average patient visit lasts 26 minutes, including time with the medical assistant.
Olden also suggested allowing team members to provide more of the services. Then the physician can spend time after the visit documenting in the electronic medical record (EMR).
Zuckerman added that documenting on EMRs slows physicians down.
"A lot of physicians do not see the benefit of electronic health records in terms of patient care," Zuckerman said.
The Physician Foundation survey found physicians spend 21 percent of their time on non-clinical paperwork; they also report that paperwork is the least satisfying aspect of their practice.
Most importantly, Olden said he "thinks physicians should have fun and not feel pressured to try to care for more patients than they are comfortable seeing." Additionally, he noted, "trying to make people work harder and see more patients can burn them out."
"We have the opportunity to impact people daily, and that's fun," Olden concluded.
"Jump on the hamster wheel and crank out the dollars—that is not the way to care for people over time."
To learn more about locum tenens physician jobs in a wide variety of practice locations and patient populations, connect with an experienced locums recruiter by completing the form on the right side of this page.