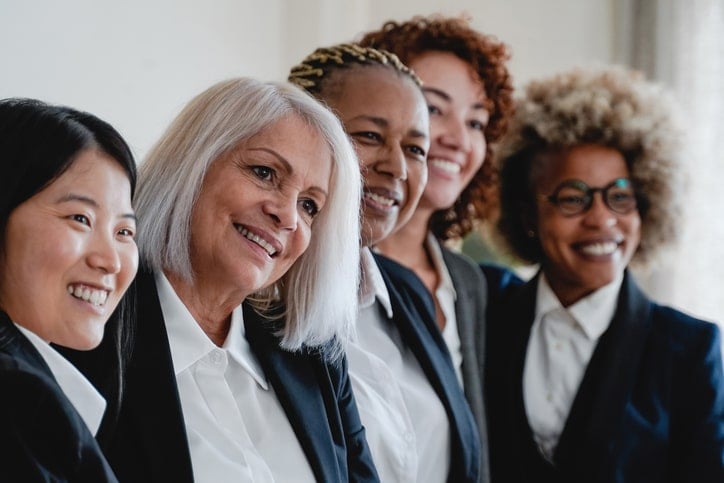 The Vital Role of Women Leaders in Healthcare
As the healthcare landscape continues to evolve, women leaders in healthcare have held an increasingly indispensable role. Women are making remarkable strides in shaping healthcare policies, advancing medical research, and revolutionizing patient care. Their unique perspectives and unwavering dedication bring about transformative change, addressing critical issues and fostering inclusive, patient-centered approaches.
Despite the progress that has been made by and for women healthcare executives, there is still much work to be done. Women in leadership still face challenges including gender disparities, sexual harassment, and other forms of both unconscious and conscious discrimination.
This article explores how women clinicians and administrators are working to improve health outcomes, empower the workforce and pave the way for a more equitable and compassionate future for female leadership in healthcare.
The Current Landscape: Women in Healthcare Leadership
The healthcare industry has been a haven for women to launch successful careers and continues to be a robust employment sector for female workers. According to the Bureau of Labor Statistics,16.4 million women were employed in the health care and social assistance industry in 2021, representing 77.6 percent of the total workers.
Although healthcare has always been a prominent sector for women, the number of women in leadership roles has lagged far behind that of men. According to a 2022 article published in Forbes, women still make up just 25 percent of healthcare leadership positions.
In their latest The State of Women in Academic Medicine Report, the Association of American Medical Colleges (AAMC) found that women currently make up more than 50 percent of U.S. medical school applicants, yet just 18 percent of medical school deans and 18 percent of clinical department chairs are women. Among other leadership roles, 34 percent of the senior associate deans, 29 percent of division chiefs, and 25 percent of full professors are women.
Unique Contributions of Women Leaders in Healthcare
Women bring a variety of unique contributions to healthcare including leadership based on empathy, good communication, and a holistic approach to care. Women leaders in healthcare have shaped policy and practice to improve the well-being of countless individuals, patients, clinicians, and colleagues.
Not surprisingly, female leaders in healthcare have played pivotal roles in advancing women's health, advocating for reproductive rights, and ensuring access to quality healthcare for all. They have championed initiatives to address gender disparities in medical research, mentorship, and leadership positions, paving the way for future generations.
By bringing diverse experiences and voices to the table, women leaders have transformed healthcare systems, fostering innovation, empathy, and inclusivity in the pursuit of better health outcomes for everyone.
Attracting Successful Women Leaders in Healthcare
"One of the most important steps in increasing the number of women in academic leadership is to hire leaders who will commit to identifying and sponsoring women leaders," writes Ellen Lockhart, MD, principal at AMN Healthcare Physician and Leadership Solutions, in a new white paper, Increasing the Number of Women Leaders in Academic Medicine.
Lockhart gives several examples of ways that organizations can increase the number of women leaders, including focusing on early career development, offering leadership development and mentoring opportunities, and hiring leaders committed to fostering a culture of inclusion.
Challenges Faced by Women in Healthcare Leadership
Women in healthcare leadership jobs face numerous challenges. In addition to some remnants of gender inequity and discrimination, they are also faced with increased burnout and stress. Thankfully, there are many resources that women can leverage to overcome these all-too-common challenges.
Advocating for women's rights, serving as mentors for one another, and standing up when something isn't right are all things that can be done to positively impact this movement.
The Future of Women Leaders in Healthcare
According to a robust 2021 study published in eClinical Medicine, an increase in the percentage of women healthcare leaders would result in concrete benefits.
"A 22% increase in global human capital wealth is estimated, should equal participation of women in health be realized," the authors noted. "More broadly, increasing the potential of women as leaders is a critical long-term investment for organizational success, improved health policy, and national prosperity and quality of life. More women in leadership increases organizational productivity and maximizes the value of the female workforce."
The future is undoubtedly bright for women in healthcare as the sector embraces more females in positions of power and leadership.
Connecting Women with Healthcare Leadership Jobs
Women play a crucial position in healthcare leadership and will continue to positively impact the healthcare sector as it evolves. Much progress has been made, but women still need to advocate for themselves and be recognized for all that they bring to the table. At the same time, organizations need to support their career development.
B.E. Smith, part of AMN Healthcare, is proud to be part of connecting both women and men with their ideal leadership roles, including permanent and interim positions. To learn more about opportunities, speak to one of our placement specialists by completing the form on the top right of this page.