Healthcare Diversity in the Spotlight
Diversity is a complex issue, and leaders are seeking more data and ideas to help them devise the best strategies for their organizations.
The following infographic details the opinions of 6,500 Registered Nurses from a 2021 survey.
Our "Healthcare Diversity in the Spotlight" report takes a comprehensive look at diversity, equity, and inclusion in the industry today, assessing the diversity landscape and providing actionable recommendations for healthcare organizations.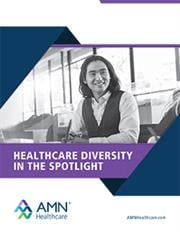 Quickly access the whitepaper by submitting your information.