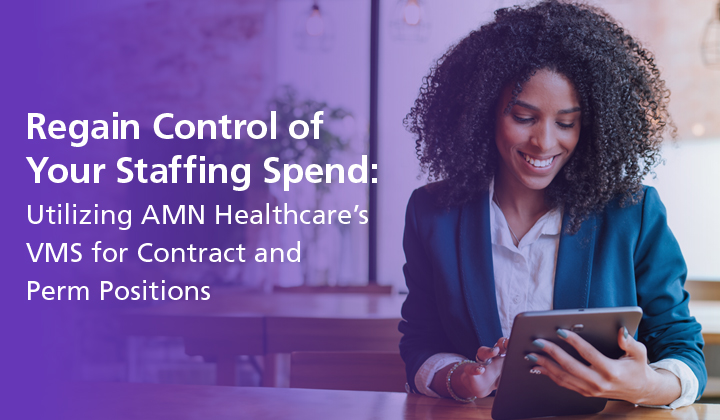 Fill Your Perm Positions Quickly with Our Risk-Free VMS Solution
Our Vendor Management System (VMS) solution is a centralized, end-to-end portal, enabling healthcare facilities to quickly staff and manage their entire range of talent—including contract AND perm positions.
In addition to managing external resources, our clients can post permanent positions through our VMS to over 400 agencies nationwide. This allows for risk-free, on-demand posting—there is no up-front fee, and payment is only processed once the position is filled—following a simple, five-step process based on their unique needs:
Agreement: A simple contracting process to save time
Set-Up: A 48-hour implementation to get up-and-running quickly
Job Posting: Client posts jobs in consultation with their dedicated account manager
Candidate Submissions: Staffing agencies submit pre-screened, qualified candidates
Selections Made: Select the best option for staffing requirements, at the best price
A Comprehensive Solution for Contract and Permanent Staffing
Cost-Saving Competitive Marketplace
Using our VMS solution, you can submit individual clinical and non-clinical needs through our open, competitive bidding marketplace, ensuring adjusted rate control to market and regional conditions.
Real-time market data available at the touch of a button
Supplier-funded marketplace means no cost to the facility
24/7 On-Demand Talent Access
Our VMS provides access to the largest pool of talent providers in the United States, with the option to sign a Master Service Agreement—providing access to pre-vetted suppliers and standardized terms.
Ensures candidates are compliant and credentialed
Unlocks greater efficiency, reducing time spent on hiring, staffing, and invoicing
User-Friendly Interface and Dashboards
Hiring managers can review, select, offer, and on-board desired talent all in one centralized platform, with access to on-demand, focused reporting and consolidated invoicing capabilities. Additionally, our VMS interface and dashboards can integrate directly with your organization's time and attendance systems to provide meaningful insight into overall workforce spend.
Client Success Story: AMN Healthcare VMS in Action
A moderately-sized health system in Minot, North Dakota needed help recruiting and filling open permanent positions within their facility. Their location was not highly desirable for nurses, but we were able to implement a successful VMS solution to empower their permanent candidate search.
The Challenge
Finding nurses to relocate to northern North Dakota proved to be a difficult hurdle for our client to overcome.
The Solution
With the help of the agency pool and open communication with the facility, we were able to find a rhythm of submitting permanent candidates, and partnering with the hiring manager to find the best unit for each candidate.
The Outcome
Partnering with AMN Healthcare VMS, the client secured over 40 permanent hires in a month across its facilities—a 400% improvement on average monthly job postings.
Our client was able to achieve success with AMN Healthcare VMS using a simple, 5-step process based on their unique needs:
Are you ready to regain control of your staffing spend? Learn more about how our vendor management solutions can be tailored to help your organization reduce agency spend by contacting us for a demo.