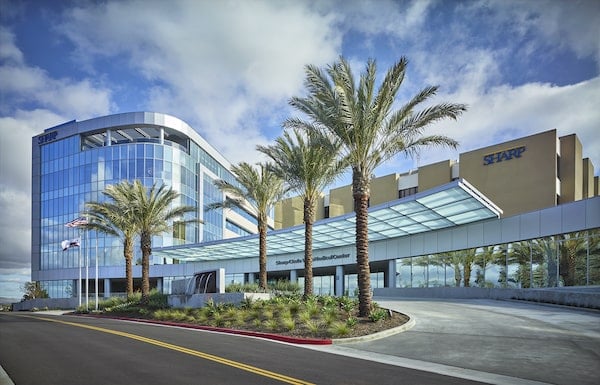 Sharp Memorial Hospital Achieves Magnet Status
Sharp Memorial Hospital in San Diego, California, became one of only 12 hospitals in the state to be awarded Magnet designation by the American Nurses Credentialing Center (ANCC), which is the credentialing arm of the American Nurses Association (ANA).
Magnet hospitals are those that have demonstrated excellence in nursing practices and quality patient care. They are said to draw nurses to them "like a magnet," because of the superior working environment that they provide. Only five percent of U.S. hospitals have achieved Magnet status, which is the highest honor awarded by the ANCC.
"I think in today's environment where we know we have a long-term nursing shortage to grapple with, nurses are able to select the environment to work in," said Jennifer Jacoby, RN, chief nursing officer of Sharp Memorial Hospital. "Just knowing that a hospital has been designated as a Magnet hospital makes them want to work there."
In order to be considered for Magnet status, Sharp Memorial had to achieve the 14 "forces of magnetism" outlined by the ANCC. Jacoby, along with a team of over 100 nurses, worked for more than three years to complete what has been deemed "the Magnet Journey." During this time, the hospital reviewed all of its nursing practices and recorded improvements in recruitment, retention, patient care and nurse satisfaction. The resulting file that they submitted to the ANCC for review was 15 inches tall and weighed 48 pounds.
"Maybe four years ago, we had a turnover rate in telemetry that was about 27 percent. Nearly half would leave in the first year," said Jacoby. "One of the things we did was to see why that was. By investigating the evidence, we were able to make a big dent. One technique we used was a RN residency program. We now have considerably lower turnover. Subsequently, this resulted in improved patient outcomes and a very low nosocomial rate. In the last quarter of 2007 we had only one VAP in our ICUs and our goal is to have none."
Sharp Healthcare has already received several awards for their nursing staff and patient care. Sharp Cabrillo Skilled Nursing Facility, an affiliate of Sharp Memorial, also received Magnet designation, making it one of only two skilled nursing homes in the U.S. to achieve the honor. In addition, another Sharp facility, Sharp Grossmont Hospital in La Mesa, California, also received Magnet designation in 2006 making Sharp Healthcare the first healthcare system in the state to achieve two magnet hospitals. Sharp Memorial also received the Malcolm Baldridge National Quality Award and is one of only five hospitals in the country to receive both this award and Magnet status.
"It's been a long journey," said Jacoby. "Our reason for doing it is we believe nurses deserve the best environment to work in and patients deserve the best care."
Even after completing the Magnet Journey, Jacoby notes that their job is far from over.
"Just having the award isn't all there is to it," added Jacoby. "You have to back it up with evidence. You can't just quit. We have to show that this is an environment where patients are getting cared for and nurses want to be here. It's our job to keep it that way. We're not going to rest on our laurels. We're going to look for innovations in creating an environment where nurses are supportive and thrive in our practice. It's our goal to continue to be known to be the best in our area."
© 2008. AMN Healthcare, Inc. All Rights Reserved.