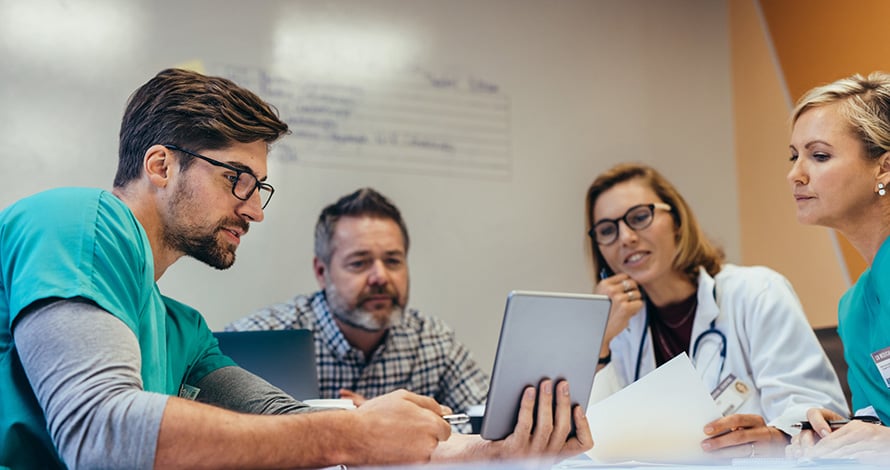 Prevent Healthcare Staffing Problems Before They Start
In the rapidly changing healthcare industry, shortages of nearly all types of healthcare professionals are becoming more pronounced, and the gap of unfilled staff positions is widening.
Solution to Daily Problem Largely Unknown among Nurse Managers
Technology-enabled solutions exist that can utilize predictive analytics together with advanced labor management strategies to forecast patient demand and then align scheduling and staffing with future demand. Predictive analytics currently support resource management and other functions in many industries. In healthcare, they are routinely used in biomedical research to predict treatment outcomes.
However, their availability for use in solving scheduling and staffing problems is relatively unknown among nurse managers, finance managers, and registered nurses. With the industry now facing a workforce supply crisis, wider use of available predictive analytics services in healthcare scheduling and staffing has become necessary for the optimization of clinical staff.
A new report by AMN Healthcare and Avantas, Predictive Analytics in Healthcare 2016: Optimizing Nurse Staffing in an Era of Workforce Shortages, analyzes the growing challenges in scheduling and staffing of registered nurses through a survey of nurse managers, as well as interviews with nurse managers, finance managers, and registered nurses. It also examines the state of knowledge about predictive analytics applications in healthcare workforce scheduling and staffing.
Key Findings from Predictive Analytics Survey
Nearly all nurse managers agree that scheduling and staffing problems have a negative impact on overall staff morale: 94% say understaffing caused by these problems hurts morale; nearly 90% say it makes nurses feel that nobody cares how hard they work.
Nearly 70% of nurse managers say they are very concerned about the impact of scheduling and staffing problems on patient satisfaction. More than half say they are very concerned about the effect on quality of care.
Nearly 50% of nurse managers say that understaffing caused by scheduling and staffing problems is a significant problem in their jobs. More than 40% say that last-minute schedule changes are a frequent and significant problem. Patient acuity changes, specialty vacancies, and scheduling mistakes also are significant problems.
When scheduling nurses, 23% of nurse managers say they don't use any scheduling tools at all, while 24% use paper-based staffing tools, and 19% use digital spreadsheets.
Of those nurse managers with access to technology-enhanced scheduling tools, 43% still depend on manual scheduling.
80% of nurse managers say they are not aware of technology-enabled solutions that could help them manage and solve scheduling and staffing problems up to 120 days in the future.
Nearly 60% of nurse managers say that advanced scheduling technology that can accurately forecast patient demand and staffing needs would be very helpful, while another one third say it would be somewhat helpful.
With shortages of nurses growing, and the gap of unfilled healthcare jobs widening, utilization of predictive analytics aligned with advanced labor management strategies represent a solution to nurse scheduling and staffing problems — a solution that is largely unknown to nurse managers.
Predictive Analytics Offer New Approach
Predictive analytics, used in many industries for resource management, can be applied to healthcare scheduling and staffing through the analysis of "big data" about patient census, public health threats, business information about the enterprise, and other material, which is then processed with standard algorithms. The forecasting component utilizes various time series models that may incorporate multiple variables for accurate prediction of nurse staffing needs. Exploratory models are validated before and after deployment, with the outcome being a census forecast as far as 120 days in advance of the shift. The forecast is updated weekly. These analytics are then aligned with various advanced labor management strategies to optimize both contingent and permanent staff.
Healthcare enterprises that have adopted predictive analytics and advanced labor management strategies have realized outcomes that include reductions in agency nursing, increased staff satisfaction scores, improved nurse retention, reductions in open shift incentives and bonus pay, and significant annual savings in labor spending.