Reducing the Nursing Shortage by Taking Residency & Fellowship Programs to the Next Level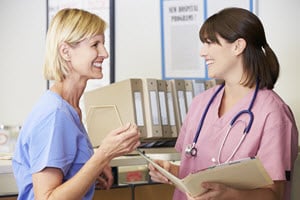 As the American population ages and needs more healthcare, waves of nurses retire, and a growing number of newly insured patients enter the healthcare system, the worsening nursing shortage will remain a major healthcare challenge. And with no relief in sight, it's critical that healthcare organizations develop the staff that will produce a successful work environment and a positive patient experience.
New grad nurses and existing nursing staff can be very valuable resources to fill the widening gap of unfilled jobs created by experienced nurses who are leaving the profession or moving to other roles. Both can be trained for jobs that are in higher demand, particularly in the specialties. Despite the nursing shortage, many new grads have difficulty finding jobs because they lack needed experience.
Closing the Gap of Unfilled Nursing Jobs
Job openings for registered nurses are projected to grow by nearly 1.1 million from 2014 to 2024.1 But job hires are much lower than job openings. Clinical managers and human resources are facing the challenges of not only hiring enough nurses, but also finding those with real-world experience. They need RNs who can quickly become productive in the available job openings. Patient demand is immediate; nurse productivity must be, too. High-need specialties such as intensive care, labor and delivery, and emergency rooms require specialized knowledge and competencies, which new grads often need to develop.
Nurse residency and fellowship programs can expedite preparedness to fill needed roles. These programs, which can be customized to the specific needs of each healthcare system or facility, can provide new grads and existing staff with the necessary clinical experiences and competencies to be successful when hired to fill a care provider's job openings.
These programs have been shown to increase fill rates and therefore produce cost savings by reducing the need for overtime. In addition, when healthcare providers make use of customized residency and fellowship programs, they can instill their unique culture and mission in new nursing staff. For existing staff members, these programs can result in valuable career and leadership development. For both, the outcome can be improved job satisfaction, retention and a positive patient experience.
Building Your Own Nursing Staff
So how do we leverage these promising, eager-to-learn groups of healthcare professionals and make them more attractive and retainable to organizations that have stalled in hiring them?
"An ongoing problem needs an ongoing solution," said Melissa Kenig, Vice President for The Center for the Advancement of Healthcare Professionals, part of AMN Healthcare. "The key is enhancing residency and fellowship programs, along with existing staff, to help with the shortage. But to do that we have to change the paradigm. This includes helping healthcare organizations to not only attract high-quality candidates, but to build and retain clinicians who are taught about their organization's specific environment and become devoted to the organization for a long period of time, as well as helping the organization to develop and commit to a culture of continuous career development."
One way to do this, says Kenig, is for hospitals to consider partnering with a staffing agency that can meet immediate workforce needs and help build successful residency and fellowship programs that augment their current strategy, build a continuous talent "pipeline," and deliver clinicians who are highly skilled in patient centered care, enculturated and ready to practice. The other part of the solution is implementing training that turns fellows and existing staff into future leaders of the organization.
"This pipeline of continuous supply and development is a safety net for the nursing shortage and produces ample benefits," she said. "This type of strategy is fundamental to helping hospitals attract and maintain top talent." And according to Kenig, here is what such a program looks like.
Augmenting your current workforce strategy
Building and retaining talent can be garnered through residency and fellowship programs that focus on developing individuals. This type of program goes beyond typical immediate supply-focused residency programs by providing a specialized, customized curriculum. Participants receive individualized coaching through the entire program from residency all the way through certification. The goal is to augment the organization's current strategy and create a pipeline of talent that helps the organization with immediate needs, remains loyal, and ultimately transitions and stays on staff past certification. For fellows and existing staff, they are trained to be the organization's future leaders and decision makers.
In a similar model implemented at NewYork-Presbyterian Hospital, Nursing Economics reported that the hospital had many successes, including a higher retention rate, increased fill rate, nursing leadership satisfaction, and no reported sentinel events related to the practice of the new graduates. They even reported a cost savings.2
Building a Nursing Shortage Safety Net
According to Kenig, creating residency and fellowship programs with a transition component could produce the following benefits:
Immediate supply to fill critical needs by getting more nurses or qualified clinicians on the units who are closely supervised.
Fostering an ongoing "attract, build and retain" strategy. The organization can grow a reputation in the community as an employer of choice by showing they are dedicated to ongoing career advancement.
Building a future. Individual coaches help nurses to integrate with leadership and become new leaders for the organization and future candidates.
Choosing a Residency & Fellowship Program Partner
When looking to tackle the nursing shortage with residency and fellowship programs that place an emphasis on transition, Kenig said to look for a staffing partner that:
Understands your needs. The program is about your culture, populations you serve, your gaps, and your biggest workforce needs. A partner listens and then helps you build a strategy that addresses your needs specifically rather than generically.
Delivers an innovative approach to successfully meet clinical and operational outcomes.
Understands the complexities of patient care delivery models.
Has a large pool of available candidates.
Has strategic partners that make the transition program robust.
Offers customized, evidence-based curriculum.
Offers individualized coaching from residency through certification.
"You can't assume people working today are prepared for what is coming tomorrow," said Kenig. "You have to look at the long haul. You certainly have to fill your short-term needs, but if you aren't looking forward, especially with more savvy patients coming into the system and significant changes in technology, regulations, and compliance, the nursing shortage could get the better of you – and your patients."