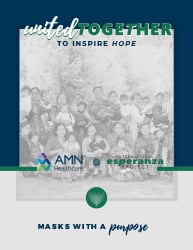 AMN Healthcare and International Esperanza Project, partners in bringing vital medical care and community development to the people of Guatemala, have launched a unique project to protect public health during the pandemic while also helping Guatemalan families.
Together, the two partners are sponsoring the manufacture of personal masks with authentic Guatemalan cloth patterns and branded with AMN and IEP logos. AMN has ordered 8,000 masks, which are being manufactured at a factory outside of Guatemala City. AMN will send two masks to each of its corporate team members.
The masks are made at Confesa, S.A., a textile factory outside Guatemala City, where many people from the Chimaltenango region work. Chimaltenango is one of the areas where AMN/IEP programs help people through healthcare, community development, and school projects. The production of the AMN/IEP masks will help support the livelihoods of 700 families.
"We will wear these beautiful masks proudly because they reflect the people and culture of Guatemala and the commitment of AMN to the health and well-being of our local and global communities," said AMN CEO Susan Salka, who has worked on every AMN mission to the country. "These masks celebrate the shared efforts of AMN and IEP to help thousands of Guatemala families through our annual joint missions and now through helping to provide income for Guatemalan women and men."
Due to stay-at-home and social distancing restrictions in Guatemala, manufacturing throughout the country has been significantly reduced, protecting people's health but also causing economic hardships.
At Confesa, S.A., the AMN-IEP masks project has provided part-time work under strictly regulated conditions, bringing jobs to the Guatemalans who are making them. When travel restrictions are lifted in the country, the factory will provide even greater employment and training opportunities.