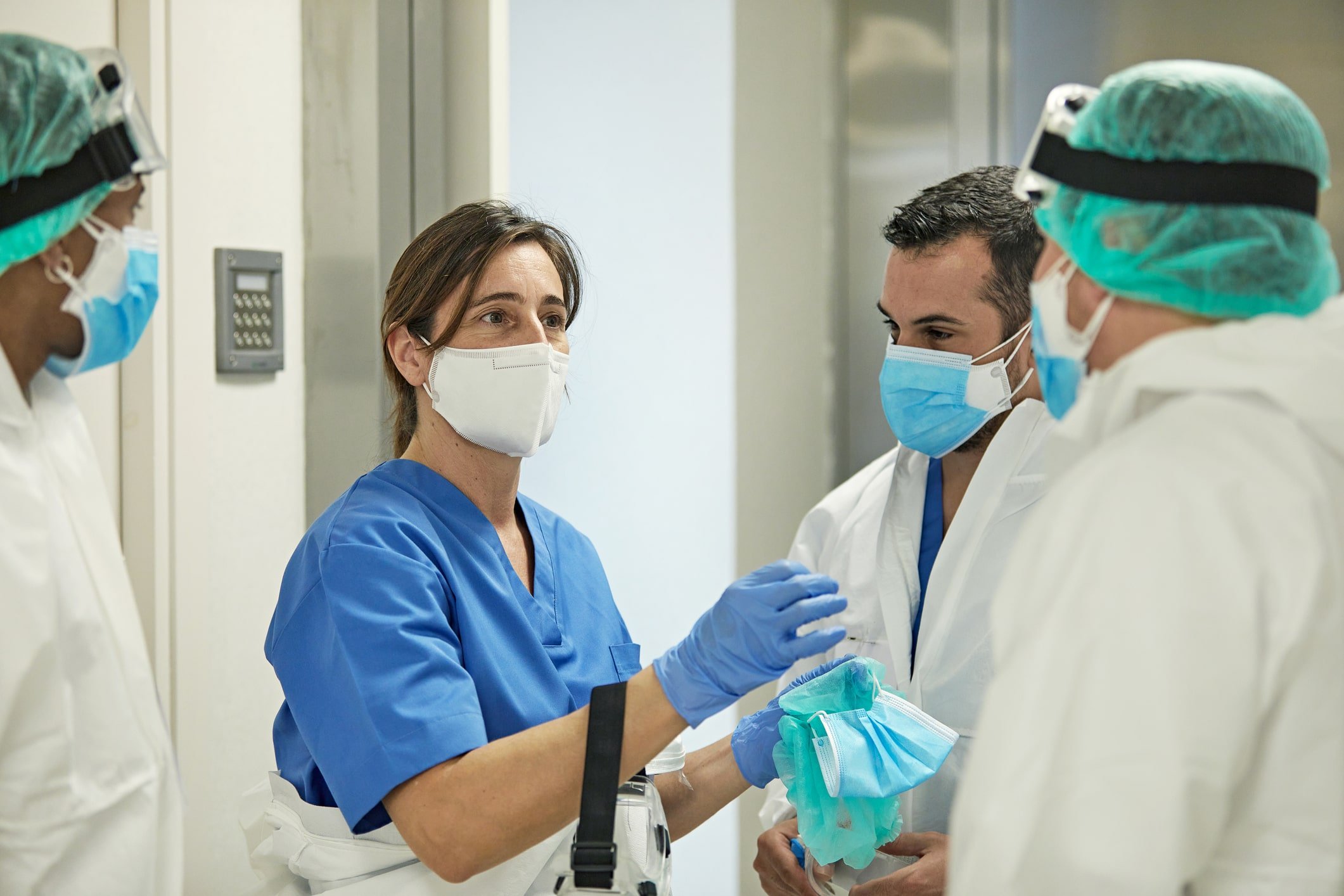 Collaborative Healthcare Teams a Growing Success Story
April 25, 2012 - Increasingly, healthcare professionals are recognizing that colleagues from other disciplines contribute to good patient care.
"When you get in the work environment, it's more and more clear that the team causes the largest change in outcomes for patients," said John Jelovsek, M.D., director of the Cleveland Clinic Center for Multidisciplinary Simulation, who describes the Cleveland Clinic in Ohio as "less siloed" than many facilities.
Long Beach Memorial Medical Center began focusing on improving teamwork to address increasing lengths of stay after finding a fragmentation in patient care, said Judy Fix, RN, MSN, senior vice president and chief nursing officer at Long Beach Memorial and Miller Children's Hospital Long Beach in California.
"It has created tremendous value and respect among physicians, nurses and other disciplines, and it has elevated the level of care of the patient," Fix said.
Texas Health Presbyterian Hospital Dallas also embraces collegial caregiving.
"Care is too complex today for any one discipline to direct the multitude of caregivers and disciplines that make up the modern care teams," said Cole Edmonson, DNP, RN, FACHE, NEA-BC, vice president of patient care services and chief nursing officer at Texas Health Presbyterian Hospital Dallas.
Changing the culture
"True collaboration--which means a work culture where joint communication and decision making among all members of the healthcare team becomes the norm--is not an event. It's an ongoing process that grows over time," said Ramón Lavandero, RN, MA, MSN, FAAN, director of communications and strategic alliances for the American Association of Critical-Care Nurses (AACN) and clinical associate professor at Yale University School of Nursing.
That culture requires skilled communication, true collaboration, effective decision making, appropriate staffing, meaningful recognition and authentic leadership, he added.
"The healthcare organization and individual team members share equal accountability for creating a collaborative culture," Lavandero said. "For example, the organization defines each team member's accountability for collaboration and how unwillingness to collaborate will be addressed. It ensures unrestricted access to structured forums--such as ethics committees--and makes available the necessary time to resolve disputes. Each team member becomes as proficient in communication skills as in clinical skills. [The nurse] acts with a high level of integrity by giving power and respect to each person's voice, integrating individual differences and resolving competing interests in order to safeguard each person's contribution."
Edmonson agreed that all disciplines must be valued, respected and allowed to practice at their full scope. He added that an interprofessional team philosophy must be pervasive throughout the organization and needs to be supported by the leaders and believed in by the direct care staff. He indicated that organizations must clearly define, support and communicate the interprofessional philosophy to the entire organization and have structures in place to support clinical leaders that include leadership training, education for clinicians, development of interprofessional position statements, team charters, and programs that create engagement opportunities, like TeamSTEPPS.
SUNY Downstate Medical Center in Brooklyn, N.Y., also has begun using TeamSTEPPS, developed by the U.S. Department of Defense, in certain units.
"Many of our patient care issues are related to failure to escalate or ineffective communication, and TeamStepps is an interdisiciplinary program [to improve that]," said Stephen Marrone, EdD, RN-BC, CTN-A, deputy nursing director at the Institute of Continuous Learning at SUNY Downstate.
"They have used the tools of briefs, huddles, and debriefs on a regular basis to maximize communication," Marrone said. "It puts the emphasis back on the patient rather than the individuals involved. Overall it has been beneficial."
Downstate has reported increased throughput and a perceived improvement in interdisciplinary communication.
Teamwork in action
An integrated effort at Unity Hospital in Rochester, N.Y., enabled the establishment of standard, modifiable, evidence-based care plans to provide the safest, most cost-effective and comprehensive methods of treating people, from admission through post-discharge care, said Albert Jones, M.D., department chair of obstetrics and gynecology at Unity.
"Integrated care can begin immediately," Jones said.
Unity physicians, nurses and other members of the team discuss every patient together at 7 a.m., 3 p.m., and 9 p.m. Patients receive an updated plan of care for the day.
"It's helpful in embodying a team approach and getting everyone on the same page," said Paula Crevison, RN, MSN Ed, RNC-EFM, Unity's Family Birthplace nurse manager, education.
In addition, nurses and physicians attend each other's meetings and review charts to assess whether the hospital can improve upon care.
"Metrics say what we are doing has decreased readmission rates, decreased infection rates and decreased complication rates." Jones said. "The reason we're successful has been everybody sitting down at the same table at the same time, looking for what is best for the patient."
Long Beach Memorial has experienced dramatic reductions in its average length of stay, from 5.8 days on the respiratory medical floor, the first unit to start using the team approach, to 4.4 days now, one year later. Other units have begun the interdisciplinary huddles, and length of stay is coming down on those units as well. Hospital medical, nursing and administrative leadership, a pharmacist, a social worker, the case manager and rehabilitation therapy round daily on every hospital patient who remains in the 716-bed hospital for three days, about 40 per day. It takes about two hours. The registered nurse caring for the patient presents the case for a multidisciplinary review, and the team creates three daily goals for the patient.
"We work as a team to expedite everything," Fix said. "Everyone plays a special role."
If the patient is still in house the next day, the team evaluates what obstacles stand in the way of discharge and address them.
Keck Hospital of University of Southern California in Los Angeles employs multidisciplinary teams in which pharmacists play an active role. For instance Kevin Forrester, PharmD, clinical coordinator of pharmacy services at the Keck Hospital and an associate professor at the USC School of Pharmacy, rounds on the heart transplant patients. He evaluates whether patients are on the appropriate drug therapy and monitors the therapy to minimize the potential for adverse effects or drug–drug interactions. He makes recommendations for additions or changes to the medication therapy.
"The medical literature has shown that pharmacists improve patient outcomes and outcomes for the health system, translated to mean reduced healthcare costs," Forrester said. "The physicians are very accepting of pharmacists' contributions."
Forrester added that the department of pharmacy services receives more requests for pharmacy participation in rounds than it can meet. Pharmacists also monitor patient assessments and develop the therapeutic medication plan, including initiating the drug and adjusting doses based on protocols approved by the medical staff.
Training together
Cleveland Clinic trains team members together to respond to emergent situations, such as a cardiac arrest on a unit or a stroke patient arriving at the emergency department, in the clinic's simulation center.
"Over the last decade, there have been an increasing number of studies showing when health teams train together they can reduce morbidity and mortality," said Jelovsek, adding "There's a dose response. The more frequent the training occurs, the more morbidity and mortality is reduced."
Nurses, physicians--residents, fellows and house staff--and other care providers come together to focus on improving the care they provide, said Jelovsek, who added that it's critical to create an environment that allows for clinicians to act and make a mistake, without harming a patient and without finger pointing.
Joan Kavanagh, RN, MSN, associate chief nursing officer for clinical education and professional development at Cleveland Clinic, adds that watching a video of the event and the debriefing contributes to the success of the session and developing the team-building skills.
"People are amazed looking at themselves how they communicated, at their tone, what they said or didn't say," Kavanagh said. "We learned we needed to concentrate on how the team works together."
Jelovsek acknowledges that the employed-physician model used by the Cleveland Clinic helps to facilitate participation in training, since it eliminates the time conflict with providing care that generates income. But that does not automatically create a collegial culture.
"Creating a culture of safety takes a lot of work and a lot of buy-in," Jelovsek said, but he indicates it is well worth it.
"The biggest take away is the respect for each other's roles and responsibilities and how those people communicated with each other when they went to the unit," Kavanagh said. "They came in in their own bubble, but they left as a nascent forming team."
Fostering mutual respect
Such mutual respect is critical.
"When there is true collaboration, each team member's unique knowledge, skills and abilities are respected because the team is committed to a common goal: safe, quality care for patients and their families," Lavandero said.
Team collaboration depends on a just culture that supports fair, equal and consistent approaches to variances in care while promoting a safe/fear-free environment and celebratory mechanisms to highlight success, Edmonson added.
"Collegial teams are built upon mutual respect and value, they don't tolerate bad players or bad behavior, especially bullying of any discipline or individual," Edmonson said. "Collegial teams establish healthy value systems that become the norms that guide behavior and ultimately build a professional culture that values excellence and relationships."
© 2012. AMN Healthcare, Inc. All Rights Reserved.