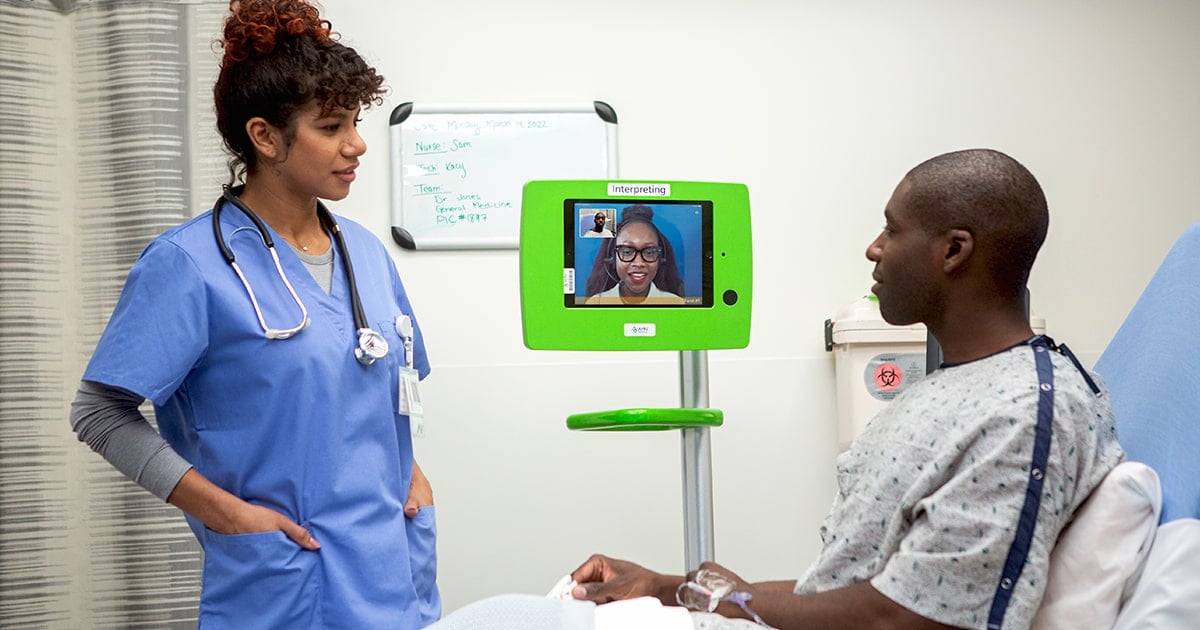 Boost LEP Patient Satisfaction
Today's complex healthcare system can be difficult for anyone to navigate. But for patients with limited English proficiency (LEP), language barriers contribute to a range of added challenges – including miscommunication with providers and cultural differences that can impact care delivery. Not only do these issues result in health disparities between English-speaking and LEP patients, but they also negatively impact the LEP patient experience.
As hospitals and health systems continue to adopt a more patient-centered approach to care, it's important to consider the role communication plays in improving the overall LEP patient experience.
The Importance of LEP Patient Communication
For LEP patients, communication problems are the most frequent cause of serious patient safety events reported to the Joint Commission1 – and language barriers lie at the heart of the issue.
Studies have shown that LEP patients are 40% more likely to experience physical harm associated with an adverse event than English-speaking patients2, due in large part to miscommunication. A qualified medical interpreter can help overcome these challenges by offering a means for clear and effective communication to take place between an LEP patient and providers.
Using a medical interpreter has been proven to:
Increase trust: Effective communication builds trust. This is vital in healthcare, as the level of confidence that an LEP patient has in a provider will greatly impact the degree to which they will adhere to a care plan.
Improve patient satisfaction: In addition to better patient adherence, LEP patients tend to be more satisfied with their care when they are provided with qualified interpretation services.
Reduce length of stay: Compared to English-proficient patients, hospital stays for LEP patients average about 1.5 days longer when professional interpreters are not used at admission and discharge.3
Reduce readmissions: When an LEP patient can effectively communicate with their providers, they will better understand how to manage their conditions, take their medications, and follow up if symptoms return. This reduces the likelihood of costly readmissions. A 2017 study4 reported a 4.4% decrease in hospital readmission rates among LEP patients with 24-hour access to remote interpreter services, resulting in an estimated monthly savings of more than $160,000 in hospital expenditures.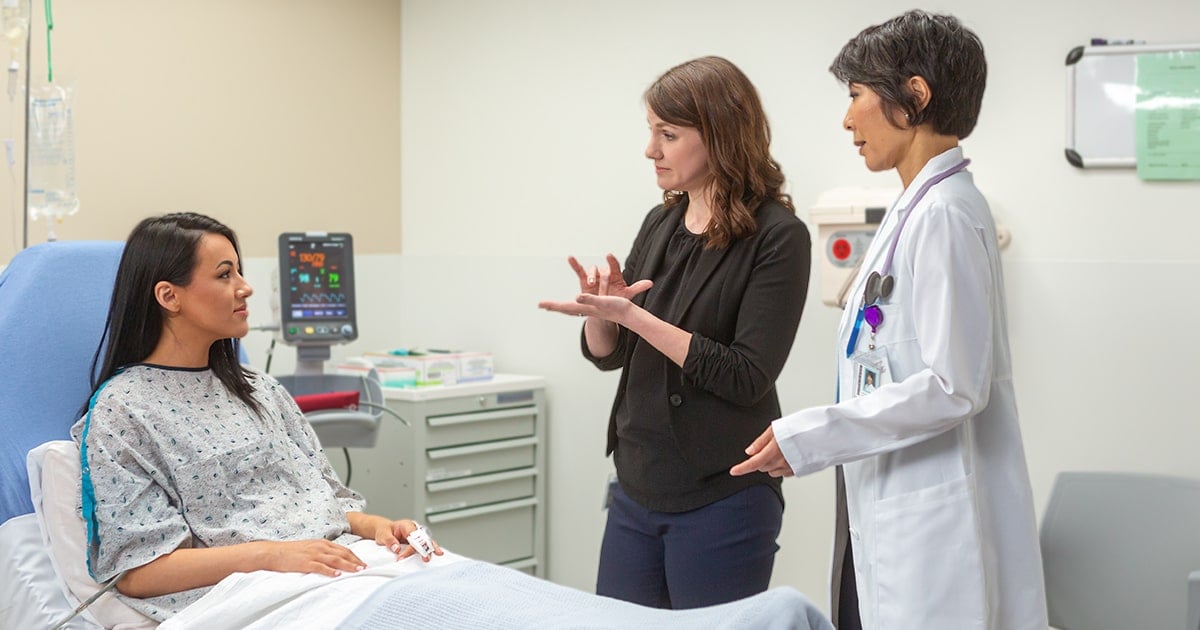 How LEP Patients Impact Patient Satisfaction Scores
According to the U.S. Census Bureau , 21.7% of people in the United States speak a language other than English at home. And in some states, LEP patients can make up nearly half of the entire patient population.5
In areas where the proportion of LEP patients is particularly high, the use of a qualified medical interpreter can significantly increase Hospital Consumer Assessment of Healthcare Providers and Systems (HCAHPS) scores – the primary measure of patient satisfaction.
More than half of the HCAHPS survey asks patients to rate specific aspects of communication, including:
Doctor communication
Nurse communication
Staff responsiveness
Medication communication
Discharge information
The Agency for Healthcare Research and Quality (AHRQ) reports that language services can help providers implement several strategies to improve LEP patient communications – which can have a direct impact on HCAHPS scores. 6 They include:
Integrating professional interpreters: Unlike patient family members, a professional medical interpreter can serve as a neutral conduit of information. Non-professional, ad hoc interpreters, on the other hand, have been found to misinterpret or omit up to half of physicians' questions and are less likely to note medication side effects or other information of clinical significance.
Using audio and video interpretation: The consistent use of remote interpretation, especially for small interactions, can help build rapport between an LEP patient and providers. This results in improved communication between patients and providers, which can positively affect HCAHPS scores.
Why HCAHPS scores matter
As part of the Deficit Reduction Act of 2005, acute care hospitals subject to the Inpatient Prospective Payment System (IPPS) must gather and provide HCAHPS data to receive their full IPPS annual payment. If HCAHPS scores are not publicly reported as required, IPPS payments may be reduced. Hospitals can take a significant stride towards improving their score – and the level of care provided to patients – by investing in better communication.
How Qualified Medical Interpreters Can Help
When it comes to improving LEP patient satisfaction, interpretation is a crucial component of care. Researchers at the University of California, in conjunction with the National Institute of Minority Health and Health Disparities, analyzed more than 150 encounters with Spanish and Chinese speaking patients. The study concluded that patients with access to an interpreter were more likely to meet criteria for adequately informed consent and experience a higher level of clinical care than patients who were not provided with language services.7
At AMN Healthcare Language Services, we are dedicated to helping healthcare organizations improve quality and outcomes by providing expert interpretation and translation services across the patient journey. Our experienced interpreters work as an extension of your team to support staff, patients, and families across the entire care journey.
To learn more about how you can improve LEP patient satisfaction with AMN Healthcare Language Services, visit https://www.amnhealthcare.com/language-services/.
1. Improving Patient Safety Systems for Limited-English-Proficient (LEP) Patients: A Guide for Hospitals. www.ahrq.gov. https://www.ahrq.gov/teamstepps/lep/hospitalguide/lephospitalguide.html#sl1
‌2. Divi C, Koss RG, Schmaltz SP, Loeb JM. Language proficiency and adverse events in US hospitals: a pilot study. Int J Qual Health Care. 2007;19(2):60-67. doi:10.1093/intqhc/mzl069
3. Lindholm M, Hargraves JL, Ferguson WJ, Reed G. Professional language interpretation and inpatient length of stay and readmission rates. J Gen Intern Med. 2012;27(10):1294-1299. doi:10.1007/s11606-012-2041-5
4. Karliner LS, Pérez-Stable EJ, Gregorich SE. Convenient Access to Professional Interpreters in the Hospital Decreases Readmission Rates and Estimated Hospital Expenditures for Patients With Limited English Proficiency. Med Care. 2017;55(3):199-206. doi:10.1097/MLR.0000000000000643
5. Bureau UC. Why We Ask About...Language Spokent at Home. www.census.gov. https://www.census.gov/acs/www/about/why-we-ask-each-question/language/
6. Improving Patient Safety Systems for Patients With Limited English Proficiency. www.ahrq.gov. https://www.ahrq.gov/health-literacy/professional-training/lepguide/index.html
7. Lee JS, Pérez-Stable EJ, Gregorich SE, et al. Increased Access to Professional Interpreters in the Hospital Improves Informed Consent for Patients with Limited English Proficiency. J Gen Intern Med. 2017;32(8):863-870. doi:10.1007/s11606-017-3983-4