Medical Specialty Spotlight: General Surgery
In our "Medical Specialty Spotlight" series, we review current data surrounding a variety of medical specialties related to healthcare recruitment, physician compensation, and general industry trends, including this month's spotlight for General Surgery.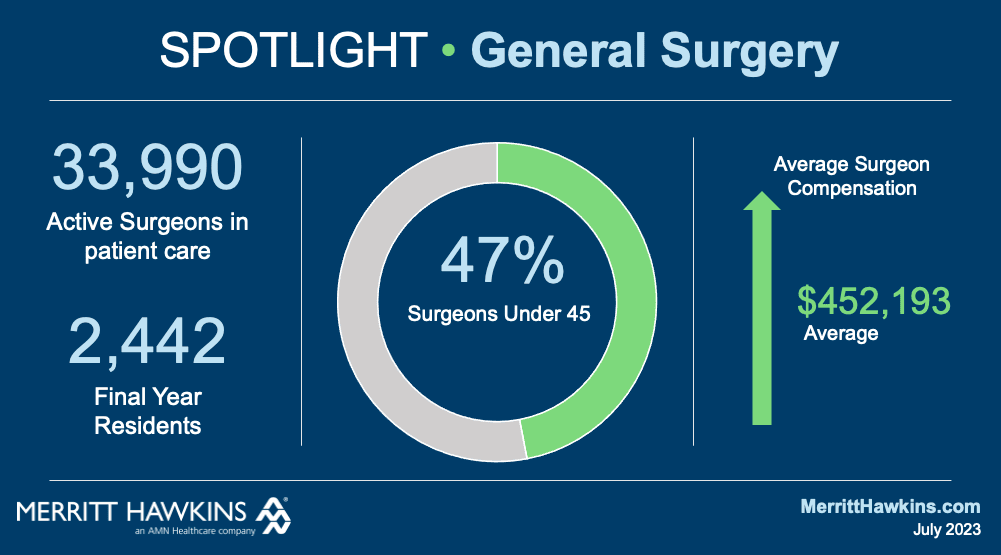 Surgery Salary & Job Trends
Number of active Surgeons: 33,990
Number of final year medical residents: 2,442
Percentage of International Medical Graduates (IMGs): 11%
Percentage of active Surgeons who are 55 or older: 35%
Percentage of female active Surgeons: 13%
Percentage of male active Surgeons: 87%
Median Surgeon Salary: $471,833
Average Surgeon Compensation: $452,193
Explore New General Surgery Jobs
Interested in a permanent General Surgery position? Explore the current nationwide opportunities AMN Healthcare has to offer. Then, complete the form on the top right of this page to connect with a General Surgery recruiter who can answer questions and help you find the right jobs for your experience and lifestyle.
*Data sourced internally from Merritt Hawkins, an AMN Healthcare company.