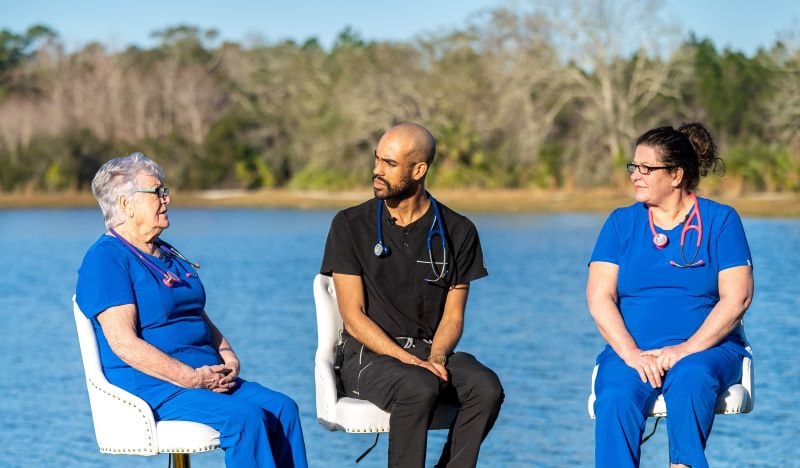 Travel Nurse Spreads Kindness
Traveler Spotlight: Eliot M., BSN,RN-BC,TNCC,CVC,AVM
Eliot M., BSN,RN-BC,TNCC,CVC,AVM, is a critical care trauma specialist and a third generation nurse. He is currently working a thirteen-week travel nurse assignment at Clovis Community Medical Center in California. Find out why Eliot loves his assignment in California.
Travel Nursing with AMN Healthcare
Originally from Jacksonville, Florida, Eliot worked the past two years as a travel nurse on critical care trauma assignments in Louisiana and Texas. Recently, he wanted to explore and experience living and working in California, which is the reason he chose AMN Healthcare.
Eliot describes working with AMN Healthcare as "the best nursing experience". He loves working with AMN Healthcare because of his supportive and enthusiastic recruiter, and because of the shift-flexibility. He explained, "I can choose the hospital size, the shift I prefer, and the number of days per week that I want to work. I've never had any payroll issues.". Eliot chose the night shift and to work sixty hours per week for thirteen weeks.
Showing Kindness
In the spirit of kindness, Eliot shared his experiences of receiving kindness. When he contracted COVID-19, he explained, "AMN Healthcare paid me my full wages while I was out with COVID-19. Other agencies typically give you a pat on the back and tell you to let them know when you'll return. AMN Healthcare made sure I was paid.".
"One time, a patient came into the hospital in a semi-awake, twilight state. I cared for her, and she ended up writing a letter to leadership giving me a glowing review about how I was professional and kind." The patient chose to respond with kindness. All she spent was time writing her appreciation for a nurse who helped her heal. Kindness can sometimes seem simple, but it always makes an impact.
Why Travel Nursing?
Eliot began his career in health care at age eighteen when he became a CNA (Certified Nursing Assistant). He continued to become an RN (Registered Nurse) and graduated nursing school a valedictorian with a 4.0 GPA. Eliot is passionate. He describes his favorite setting, "Critical care is my favorite. Critical care is an environment that will cultivate you, make you, and break you when you are part of someone's experience between life and death. It's an immense privilege and responsibility to walk into that [hospital] room.".
He continues with advice to those nurses who are curious about traveling, "For any nurse who is on the fence about becoming a traveler, do it. Believe in your skillset, believe in your experience, and you can do anything for thirteen weeks. That's the difference. If you like it, you can extend your contract. And if you stay with the same agency, you don't have to go through credentialing again. As long as I'm in the role of a bedside nurse, I'm a traveler.".
Eliot shared his enthusiasm for his work environment, sharing, "The nurse-to-patient ratios make all of the difference. Time and half [overtime] after working eight hours is major. I've never had a better experience because wages are sustainable for all of the nurses; there isn't any tension between staff nurses and travel nurses.".
The Business of Kindness
Eliot is in the kindness business. While in nursing school, he published and sold his first publication, The Hesi and Nclex Survival Guide, to help other nurses get excel in nursing school. Upon graduating, he started to explore biotechnology. Ultimately, he created the Cardio Platinum Pro Cardiology Stethoscope out of his passion for high quality, accurate point of care assessments. The product has been a wide success due to the high quality at a reasonable price point and is "Amazon's Choice" stethoscope.
Join the kindness celebration by sharing your kindness experience with us via Instagram, Facebook and Twitter.
If you're interested in a travel nursing adventure like Eliot's, apply today.