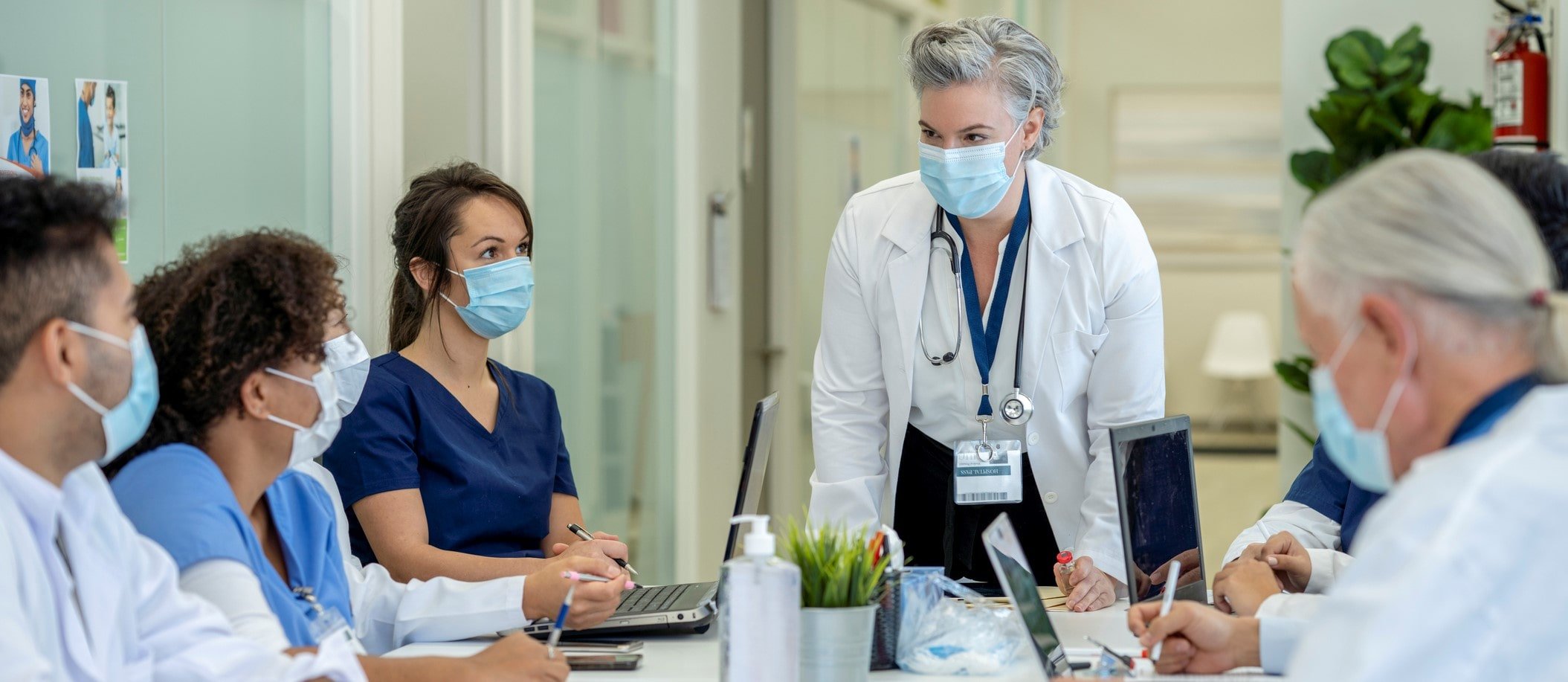 Nurse Leaders at the Forefront of Patient Engagement Efforts
To achieve the national goal of improved health outcomes, many researchers and health advocates agree that patients must assume a greater role in managing their healthcare. But how can facilities and health systems accomplish this kind of patient engagement? The answer may rest with nurses and nurse leaders, who have long overseen patient education about how to care for chronic conditions and make lifestyle changes to improve health.
"Promoting patient education has always been a part of our nursing role and obligation to the patient," said Debi Sampsel, DNP, MSN, BA, RN, chief officer of innovation and entrepreneurship at the University of Cincinnati's College of Nursing in Ohio. "It has been a long-standing practice that nurses involve the patient across the life span in their own care."
Sampsel finds nurses strive to and take great pride in promoting healthy lifestyles. And research has demonstrated that active, engaged individuals have far better health outcomes. The University of Cincinnati includes health promotion in the nursing curriculum and gives students an opportunity gain patient-engagement experience while working with the homeless and elementary and secondary school age youth.
"What's new is old," added Patrick R. Coonan, EdD, RN, NEA-BC, FACHE, dean and professor at the College of Nursing and Public Health at Adelphi University in Garden City, N.Y. "I went to nursing school 35, 40 years ago and what did they teach but to be the patient advocate, to teach the patient. But we got away from that in the last few decades."
Coonan pointed out that today's consumers and patients, particularly baby boomers, are better informed. They often turn to the Internet for facts, but he called it a nursing professional's obligation to verify whether the online information is accurate. Boomers are not going to settle for a paternalistic "Just take this pill" without knowing why and how it will benefit them. And that often falls to the nurse."
"We have to get away from the patient-doctor or patient–nurse relationship that is almost like a parent–child relationship, in existence for many years, to a more informed and empowered [consumer] who will take responsibility for their health," said Rosemary Glavan, RN, MPA, CCM, senior vice president of clinical operations at AMC Health, a telehealth provider based in New York. "Baby boomers have been go-getters and always wanted to be in charge. They want to be empowered."
Advocating with a personal connection
"As patient advocates, nurses and nurse leaders play a key role in promoting patient engagement," said Cynthia M. Friis, MEd, BSN, RN-BC, associate association executive for SmithBucklin's healthcare and scientific industry practice in Chicago. "Nurses are privileged with having the opportunity to spend more time with the patients to assess, plan, implement and then help clarify the plan of care with the patient and his/her family or caregivers. Nurse leaders are key in helping to ensure this role is realized. Nurses can do their jobs better with the full support of our nurse leaders."
Nurses ask questions, she added, and draw patients into thoughtful discussions about their care, helping them move forward when they feel overwhelmed and understand how to best care for themselves.
Establishing principles of engagement
Patewood Memorial Hospital in Greenville, S.C., participated in a national study by the Agency for Healthcare Research and Quality (AHRQ) and in the development of the Guide to Patient and Family Engagement in Hospital Quality and Safety.
Recommendations in the AHRQ guide include:
• Working with patients as advisors;
• Communicating effectively;
• Giving bedside shift reports, where nurses do not talk with each other but involve the patient and family members he or she wants to participate; and
• Engaging patients in transitions to home.
The hospital has experienced improvements to its HCAHPS (Hospital Consumer Assessment of Healthcare Providers and Systems) survey since implementing the program.
"The patients and families are much happier," said Kerrie Roberson, MBA, MSN, RN-BC, CMS, nurse educator at Patewood. "Patient engagement is a partnership with the patient and families, and they trust you more when they see you are open about their care."
Nurses at Patewood are leading discussions about patient engagement across the Greenville Health System and have begun sharing their experiences with others.
Other nurses gathered to develop Guiding Principles for Patient Engagement, released last year by the Nursing Alliance for Quality Care (NAQC), which was supported by the Robert Wood Johnson Foundation.
Principles in the NAQC guide include:
• Having a dynamic partnership with patients and their families;
• Respecting boundaries;
• Maintaining confidentiality;
• Adhering to responsibilities and accountabilities;
• Recognizing patients able to engage;
• Appreciating patient rights;
• Sharing information and decision making; and
• Advocating for the patient.
"Patient-centered care and engaging patients is very important to improving quality outcomes, which includes reducing cost and better health of populations in the community, but also reductions in disparities of care," said Maureen Dailey, PhD, RN, CWOCN, senior policy fellow for nursing practice and policy at the American Nurses Association (ANA), a member organization of the NAQC. "The patient is at the center of the team and must assume accountability for self-care and part of the outcome. But that evolution has yet to take place."
Nurses must instill confidence and competence in patients' self-care, Dailey explained. And patients need nurses to provide knowledge, support and symptom management.
"Nurses hold a central role in patient engagement," Dailey concluded.
Combing nursing skills with technology
Along with the personal touch, many nurses are finding technology can assist with their patient-engagement efforts.
"As the responsibility of nursing advances to one of building and sustaining patient activation and the role of nursing moves to be more consultative across care settings, technology will play a vital role for both the nurse and the patient," said Karen Drenkard, PhD, RN, NEA-BC, FAAN.
Drenkard, who has served as executive director of the American Nurses Credentialing Center (ANCC) and past director of the ANCC Magnet Recognition Program, will join GetWellNetwork in January as chief clinical/nursing officer, where she will lead the development of a nursing model of patient engagement. Her responsibilities will include studying and designing new ways to assess and improve patient activation through clinical practice and technology solutions across all care settings.
"Nursing can use interactive patient care technology to proactively engage the patient and shift the responsibility for completing certain care interventions," said Drenkard, explaining patients can document daily signs and symptoms. Care providers use the network to send reminders about taking medications or the need for follow-up visits to their physician when data and input from the patient indicates the need to do so.
Analytics spot trends, and nurses can intervene at the first sign of trouble with a personal follow-up. The data also helps them identify where the patient is on the readiness scale of change.
"To be most effective in engaging patients and more so activating patients, the nursing role must evolve and develop," Drenkard concluded. "The need for change and adaptation is certainly not new to our profession. However, there is a pivotal opportunity today to shift the role of the nurse away from a more task-oriented, episodic care management function to one that more centered on building, sustaining a care management relationship with a population of patients with the effective use of interactive patient care technology."
© 2013. AMN Healthcare, Inc. All Rights Reserved.