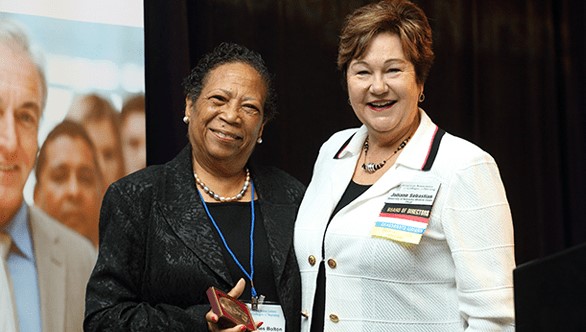 AONE Announces 2014 President-elect
The American Organization of Nurse Executives (AONE) announced today that Linda Burnes Bolton, DrPH, RN, FAAN, vice president for nursing, chief nursing officer and director of nursing research at Cedars-Sinai Medical Center, Los Angeles, is president-elect of the AONE Board of Directors. Selected through a nationwide voting process of AONE's 8,700 members, Burnes Bolton will serve as president-elect for a one-year term beginning January 1, 2014. She will become AONE president and serve a one-year term beginning January 1, 2015. As president, Burnes Bolton will lead the organization to achieve its strategic goals and adhere to its vision and mission.
Burnes Bolton is a registered nurse with more than 40 years of experience as a clinician, researcher and administrator. She has held other board and officer positions at several national organizations, including serving as past president of the American Academy of Nursing and the National Black Nurses Association and as vice-chair for the Robert Wood Johnson Foundation Future of Nursing initiative at the Institute of Medicine.
Burnes Bolton has received numerous awards, including the Lifetime Achievement Award from AONE and the Distinguished Alumnae Award from Arizona State University. In 2011, she was named one of Modern Healthcare's Top 25 Women in Healthcare and received the Woman of the Year Award, Women in Health Administration of Southern California in 2012. Burnes Bolton was honored recently with the Betty Irene Moore School of Nursing at the University of California Davis 2013 Excellence in Leadership Award, which celebrates nursing leaders who serve as role models in transforming health care through nursing leadership, education and research. She is the fourth recipient of the leadership award.
Also elected to the AONE Board of Directors by the AONE membership are the following:
• Mary Beth Kingston, RN, MSN, NEA-BC, executive vice president, and chief nursing officer, Aurora Health Care, Milwaukee;
• Robert L. Dent, DNP, MBA, RN, NEA-BC, CENP, FACHE, vice president, patient care services/chief nursing officer, Midland Memorial Hospital, Midland, Texas; and,
• Patricia Cochrell, RN, MBA, NE-BC, past senior vice president, quality, operations and chief nursing officer, Harrison Medical Center, Bremerton, Wash.
Source: American Organization of Nurse Executives.