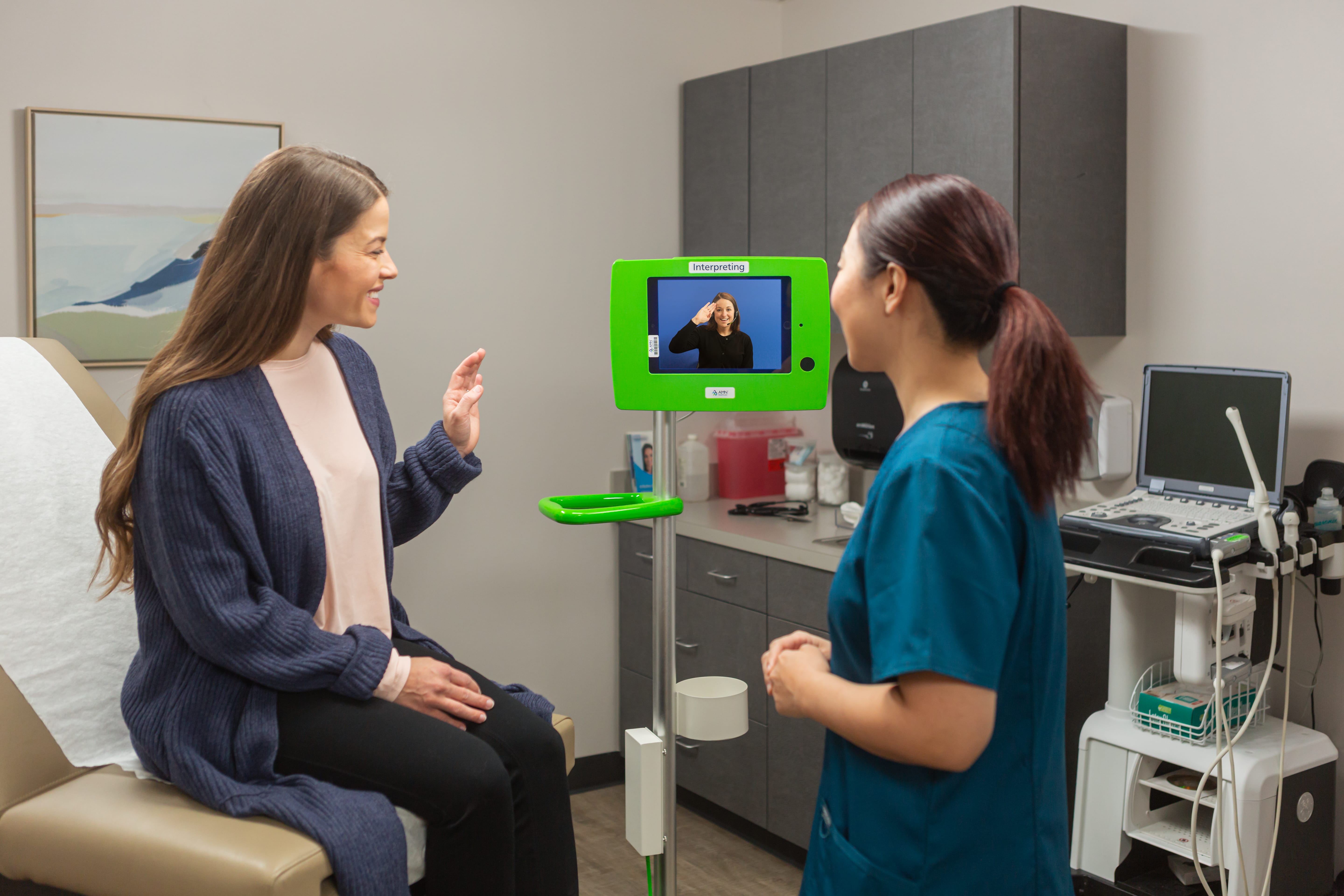 ASL Interpreter Appreciation Day 2022
Our interpreters are passionate about their work and about helping patients in a healthcare setting by facilitating communication for both patients and providers who don't share the same language. AMN Healthcare Language Services is honored and grateful to have a strong team of dedicated interpreters supporting patients and providers. This ASL Interpreter Appreciation Day, we are highlighting some of our ASL and Certified Deaf Interpreters (CDI), as well as the founder and CEO of 2axend, a Deaf-owned strategic consulting firm. They have shared with us their inspiration to work in the complex field of ASL interpreting in healthcare settings and their favorite part of the job.
Jeremy Q., CDI
"I recognized very early on that I preferred medical interpreting [versus other settings such as legal] and that has become my niche, what I enjoy," said Jeremy, explaining how he started in medical interpreting. Jeremy has always loved playing with and manipulating language in an artistic manner, and performs ASL poetry within the Deaf community. He explained his favorite part of interpreting, "I love language. People often ask me why I enjoy interpreting. And the answer [to 'what is my favorite part of interpreting?'] is because for me, personally, it's almost like a puzzle where I can zoom out, take a step back, and consider the health care provider's message and goal, what they're asking, what their intention is in the spirit of that question, and then take that English message and interpret it in a way that's going to be meaningful to a patient who is Deaf, with their linguistic and cultural preferences and their thought world and experience in mind."
"I know that there are people who love legal interpreting and who are very affluent in that work. In that field, there are very specific ethical bounds and prescriptive rules of engagement, whereas in the medical field, the focus is on patient care. It is more care focused. I can adapt the interpreting techniques and the way I deliver a message into ASL and then into English. In healthcare, the priority for patient and provider is often to develop a rapport. I have the opportunity to support that relationship and access to healthcare by interpreting their interactions effectively and supporting both languages and cultures. I know that I'm supporting the rapport, the relationship and the interaction."
Colleen T., CDI
Colleen got into medical interpreting, as she describes, "naturally". She explained, "There was a demand in the area. I thought I was a good fit and eventually, somebody saw my work and thought I was a good fit for video medical interpreting, so I got put into the position and that led to more doors being open." "What I like most about medical interpreting is seeing patients have that 'aha' moment. I'm sure you've heard that from other ASL and Certified Deaf Interpreters. It is rewarding when you see that people are at ease and they can communicate effectively. Deaf patients can feel they're using their own voice per se and they're able to communicate their feelings, thoughts, and needs fluently without family members intervening or making decisionson their behalf:
"There is an old model that we're seeing, thankfully change, where some Deaf individuals didn't have communication autonomy during medical appointments. They had limited access to interpreters and were unable to communicate directly with their health care providers. They had to rely on family members or other people to assist, and too often, they were left out of their own care and treatment decisions. For me, seeing Deaf individuals have communication autonomy, those 'aha' moments, and connectionswith their health care providers and healthcare is encouraging and why I do the work that I do."
Stephen D., NIC
Stephen describes his inspiration, "When I was young, I saw a Deaf person and I saw them using sign language and I was so amazed. I found this church that had Deaf people there. And so, I started going to this church and I bought books and I started learning and practicing with them. I was eleven or twelve. And then, got really into it. I graduated high school and I didn't go right away to college. Then, I ended up attending Gallaudet University in DC. While I was in school, we had a medical interpretating class and really enjoyed that. Now, I'm getting my master's in healthcare interpreting from Rochester Institute of Technology."
His favorite part of interpreting is helping break the communication boundary. Usually,the interpreter is called in to support the patient later, when tensions have developed,and frustrations have formed. Stephen explained that he likes bridging the language barrier and seeing frustrations calm down between the patient and health care provider. He continues, "Then, people are able to access and take charge of their own health care and medical decisions."
Corey A., MBA
Corey is the founder and CEO of 2axend, an AMN Healthcare Language Services partner. Corey is a fourth-generation Deaf individual committed to ensuring healthcare organizations provide optimal patient experiences to members of the Deaf community. Through his work, he emphasizes the need for healthcare organizations to use qualified interpreters as a means of making sure communication is effective. His inspiration to start his company is both emotive and humbling.
Corey explained, "When I was a senior in college, my father was diagnosed with multiple myeloma, a cancer of the bone marrow. As a Deaf individual, not only did he have to fight the cancer – a fight that included multiple rounds of chemotherapy and various transfusions, as well as two stem cell transplants – he also had to navigate an often-inaccessible healthcare system and work with a number of healthcare professionals who did not understand his particular needs as a Deaf individual. This was his struggle up until the point he passed away almost ten years ago. Two weeks before he passed away, he asked me to promise him two things. One, to take care of my grandmother. And two, to promise to make sure no other Deaf individual experienced what he did. I made a promise to do everything I could. In 2017, I started 2axend with an emphasis on helping organizations optimize the user experience for the Deaf and hard of hearing community – this encompasses the patient, student, employee, and customer experience... and it stems from my father's journey and my own journey."
Are you an interpreter interested in joining a supportive, well-versed, diverse team of ASL Interpreters and Certified Deaf Interpreters? View our career opportunities.