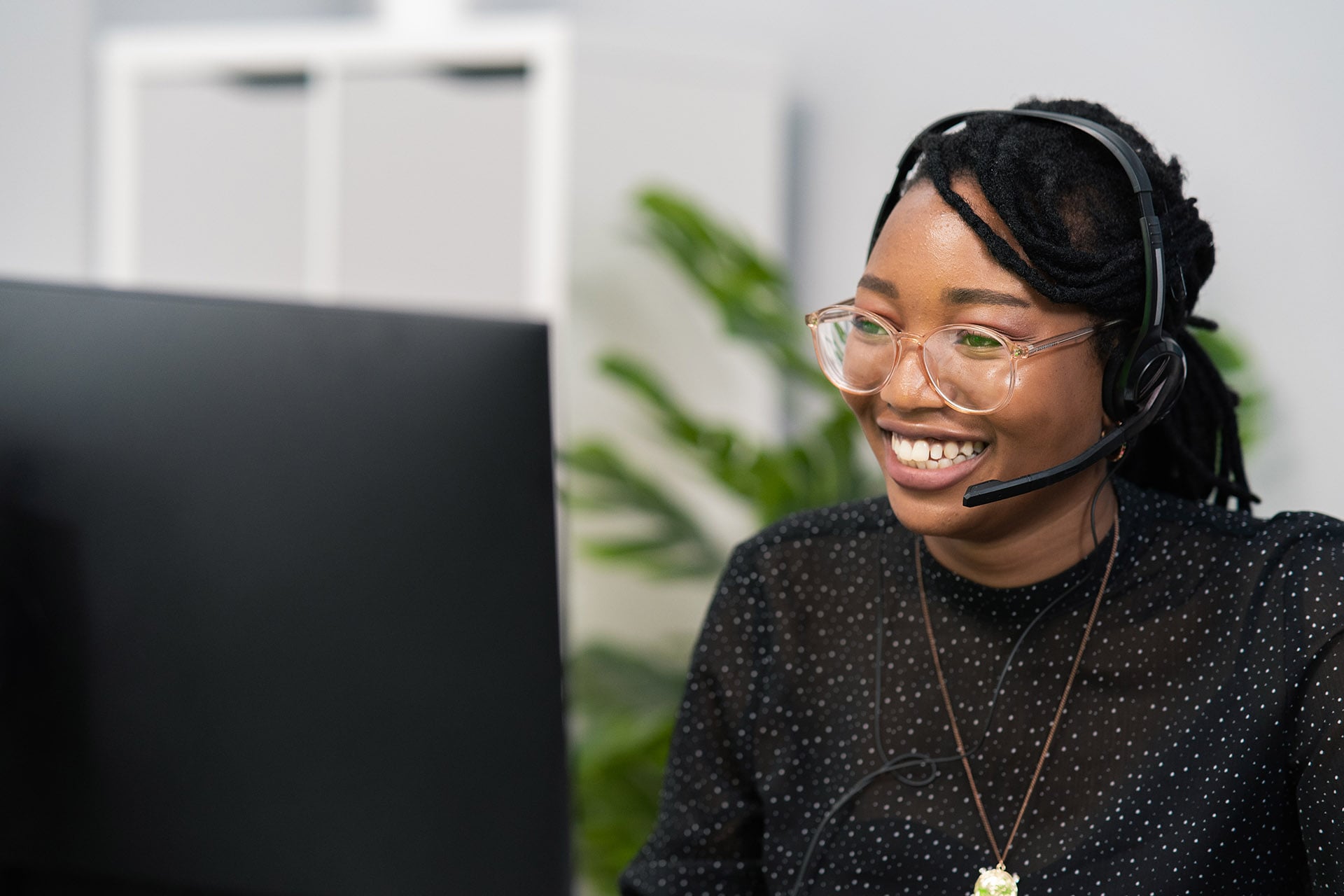 A Medical Interpreter's Guide to Language Assessments
Highly-skilled medical interpreters are in great demand, and AMN Healthcare Language Services hires and contracts interpreters in a wide variety of languages to serve healthcare organizations around the country. Interpreter jobs can be in-person or remote, primarily via video or audio technology.
"As the leading company for video interpreting we're known for providing high quality services but we're only as good as the people we work with. Therefore, it's our mission to hire, train and invest in the best people. Surrounding ourselves with the best allows us to continue to deliver on that promise to provide the best services" says Susan M, Recruiting Manager, with AMN Healthcare's Language Services .
If you're passionate about helping patients communicate with their providers despite a language barrier and want to work with the best in the industry, a medical interpreter job at AMN Healthcare could be the perfect job for you.
What you need to be a medical interpreter
There is a federal requirement (Section 1557 of the Affordable Healthcare Act) that medical interpreters be qualified, which means they must abide by the interpreter code of ethics and confidentiality tenets, demonstrate proficiency in English and at least one other spoken or signed language and show the ability to effectively and accurately use the necessary terminology required by a variety of interpreting scenarios.
In order to be deemed qualified to provide interpreting services, at a minimum you need to prove language competency. But you need more than just strong language proficiency. In addition to fluency in a particular foreign or signed language, you also need a solid grasp of medical terminology and the professional codes of conduct. You must also be able to accurately interpret important medical information from English to a patient's preferred language—and vice versa. You also need exceptional interpersonal skills.
The language assessment that you'll take will assess those language and interpreting skills to ensure you're ready to take on the huge responsibility of a medical interpreter.
Preparing for the language assessment
The hiring process for a medical interpreter begins with a short prescreen interview. You'll record yourself answering a series of questions about your experience and background, says Susan.
Unless you already hold a national certification, the next step will be to complete an oral assessment before you can proceed to the final interview stage of the hiring process.
"We need to know what your total skill set is," explains Susan.
We offer two options for language assessments for interpreters: an in-house assessment administered by an AMN Healthcare Language Services staffer and a video assessment administered and recorded by a third-party organization. Both assessments are oral assessments. The vast majority of people take the language assessment through the third-party company, according to Susan. In these cases, the scores are provided to our staff, and the company covers the cost charged by the third-party unless you are a contractor. Contractors are expected to bring their own working credentials to the interview.
Here's how to prepare for your language assessment:
Respond to the email about taking the exam. The third-party company will email you a link to the assessment within a few hours. You have the ability to complete the assessment at a convenient time for you, but shouldn't put it off for too long. Susan noted that most people complete it within about 72 hours.
Make arrangements for taking the assessment. Pick a quiet spot that's free of distractions where you can sit and take notes while taking the assessment. You might want to choose a specific time in advance and let people know so they won't interrupt you. The assessment itself will take 20-30 minutes, but you may want to allow some extra time on either side.
Brush up on your medical terminology. It's a good idea to brush up on your medical terminology, especially in content areas where you don't feel as comfortable. It might also calm any anxious feelings you might have. But don't feel the need to cram for this assessment.
Brush up on your language skills: Make sure you are comfortable with the grammar, vocabulary, and idioms of the language you will be interpreting. Practice reading, writing, and speaking in the language as much as possible.
Practice interpreting: If new to the field, find opportunities to practice interpreting, whether it be with a friend, family member, or colleague. Try to simulate the conditions of the actual assessment as much as possible.
Get feedback: Seek feedback from others on your interpreting skills. This can be from a mentor, colleague, or a professional interpreter.
Stay calm: On the day of the assessment, try to stay calm and focused. Take deep breaths and remember that you have prepared to the best of your ability.
By following these tips, you can feel more confident and prepared for your language assessment. Good luck!
If you wish to act as a medical interpreter for more than one language, you must complete a separate assessment for each language. Susan reports that Spanish is by far the most used language assessment, but there are assessments for approximately 45 languages.
What about national certifications for medical interpreters?
If you hold a national certification from the National Board of Certification for Medical Interpreters (NBCMI) or the Certification Commission for Healthcare Interpreters (CCHI), you will not have to do a language assessment. In that case, you may proceed from the first interview to the final interview.
Although it's very desirable to hold a national certification, you don't have to have one to become a medical interpreter, according to Elizabeth W., Senior Manager of Language Services Operations at AMN Healthcare. National certification is only available for a select number of languages anyway, including Spanish, Arabic, Russian, Cantonese, Mandarin, Korean and Vietnamese. Therefore full, national certification may not even be an option for you, depending on your language. If your language pair does not have a national certification available, you can establish your mastery of the profession with knowledge based CoreCHI certification, performance-based CoreCHI-P certification or the Hub-CMI credential, which are all available for interpreters of all languages.
For candidates seeking sign language interpreting jobs, AMN Healthcare Language Services only hires interpreters who are nationally certified ASL interpreters, so a separate assessment is not required. Either a National Interpreter Certification (NIC) or a Certified Deaf Interpreter (CDI) Certification can be earned from the Registry of Interpreters for the Deaf (RID).
After the assessment
Once you've completed your language assessment, the next step is to wait for your results. Our recruitment team will contact you to let you know if you've passed or failed the assessment. If you receive a passing score, they'll set up a time for your final interview, says Susan. You'll be one step closer to a new job as a medical interpreter.
WANT TO KNOW MORE? Contact a recruiter with AMN Healthcare Language Services if you have any questions about working as a healthcare interpreter, including the language assessment.