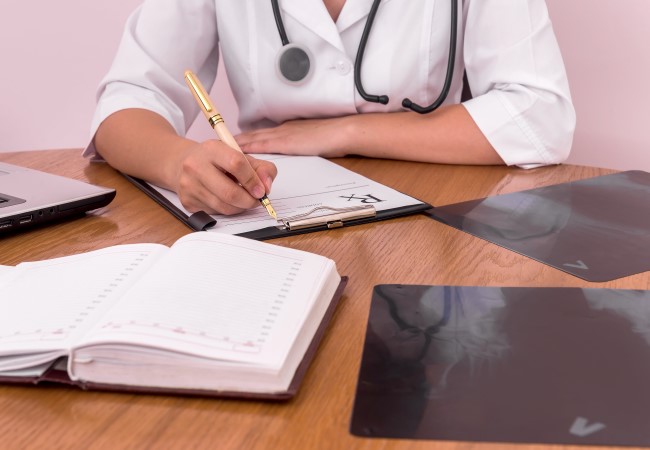 7 Survival Tips for Your First Year After Residency
First-year physicians have a number of options upon graduation from a residency program; the world is at their fingertips. Yet that first year can be filled with uncertainty and new challenges.
From securing your first job after residency to navigating the complex world of healthcare operations and difficult patient cases, making it through your first year as a new physician can feel like a survival-of-the-fittest competition.
Fortunately, there are some ways to make things easier. Consider these proven tips for first-year physicians—they can help you not only survive, but build a solid foundation for your medical career.
Contact our recruiters about your options for first-year physician jobs.
7 Survival Tips for New Physicians
1. Ensure a cultural fit
When seeking your first job after residency, it is essential to find a facility that provides the right clinical and cultural fit.

Uncovering a facility's culture isn't always easy, so do some digging and ask relevant questions during the interview process. Talk to different staff members to find out what they like about working there and make sure that you negotiate and understand the terms of your contract. Connect with physicians, nurses, administrators, and other clinical staff to get a good feel of the atmosphere and work environment. Making these connections as a first-year physician can help you grow personally and professionally.
2. Find a mentor
In any practice setting, finding a mentor may be one of the most important jobs for new physicians. You likely interviewed with some of the facility's top doctors, so now it is time to put those connections to use.
Reach out to a physician you trust, and who aligns with your clinical values and ethics. Simply ask if he or she would be willing to sit down with you to discuss your role and what your career path might look like. You'll find that most experienced physicians are more than happy to share their knowledge and insight with a first-year physician.

Many healthcare organizations are developing their mentoring programs to help facilitate a successful transition for first-year physicians. Two examples:
WellSpan Health in Pennsylvania launched a formal mentorship program that matches experienced physicians with first-year physicians or those that are new to the organization within the same specialty.
Mercy Health Partners

in Ohio started a program where physicians have an open forum to ask questions in a supportive environment; they've also implemented peer learning to enhance the onboarding experience.
3. Get connected with a professional network
For more mentoring, peer support, and career development options, consider joining a networking group for physicians, or a specialty medical association.
Within the American Medical Association (AMA), there are many sub-groups that focus on specific practice areas, specialties, and locations. Plus, nearly every medical specialty has its own association, whether you work in family practice, internal medicine, emergency medicine, or surgery.
By joining a professional association, new physicians can gain access to career development resources and opportunities, continuing medical education events, physician jobs, and other clinicians who may be able to step into a mentorship role.
4. Become part of the team
Practicing medicine is a team sport; there may be several responsibilities that fall squarely on your shoulders as the attending physician, but it takes a high-functioning medical team to ensure that patients are cared for appropriately and that everyone on the team can succeed.
So spend some time getting to know your fellow physicians, nurses, other clinicians, and support staff in your unit or group. Keep the lines of communication open, volunteer to help out, don't be afraid to ask questions, and you'll likely find a good deal of mutual support.
5. Keep patients first
No matter how busy or overwhelming your new physician job may feel, don't forget that your patients' health is at the core of everything you do. Each individual needs your full attention and your very best clinical expertise and effort. Listening, asking questions, and showing compassion can also go a long way toward building trust and improving outcomes.
Your patient's life or health may depend on you, and how they feel about each encounter may trickle down to how well they follow their plan of care—and whether they return to your practice setting. Remember that patient satisfaction and good outcomes often go hand in hand.
6. Attend to your health
As a new physician working long shifts, you may not always have time for luxuries like three sit-down meals and a full eight hours of sleep every night. But it's important to find some time to relax, unwind and support your own physical and mental health.

As much as possible, schedule meal breaks, exercise, time outdoors, uninterrupted sleep plus some relaxing endeavors on your days off. Search out healthy dining options at or near work or bring your own nutritious meals and snacks. Watch for signs of fatigue and burnout. Spend time with your family and friends to help keep you centered and focused on something other than work.
RELATED: How Millennial Physicians Are Creating Work-Life Balance
7. Consider locum tenens as a first-year option
The use of locum tenens, or temporary physicians, is growing each year, with more than 9 out of 10 healthcare facilities reporting that they have used locum tenens within the last year.1 Many first-year physicians do not realize that locum tenens is a solid option for their first job after residency, but recruiters can find appropriate locum assignments for new physicians. In fact, the survey showed that 15 percent of locum physicians worked their first locum tenens assignment right out of residency.
If you're looking for flexible schedules, paid travel to choice locations, professional development opportunities, and good compensation that can help you pay down medical school loans, consider locum tenens for your first job after residency.
1Source: 2017 Review of Temporary Physician Staffing Trends, by AMN Healthcare
AMN Healthcare matches new and experienced physicians with locum tenens assignments across the country. Fill out the form to contact our recruiters to learn more.