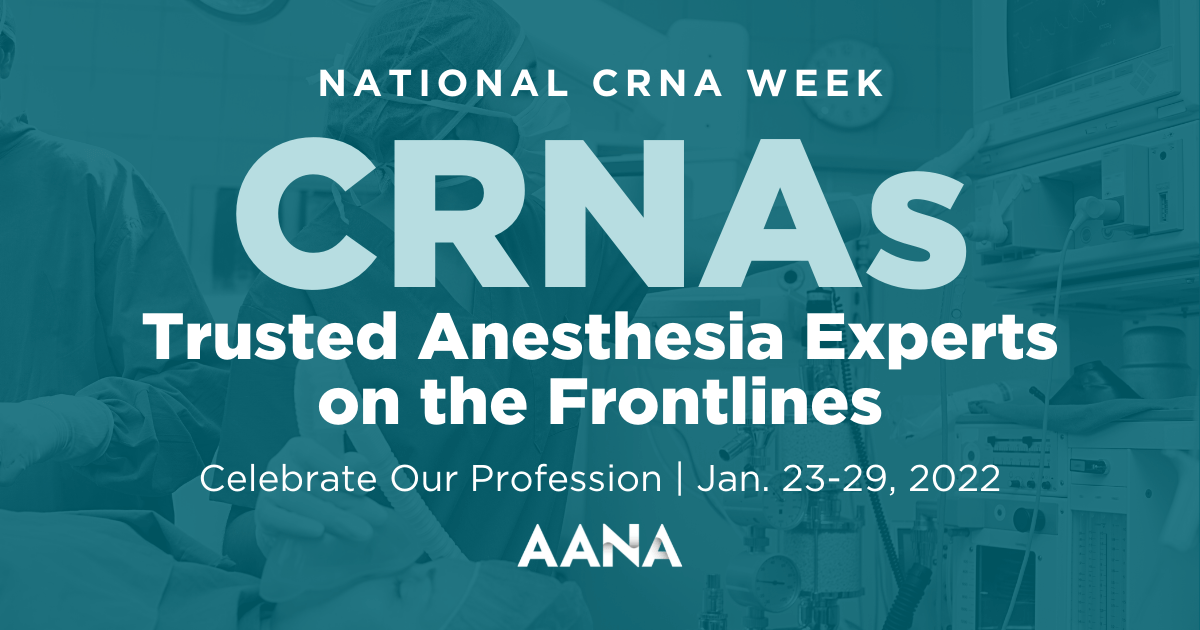 5 New Changes for CRNAs in 2022
Change is a constant in healthcare, and the 150-year-old profession of nurse anesthesia continues to evolve and change. But one thing that hasn't changed is the need to celebrate all that these advanced practitioners do to support healthcare delivery and elevate patient care.
Administering anesthesia more than 50 million times each year, certified registered nurse anesthetists are celebrating CRNA Week 2022, which takes place January 23-29.
This year's theme, "Trusted Anesthesia Experts on the Frontlines," calls attention to the way that CRNAs stepped up during the COVID pandemic and have continued to provide safe, quality care to millions of patients who need their skills.
AMN Healthcare, the nation's leading permanent placement agency for physicians and advanced practitioners, is pleased to honor CRNAs during this national week of celebration, and to highlight a number of recent changes for nurse anesthetists.
5 recent changes affecting CRNAs
1. New educational requirements for CRNAs
Today's practicing CRNAs must have earned a minimum of a master's degree from a nurse anesthesia program that has been accredited by the Council of Accreditation of Nurse Anesthesia Educational Programs (COA). But, as of January 1, 2022, all students matriculating into an accredited program must be enrolled in a doctoral program.
By 2025, all CRNAs entering practice will graduate with a doctoral degree from an accredited program.
As the new year got underway, there were 122 accredited nurse anesthesia programs in the United States, according to the COA.
2. A major name change
The professional association representing America's certified registered nurse anesthetists and student registered nurse anesthetists (SRNAs) officially changed its name in August 2021, after operating for 90 years as the American Association of Nurse Anesthetists (AANA).
The name was changed to the American Association of Nurse Anesthesiology, "as part of a yearlong rebranding effort designed to advance the science of nurse anesthesiology and advocate for certified registered nurse anesthetists (CRNAs)", according to AANA's website.
While some physician groups have argued that the term anesthesiology is used improperly here, AANA's immediate past president, Steven M. Sertich, CRNA, MAE, JD, Esquire, commented in a press statement, "Nurse anesthesiology is the first profession to own the responsibility of anesthesia delivery." He added, "Our new name tells the story of who we are, what we do, and what we stand for."
The association also unveiled its new logo and core purpose, "CRNA focused. CRNA inspired." during its annual congress that was held virtually, August 13-17.
3. An accelerated move toward independent practice
The COVID-19 pandemic that began in 2020 brought about some temporary changes that may have longer-term effects for nurse anesthetists and independent practice.
"As the virus spread, the federal government suspended the CMS physician supervision rule for CRNAs," noted AANA, adding that a number of states also suspended supervision rules and limits on CRNAs' scope of practice.
As of early 2022, there are 18 states that have opted out of the federal Medicare requirement for physician supervision of CRNAs. Many nurse anesthetists prefer to practice in states without the supervision, and the staff at AMN Healthcare can help nurse anesthetists find career opportunities that offer more autonomy.
4. CRNAs outnumber other anesthesia professionals
The AANA reports that certified registered nurse anesthetists make up more than 50 percent of the anesthesia workforce in the United States, and federal statistics bear that out.
The latest data from the U.S. Bureau of Labor Statistics, as of May 2020, estimated that there were 41,960 practicing CRNAs in America, compared to 28,590 physician anesthesiologists.
5. Demand and salaries for CRNAs on the rise
At the start of the pandemic, a number of hospitals cancelled elective surgeries and furloughed some CRNAs and other surgical staff, though AMN Healthcare was able to place some CRNAs in other positions.In those early months, CRNAs were reassigned in some facilities to intensive care units to help with managing the onslaught of critically ill COVID-19 patients. Their specialized skills in airway management, intubation and advanced patient assessment gave them the ability to step up and provide excellent patient care in ICUs and other units, as they helped out during a national crisis.Since most states have returned to elective surgeries and are working through a backlog, demand for CRNAs has gone up significantly in the last few months. Their compensation levels are also increasing.
According to the BLS data from May 2020, the average (mean) salary for CRNAs was $189,190. In contrast, as 2022 gets underway, the advertised starting salaries for CRNA positions through AMN Healthcare range from $185,000 to more than $300,000 per year. Our career consultants can provide more information about the current job market and compensation packages for those seeking new opportunities.
For all CRNAs, both practicing and in training, our team would like to thank you for all you do, and wish you a happy National CRNA Week!