2022 Healthcare Trends Survey
Lingering pandemic-induced disruptions are reflected in the findings of the 2022 Healthcare Trends Survey, as all aspects of talent management continue to remain under pressure.
In its ninth year, the Trends survey presents a detailed examination of the most vital leadership talent management functions, exploring the industry and organizational influences shaping today's leadership and workforces. The results are distilled into ten themes with nuanced discussion of each.
Notable themes from this year's analysis include:
Healthcare leaders entered 2022 less optimistic about the prospects for the industry overall and for their own organizations.
Various strategies to rekindle growth and financial recovery from COVID-19 are being pursued, led by expansion of outpatient care.
Executive retention may prove difficult as 46% of leaders say they intend to seek a new position within twelve months.
Industry efforts to improve diversity and inclusion persist despite COVID-19 challenges.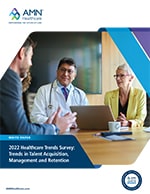 Quickly access the survey by submitting your information.